DealstreetAsia: Tiki and Sendo have reached a merger agreement
E-commerce sites Tiki and Sendo have agreed to merge, according to one of the people involved in the deal disclosed, noted by DealStreetAsia. Earlier in February, a leaked source said the two sites were negotiating to proceed to the same home.
At the time, the school was inherently vital of e-commerce sites, while all of them continuously reported losses and forecast even more losses in the following years. By the end of 2018, Tiki accumulated losses of nearly VND 1,400 billion and Sendo lost nearly VND 1,300 billion.
While Shopee's accumulated loss has surpassed VND 2,000 billion. Particularly Lazada, as of March 31, 2019, the loss of this unit has reached VND 7,111 billion. However, these two companies have extremely strong advantages in capital from their mothers, Alibaba and SEA. Only in 2019, Shopee was poured nearly VND 2,500 billion by SEA.
On the side of Tiki and Sendo, they also continuously raised capital to maintain. By the end of November 2019, Sendo announced that it had raised an additional US $ 61 million in Series C funding round. After this round of funding, foreign investors held 61.1% of Sendo's charter capital. FPT is still the largest shareholder besides foreign big shareholders including SBI, Beenext, Econtext Asia, Daiwa … Tiki also has two capital increases in 2019 in June and December. VNG (24.6%) and JD.com (21.9%).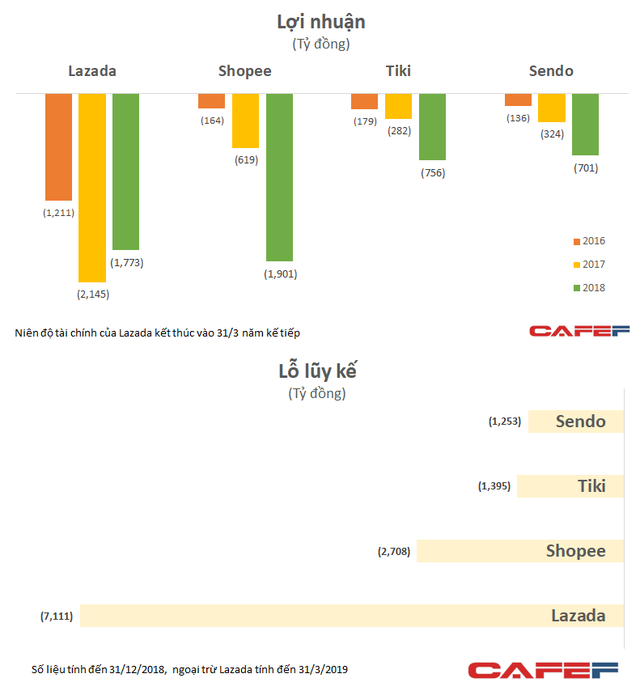 On the other hand, as of the third quarter of 2020, Vietnamese e-commerce witnessed a series of spectacular changes, in which Sendo climbed to the second position nationwide in terms of website traffic, according to statistics. from iPrice. In particular, the traffic to the website of Sendo in the third quarter has reached 30.9 million / month. This result marks the second consecutive quarter of Sendo's website that saw a 10% increase in access over the previous quarter.
The Tiki side, after a long time in the second position nationwide, has now ceded to Sendo, with website traffic reduced from 33.7 million / month to 27.1 million / month. However, Tiki's mobile app, on the other hand, rose from 4th to number of downloads to 3rd, surpassing Lazada.
Only the first still belongs to Shopee, recorded the fifth consecutive quarter topped Vietnam's e-commerce sites with 34.5 million visits / month. In addition, Shopee's shopping app also tops the table in terms of monthly downloads.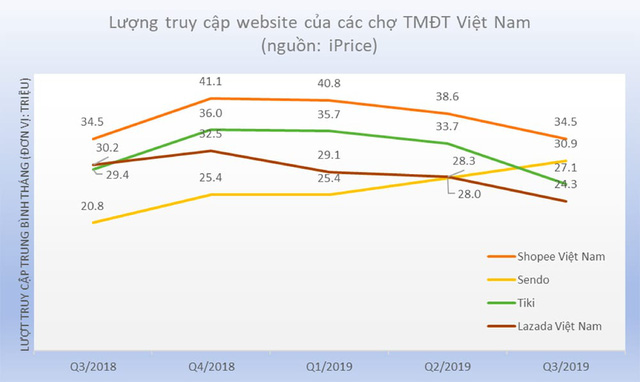 Source : Genk