Cuba reports self-developed COVID-19 vaccine up to 92% effective, injected into 20% of population
Cuba, the Latin American country embargoed by the US for more than half a century, is entering the most severe COVID-19 wave since the beginning of the pandemic. The number of new infections per day was reported at a record level, over 2,000 cases. But it seems, they are responding positively with an expanded vaccination campaign with vaccines researched and produced by Cuban scientists themselves.
By refusing to participate in the global vaccine initiative COVAX, in which the United Nations will provide free COVID-19 vaccines to some countries, Cuba will not receive Western vaccines. manufacturing. They also refused to import vaccines from Russia and China to decide to bet on five COVID-19 vaccines being developed domestically.
" It seems their gamble has been successful, " said the New York Times, citing a report by the Cuban Health Authority that a COVID-19 vaccine of the country has completed clinical trials. end stage with proven efficiency up to more than 92%.
That would put Cuba's vaccine among the world's most effective COVID-19 vaccines, surpassing Russia's Sputnik V which is 91.6% effective only behind the vaccines of Moderna and Pfizer-BioNTech with efficiency is 94.1% and 95%, respectively.
Cuba's Rising Science Star
Cuba's latest COVID-19 vaccine is researched and developed at the Center for Genetic Engineering and Biotechnology (CIGB) in Havana. It is named Abdala, after a famous figure in the work of the national hero and national icon of Cuba: Jose Marti.
It is a patriotic poem by Jose Marti about a young hero named Abdala who went to war to defend his country. Abdala is a symbol of the Cuban hero full of patriotic enthusiasm, no matter how strong the enemy.
In the view of many Cubans, that's the perfect name for the first COVID-19 vaccine developed in Latin America. And it's also the perfect picture for the story of a small island nation of 11 million people that can't be defeated by any enemy, even a deadly virus, despite being in a prolonged economic blockade. 60 years of the United States.
The Abdala vaccine is also a symbol of a Cuban country that boasts many outstanding scientists, especially in the field of biotechnology. One of them is Gerardo Enrique Guillen Nieto, director of biomedical research at CIGB, where the Abdala vaccine was developed.
Last Sunday on Father's Day, Cuban television showed a propaganda video featuring 58-year-old Guillen Nieto. Along with melodious music, it opens with the scientist in the laboratory. Guillen Nieto's son appeared on camera to talk about his father's tireless days working on the COVID-19 vaccine project.
" We have been working full-time since the beginning of the pandemic, every Saturday and Sunday, from early morning until late at night, without a moment's rest ", respected scientist said in the clip.
" And we are very excited that the results have exceeded our expectations. We knew this vaccine would be very good, but even I did not expect the results to be so good."
Gerardo Enrique Guillen Nieto, director of biomedical research at the Center for Genetic Engineering and Biotechnology (CIGB).
According to the state-owned biotechnology corporation, BioCubaFarma, Abdala has proven 92.28% effective against COVID-19 in clinical trials, which would rank it on par with effective vaccines. most BioNTech-Pfizer and Moderna. Huge applause broke out in the CIGB auditorium this week when the impressive results were announced.
Since then, Guillen Nieto has been flooded with interview requests. The whole world wants to know Abdala's recipe for success.
Cuba's COVID-19 vaccine is not a vector vaccine nor does it work with mRNA technology. Instead, it is a recombinant protein vaccine. That means it carries a spike of the protein that the SARS-CoV-2 virus uses to bind to human cells.
These spikes of protein attach to receptors on human cells and then trigger an immune response that helps the body recognize the SARS-CoV-2 virus and destroy them. Cuban scientists used yeast to produce these spike proteins and used them as vaccines.
The Abdala vaccine has been in Phase I/II clinical trials since July 2020. Researchers signed up for the vaccine's Phase III clinical trials from March 2021. Accordingly, the vaccine The vaccine will be administered to 48,000 people, each receiving 3 doses in total, 2 weeks apart.
But in May, facing the strong spread of the South African strain of COVID-19, Cuban health authorities decided to launch a mass vaccination program before the results of the phase clinical trial were available. III.
More than 2.2 million Cubans, or 20% of the population, have been vaccinated with Abdala along with Soberana 2, another COVID-19 vaccine also manufactured by Cuba, but with less effectiveness, about 62% after 2 3 injections.
These are the first vaccines to be distributed on the island nation since Cuba refused to import any shots from Russia or China. Cuba has also decided not to join the UN-backed COVAX initiative.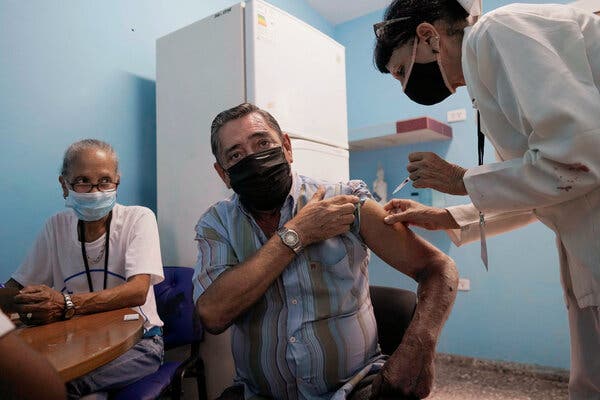 A Cuban man is vaccinated against COVID-19 in Havana.
"We know that in the end we always have to rely on our own strength, on our own strength and ability, " said Guillen Nieto.
" As a result, we had a health care system that was not only free, but also centrally controlled. Our health system has perfected our ability to respond quickly to disasters, run tests. clinical trials, with vaccination campaigns or even vaccine production".
Vaccination campaign repels the wave of COVID-19 infection
Cuban health officials say the vaccination campaign as an intervention study has been successful. The wave of COVID-19 infections in the capital Havana, where doses of the Abdala vaccine were distributed, is slowing.
According to Guillen Nieto, 2.2 million Cubans have received at least one dose of the vaccine, 1.7 million have received a second dose, and 900,000 have received all three doses. The Cuban government is expected to continue to expand its vaccination campaign and achieve herd immunity with 70% of the population vaccinated against COVID-19 by August.
It is a race against time as the number of new COVID-19 infections in Cuba is steadily increasing with more than 2,000 infections per day. Nearly 1,200 people in the island nation have died from COVID-19. But Guillen Nieto believes in this vaccination campaign, which will give Cuba an advantage over other countries in the world when it comes to counterattacks in the fight against corona virus.
"In our country, people have always placed a strong faith in the state health system ," he said. " For example, we never had a problem finding volunteers in clinical trials of vaccines. In Cuba, people are extremely eager to get vaccinated. No one thinks about not getting vaccinated. vaccination because everyone knows how important vaccination is."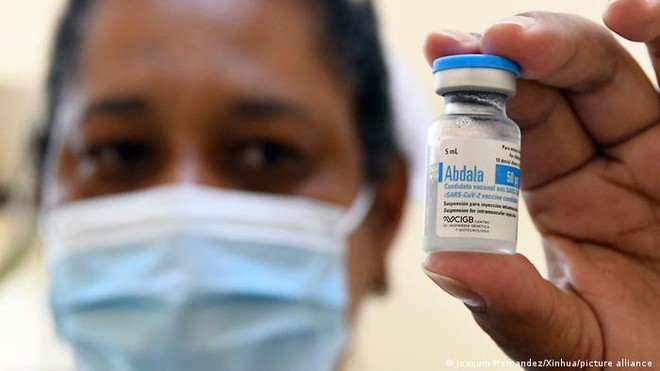 An independent panel of experts in Havana will now scrutinize the Abdala vaccine and is expected to formally approve it in the next two weeks. Cuba can also then apply to the World Health Organization (WHO) for approval for Abdala's international use. Countries including Mexico, Argentina, Iran, and Vietnam have expressed interest in Cuba's COVID-19 vaccine.
In June, the Vietnamese Ministry of Health announced that negotiations were ongoing between Cuba and Vietnam to produce the Abdala vaccine. The Institute of Vaccines and Medical Biologicals (IVAC) was selected as the focal point to receive technology transfer.
WHO representative shares optimism and confidence in Cuba's vaccine
But is Abdala really the miracle vaccine the numbers promise? While the Cuban scientists have not yet published detailed data on their Phase III clinical trial or intervention study, Jose Moya is perhaps the most suitable person to evaluate this.
The Peruvian doctor and epidemiologist began his career 30 years ago in his hometown of Ayacucho, then went on to work for Doctors Without Borders in Guatemala, Mozambique and Nigeria.
For the past 2 years, Moya has been the Cuban representative of PAHO (Inter-American Health Organization), a WHO regional organization with offices in 27 countries. And he trusts the numbers Cuba publishes.
"CIGB Research Institute has 30 years of experience in vaccine research. I am confident in the results that have been published. These are serious studies, involving researchers and committed organizations. scientifically," said Moya.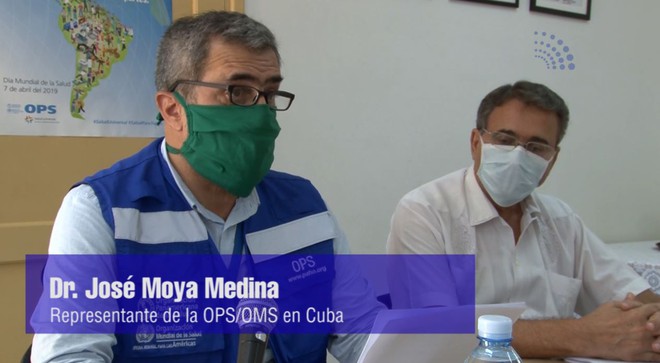 Dr. Jose Moya, Cuba representative of PAHO (Inter-American Health Organization) expressed confidence in Cuba's COVID-19 vaccine.
Given the fact that 80% of all Cuban vaccines are produced domestically, Moya is not surprised if the Abdala vaccine can be highly protective. It is simply a possible outcome of a health care system that has worked well and consistently for decades, he said.
In recent years, Cuba has been very focused on investing in its state-owned biotechnology industry. After the 1959 revolution, foreign and domestic owned pharmaceutical companies were nationalized.
This allowed the Cuban government to directly run the centralized biotech industry ever since. Because it is state-owned and not backed by speculative financing, Cuba's priority in vaccine development is not money or profit. People's health is their top priority.
Reference Nytimes, Dw
Source : Genk