Crossing the $ 19,000 mark, the Bitcoin price is close to its all-time high
At nearly 9 pm on November 24 Vietnam time, the Bitcoin price according to data on Coinmarketcap.com stood at $ 19,162, an increase of nearly 3.2% compared to 24 hours ago. The record price of the world's largest recorded digital currency is more than $ 19,500 set in December 2017.
The virtual currency world believes that the increasing acceptance of Bitcoin in particular and virtual currencies in general is the main driver for the strong increase in the price of this investment channel this year.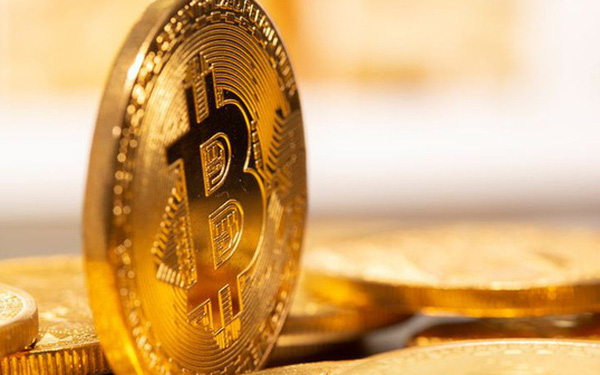 Just last month, Bitcoin's price crossed the $ 13,000 threshold for the first time in a year, after it was reported that PayPal would give customers access to virtual currency on the payment platform. Before that, Bitcoin has had strong momentum since the summer, thanks to positive developments such as the opening of a Bitcoin investment fund by Fidelity Investments.
Bitcoin price has risen about 170% this year, November alone has increased by nearly 40%.
Since the beginning of the year, Bitcoin has benefited when central banks and governments around the globe pumped money into the economy to revive growth "stifled" by Covid-19. The large amount of liquidity has pushed up the price of many assets, from currencies of emerging economies, low credit rating bonds, to Bitcoin and stocks.
According to Reuters, the assets at Grayscale, the world's largest virtual money investment fund management company, rose to a record 10.4 billion USD, 75% higher than in September. There, the company's Bitcoin investment fund increased 85%.
A smaller virtual money fund manager, CoinShares, says the amount of assets under management has increased 150% this year to $ 1.3 billion.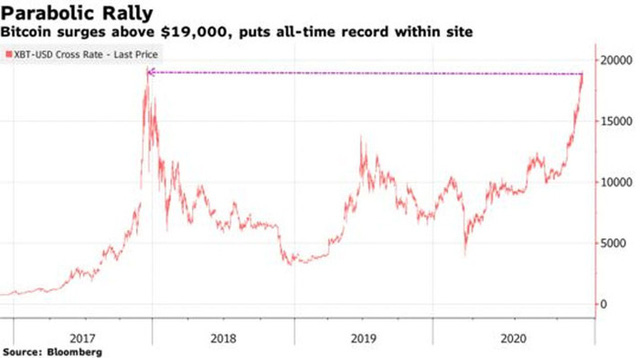 Bitcoin price movement – Source: Bloomberg.
Low savings interest rates have caused many investors to pour money into investment funds, and this could also be a reason for increasing interest in Bitcoin as an asset to diversify portfolios.
In addition, with the outlook for rising inflation, some investors also see Bitcoin as an anti-inflation tool. With a supply capped at 21 million coins, Bitcoin is a relatively rare asset that should be said to have value in itself.
According to a report by JPMorgan Chase bank, some capital investors who often hold gold in case of inflation may be switching to Bitcoin holdings.
JPMorgan Chase analyst Nikaolaos Panigirtzoglou said there are signs that family offices – which manage money for the wealthy – are allocating capital into cryptocurrencies.
"There is a reassessment of Bitcoin, of its value as an alternative currency and an alternative to gold," said Panigirtzoglou.
Source : Genk