Coronavirus or 'test' for Chinese technology industry
China has spent decades fostering and developing its technology sector. And now, in the face of the world's biggest public health crisis, the Beijing government is pushing its technology companies to join the fight against viral diseases. This new corona caused.
It could be deploying self-driving vehicles to supply supplies to health workers, using drones with a thermal camera to detect suspected people, or borrowing AI computing power. to help develop the vaccine.
It is not clear how many of these technologies can help control the virus, which has now infected at least 79,000 people worldwide and has killed more than 2,600 people, mostly in mainland China.
But facing this difficult challenge, no nation will accept to back down. The Beijing government made a statement stating that combating the virus epidemic is a national priority, requiring collective action from all people and departments.
China has long emphasized that technological innovation is an important pillar of growth. And it's no coincidence that the Beijing government has spent billions of dollars on subsidies, loans and bonds to boost progress in artificial intelligence, autonomous vehicles and other fields. The goal is a technology industry that can compete with Silicon Valley in the United States. And the ongoing crisis of disease, perhaps the most important "test".
" The fight against disease cannot be achieved without the support of science and technology, " Chinese President Xi Jinping said earlier this month, according to Xinhua News Agency.
He also added that China should step up clinical research on vaccines and antiviral drugs, as well as expand online shopping options for tens of millions of people who are forced to stay indoors to prevent them. the spread of this disease.
China's Ministry of Science and Technology on February 20 urged technology-based companies to help, offering a range of technological applications such as robots, body heat screening equipment, and technology. Devices can help reduce human exposure to people.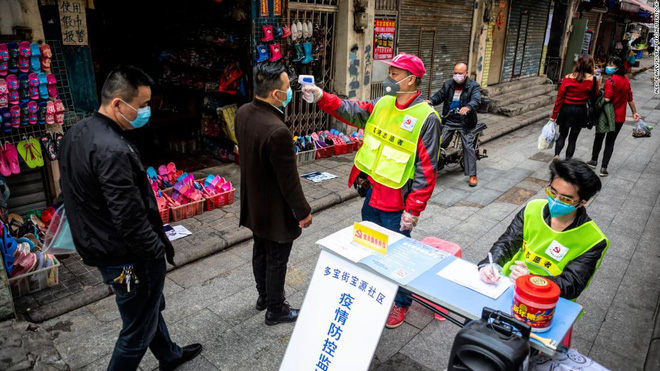 An employee measures the temperature of a pedestrian in Guangzhou.
China's technological development
China began making efforts to create its own Silicon Valley in the 1980s, when the authorities began designating their provinces and cities as " high-tech development areas, " Focus on consumer electronics and biotechnology. According to official statistics, these 168 regions reported revenue of more than 33 trillion yuan (about US $ 4.7 trillion) in 2018.
Technology is also at the heart of the "Made in China 2025" initiative from the Beijing government, a plan to shift the economy from manufacturing to high-tech sectors. This mission requires the investment of billions of dollars of government funding in areas such as wireless communications, microchips and robots.
And this focus on technology has proven its worth. China is now home to nine of the world's 20 most valuable technology companies in 2018. According to a report by venture capital firm Kleiner Perkins, this is "a huge leap" compared to expectations. only two companies that China made a statement five years earlier.
According to Daniel Mu, technology analyst for Forrester, when it comes to fighting coronavirus, technology will not be a "dominant factor" to prevent the outbreak. But, he says the sector has its uses, including providing digital services like food delivery and mobile payments to help people "face better disease".
Research cures and eliminate contact between people
In February, Tencent opened databases operated by its supercomputers, to help researchers race in finding a cure. The Beijing Life Science Institute and Tsinghua University were among the participants.
Didi, China's largest delivery service provider, has partnered with health and aid organizations to allow employees to perform tasks related to data analysis, online simulations or Logistics support, is free to use its services.
Others are deploying robots in delivery to eliminate human-to-human contact.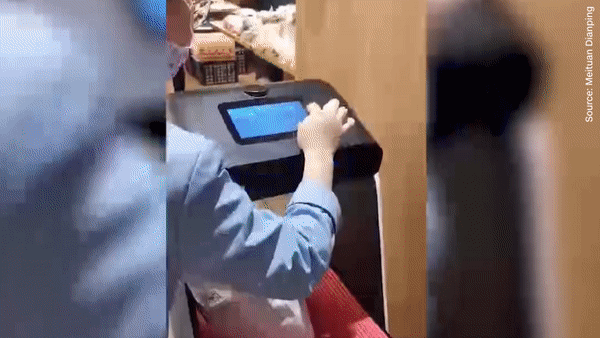 A robot operated by Meituan Dianping delivers food to customers at a restaurant in Beijing.
" Yes, you can call them gimmicks ," said Eliam Huang, an analyst at Coresight Research. " But Chinese technology companies can be very sensitive and versatile ."
For example, food giant giant Meituan Dianping has introduced robot service at several partner restaurants in Beijing, where robots will help bring food from the kitchen to the delivery staff. and for customers to wait the application. Meituan said it wants to expand the program to other cities if it is successful.
Chinese e-commerce giant JD.com has enlisted the use of self-driving robots to bring goods to health workers in Wuhan, the center of the disease. These robots, acting like small cars, delivered packages to hospitals that primarily treat coronavirus patients.
" This route is relatively short – only about 600 meters from the hospital – but cutting people off the road has helped protect customers and employees, " said Qi Kong, head of the self-driving car division at JD. Logistics said.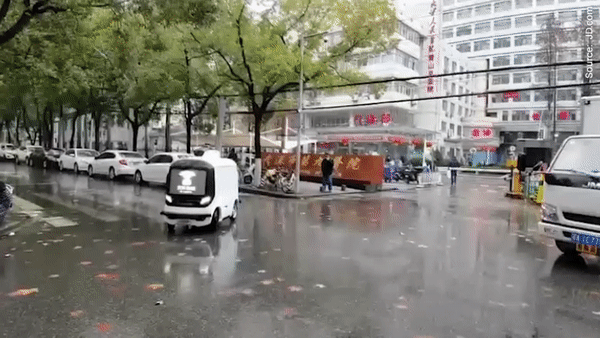 A self-driving robot delivered deliveries to a hospital in Wuhan earlier this month.
" When we learned of the situation in Wuhan, we began to turn around our resources there ," Qi said. " The time was very limited. It only took us 4 days to make sure our algorithm was ready, from simulation to practice ."
And another startup, Shanghai TMIRob, is sending dozens of robots to hospitals across Wuhan, according to Chinese state media. There, they are responsible for spraying disinfectant in isolation rooms, intensive care rooms and operating rooms.
Attention to monitoring issues
Unmanned aircraft have also been put into use during a disease outbreak.
The technology allows authorities to scan through a large crowd and detect if someone needs medical care, according to MicroMultiCopter, a Shenzhen-based unmanned device startup. This unit has sent about 100 devices throughout the country. They have also sent nearly 200 personnel to command centers, which can track what drones are seeing in real time.
"The whole company worked overtime, " a spokeswoman said. " This is the best test in our drone system. It is also an opportunity to showcase the best products to the world ."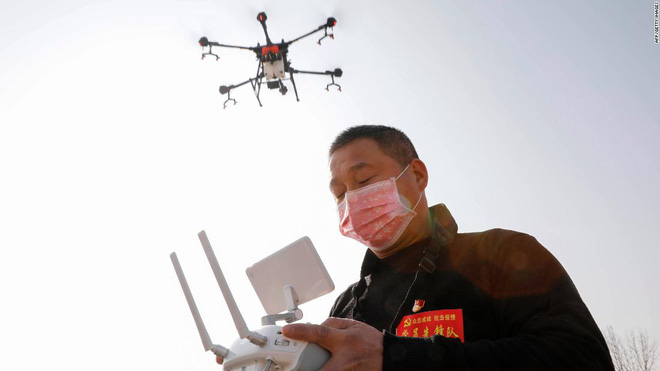 A local resident uses flying equipment to spray disinfectant in a village in Henan province, the center of the epidemic in China in January.
The use of drones and other technologies has also made China the focus of criticism for the wide-ranging surveillance situation. Several international human rights groups have warned that these devices could be used to violate freedoms.
But it should be remembered that China has long used facial recognition, artificial intelligence and other technologies to suppress criminals and monitor its citizens. And technology companies such as Tencent, have for years been accused of censoring sensitive political topics online in China. Tencent representatives responded that the company always " respects and complies with local laws and regulations " in " the countries where it operates ". As such, it is clear that Tencent does not violate the laws in China.
Huang, analyst at Coresight Research, said China's technology sector has long benefited from the "top-down" support of the Beijing government. The central government allocated 3.9% of the national budget for science and technology last year, an increase of 14% from the previous year.
" This shows that the government appreciates the development of technology and its dedication to pushing the technological innovation process forward, " Ms. Huang said.
" Government support helps make things faster, " the analyst added. " However, there is very little moral resistance, less ethical judgment in China ."
Refer to CNN
Source : Genk