Complained that the new advertising policy is too 'strict', Facebook responds: Partners please read the regulations carefully!
Recently, not only the marketing and advertising community, but also ordinary accounts on Facebook, everyone has complained about Facebook 's 'excessive sensitivity' when reviewing ads and general statuses.
In order to answer all questions as well as clarify why it has to be so 'strict', Facebook has just held a separate press conference for the Vietnamese market, in order to equip businesses with a better understanding. about Facebook's Advertising Policies, debunking common myths, and sharing best practices for creative innovation.
ADVERTISING POLICY AND HOW THE APPROVAL PROCESS WORKS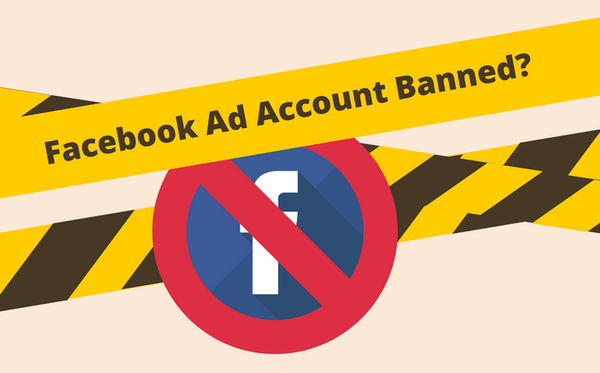 According to Ms. Supriya Singh, Marketing Solutions Manager, Advertising Policy, Facebook Asia Pacific , Facebook's mission is to empower people to build communities and bring the world closer. each other more. People use Facebook to connect with friends and family, explore the world, and share and express what matters to them.
2.6 billion people around the world use one or more Facebook apps every day, more than 200 million businesses use their free tools to reach consumers, and more than 10 million advertisers are active on Facebook services.
Ads help Facebook keep the platform free for everyone, and they want their Advertising Policy to help further advance the company's mission. That's why Facebook is committed to creating safer and more meaningful platforms that help connect, interact, and do business.
Accordingly, advertisers are required to comply with Facebook's Advertising Policies, Community Standards , regularly monitor Account Quality , and contact the Help Community when needed. Additional policies may also apply when advertisers use different products within the Facebook family of apps and services.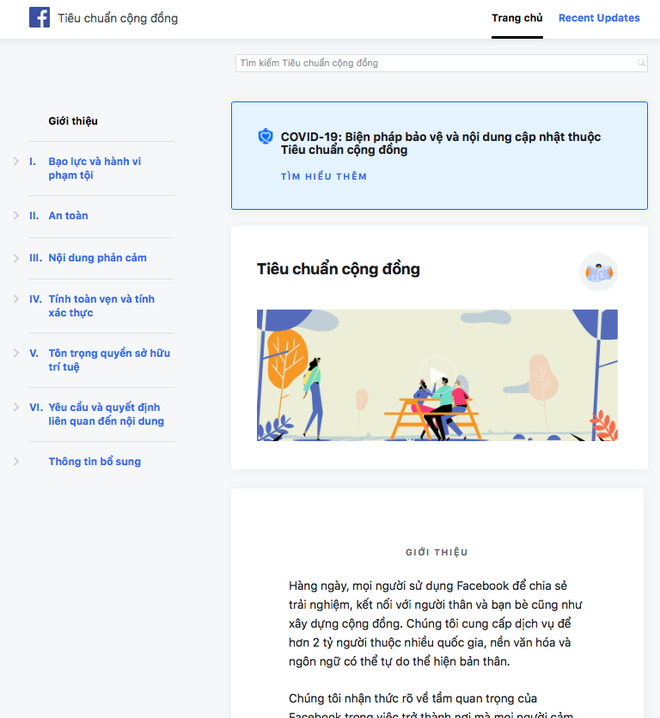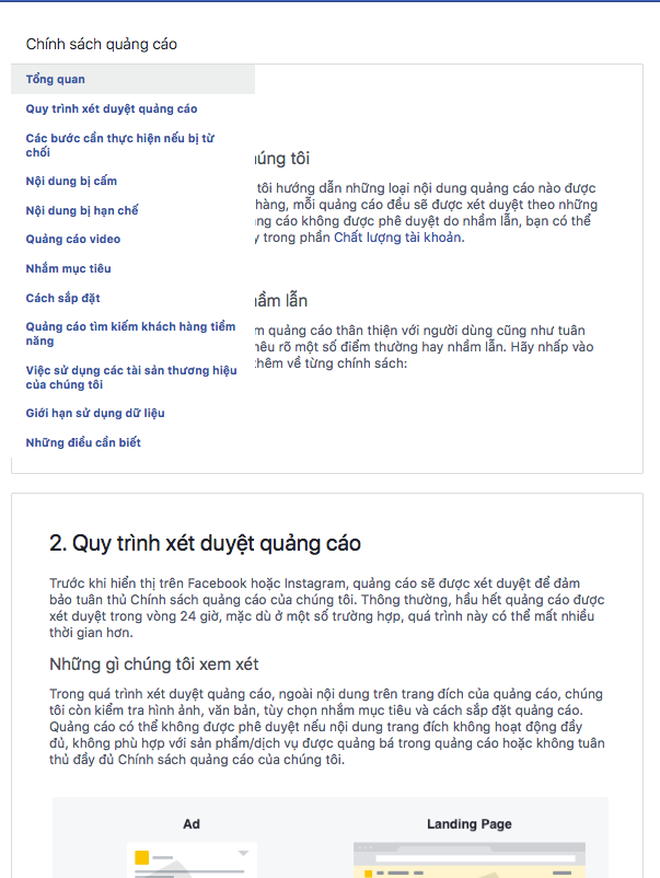 How to review Ads and Organic content differently
With Advertising Content: Unlike non-paid content, Facebook's ad review system is designed to moderate all ads before they are displayed on the platform.
In addition, Facebook's ad review system relies heavily on automated technology to enforce our Advertising Policies against the millions of ads that run on our apps. In addition, Facebook also uses moderators to improve and train its automated systems, as well as for manual review in some cases.
For non-paid content: The Ad review process is different from the "unpaid content" review process – content that cannot run ads on Facebook's platforms and cannot be used across interfaces Commerce. We'll review it to determine if the content violates the Community Standards.
This review usually happens after content is posted to Facebook, not before. When it comes to "proactive detection" in relation to organic content, as in our Community Standards Enforcement Report, it means that the content was recognized by Facebook's AI first. when people report to us.
How review processes work
Step 1: The ad review system will see if the ads violate the Advertising Policies. This review may include specific elements of the ad, such as images, videos, text, and information about the ad's ad objective, the ad's landing page, and more. An ad's landing page is where a user is directed after clicking on an ad, such as a web page.
Step 2: In addition to reviewing individual ads, Facebook may also review and investigate advertiser behavior, such as previous ad disapprovals, severity or type of violation, deceptive or dishonest behavior – such as impersonation, attempts to circumvent our ad review process, and other misconduct. What Facebook means, if your account has been warned by them, you have to find a way to fix it, but you can't leave that account and create a new account.
Step 3: Facebook may also restrict advertisers who do not follow the Advertising Policies, Community Standards, or other Facebook policies and terms by taking actions such as revoking an advertiser's authorization. ads for ads that require Facebook approval before they can run – such as dating ads or ads about social issues, elections or politics; disable specific Ad Accounts, Pages, Business Managers and individual user accounts; revoke eligibility for future advertising.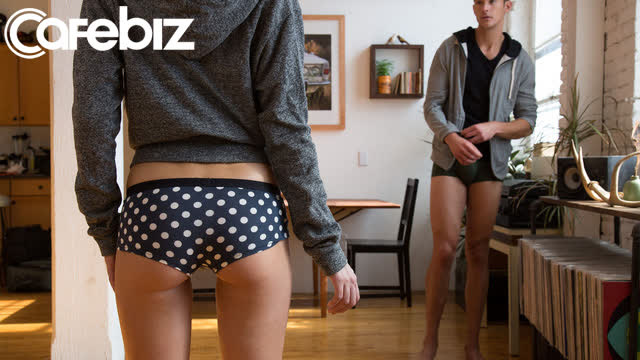 The MeUndies retailer's ad has been banned by Facebook.
" Ad review is usually completed within 24 hours, but it can take longer. Ads can be reviewed again, even after they've been run. Based on the results of the review, an ad can be reviewed. may be denied or allowed to run.
If an ad is disapproved, the advertiser can: create a new or edit an ad. Depending on the situation, an advertiser can create an entirely new ad or edit the disapproved ad to address policy violations. In either case, these ads are considered new ads and reviewed by the ad review system.
Request a review: If they believe an ad was unreasonably disapproved, an advertiser can request a review and monitor the status in Account Quality. Unlike the initial review, Facebook relies more on its review team to process these requests, but is continually evaluating methods to enhance automation to help improve speed and efficiency. " Ms. Supriya Singh said.
4 FREQUENTLY FREQUENTLY ERROR OF A DEPENDED ADVERTISEMENT/Account LIMITED
Facebook may restrict or disable accounts that do not follow the Advertising Policies, Community Standards, or other Facebook policies and terms. There are many reasons why a Facebook account, Page or Business Manager account might have ads restricted, or an Ad Account might be disabled. Below are a few examples.
Advertising Policy Violation: Our ad moderation system will review ads for violations of the Advertising Policies, and if any violations are found, the ad will be disapproved. For example, when advertising clothes for plus side people, Facebook prohibits advertising in the form of before and after using the product; Advertisers should click on the product instead of the user audience.
Depending on the type and severity of the ad violation, and when we find that a Facebook account, Page, or Business Manager account repeatedly tries to run ads that don't follow our policies , we may limit the ability to advertise.
Bypass ad review or other enforcement systems: When Facebook detects violations, such as attempts to evade or fool the moderation system, we restrict the ability to advertise . These restrictions may be on the amount spent, advertising features used, or loss of access to all advertising using the Facebook Products.
Fraudulent and deceptive practices: We don't allow people to misrepresent themselves on Facebook, use fake accounts, artificially increase the popularity of content, or engage in other behaviors. considered to circumvent our censorship process and other enforcement systems.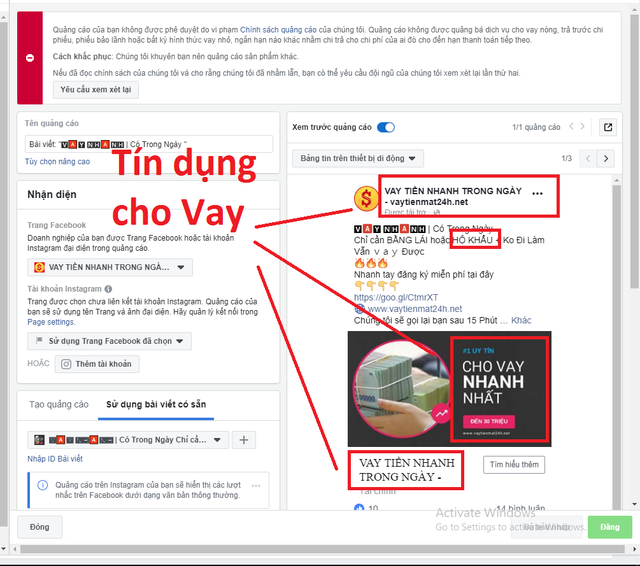 Another banned ad on Facebook. Photo: Moa.edu.vn
When this type of behavior is detected, Facebook will restrict access to ad-related features. This restriction could mean a complete loss of access to advertising features using the Facebook Products, or a restriction on the amount of money spent on ads, and on the advertising feature used.
Suspicious or violated networks/teams: Facebook advertisers can use advertising assets, such as ad accounts, data sources, Pages, and audiences shared across multiple accounts business account. To protect the safety of the platform for the community, we will review these shared connections.
If suspicious behavior or similar violations are found in accounts, such as circumvention of the review process or repeated disabling of ad accounts and other advertising assets for policy non-compliance , we will restrict access to advertising-related features.
" Censorship to ensure that millions of ads globally comply with the Advertising Policies are essential but also challenging. Facebook cannot detect all possible policy violations, because an ad running on Facebook does not always comply with our policies.
Currently, Facebook has 3 layers of censorship: bad reports from users, by machines and by employees. But both machines and humans can make mistakes that make our policy enforcement less than perfect.
When a new policy is introduced, different parts of our enforcement system, including our automated technology and global moderation teams, take time to get trained, learn how to implement test new standards accurately and consistently. We are constantly aggregating new feedback and metrics to make the machine learning system more mature and the ability to automatically enforce policy better, " concludes Ms. Supriya Singh.
Facebook looks at a lot of landing pages, but in some cases it is difficult to review each landing page. For example, in the event that scammers try to circumvent our enforcement by showing Facebook's review system a different version of the landing page than the one shown to people.
This behavior is considered system circumvention and is banned on the platform, but is difficult to detect. When we find these infringing ads, in addition to disavowing the ads, we'll disable the ad accounts and remove their ability to advertise in the future.
Source : Genk