Compare iPhone 12 size with older iPhones: The 5.4-inch iPhone 12 is smaller than the 4.7-inch iPhone SE
As we all know, at the upcoming annual event, Apple will launch its latest iPhone 12 product line. According to some previous sources, this year, Apple will release 4 iPhone 12 models with different screen sizes. Which includes a 5.4 inch version, two 6.1 inch versions and a 6.7 inch version.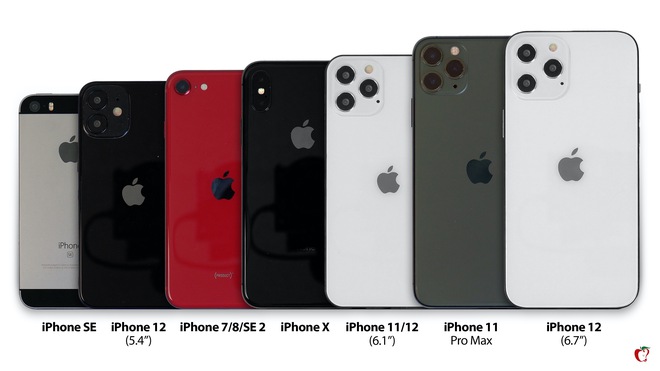 With the 5.4-inch iPhone 12, this will be the smallest iPhone designed by Apple. This iPhone model is even smaller than the iPhone 7/8 / SE 2020 and only a little bigger than the iPhone 5s / SE. This would be an iPhone suitable for those who prefer a small, easy-to-hold design but still want a borderless design like the newer iPhone models.
To make it easier to imagine, MacRumors recently posted a physical comparison of the four upcoming iPhone 12 models alongside older devices like the iPhone 11 Pro Max, iPhone X, iPhone SE 2020 and iPhone SE. Sort in ascending order of size.

If the rumors are true, this year will be the first year Apple launched up to 4 iPhones at once, ranging from mid-range / high-end to high-end segment so that users can easily choose. The machine is right for you.
Some sources also revealed that the iPhone 12 may not come with a charger and a EarPods headset. Users who want to use will be required to purchase more.
Source : Genk