Close up of the new Samsung The Wall TV: Using a MicroLED panel, 100,000 hours lifespan, no burn-in, size up to 583 inches as big as a large movie theater
At this launch, Samsung Vina introduces both options: for Business and for Luxurious Lifestyle. Both versions use modular flat panel technology (MicroLED), with many upgrades in image quality. Modular technology allows users to assemble and create screen designs with display sizes ranging from 73 inches up to 583 inches to meet their diverse needs.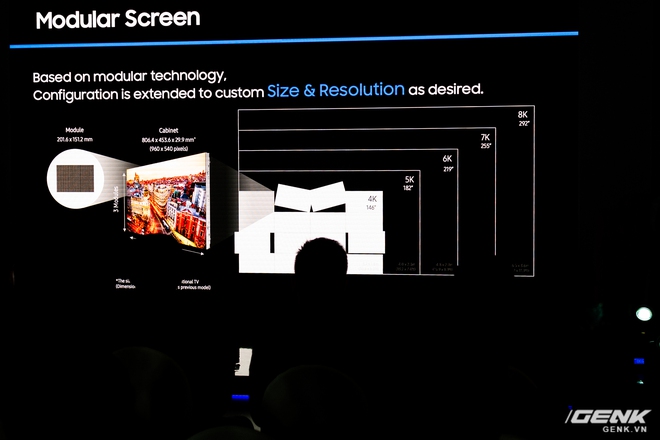 Thanks to this flexibility, users need to assemble in any room space, with many unique sizes such as horizontal, vertical banners and asymmetric shapes to meet specific needs of Features, aesthetics and display space.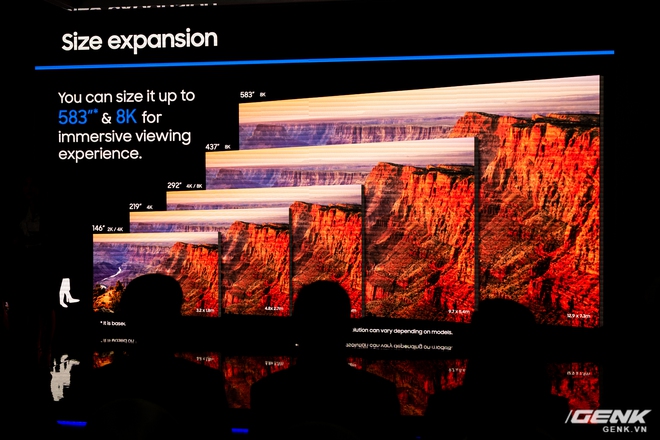 "The market for super-sized display screens is growing steadily in the past. Consumers are demanding bigger screens, higher brightness, greater contrast and more modern technology, "said Suh Kyung Wook – General Director of Samsung Vina Electronics. .
According to Samsung, this modular technology will help remove all the traditional boundaries of resolution, size and aspect ratio of conventional displays. In addition, the monitor does not require traditional color filters or backlighting, providing superior durability and performance in terms of lighting efficiency, light source life and power consumption.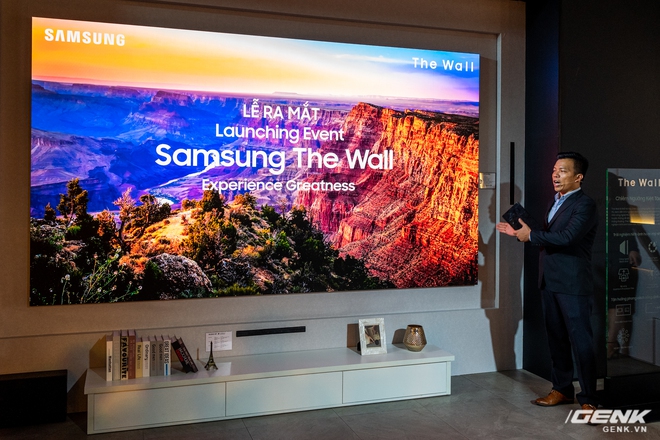 The Wall does not leave a phenomenon of burn-in (LED) and the LED bulbs have a usage time of up to 100,000 hours.
The Black Seal technology on The Wall enables deep black and pure black display for extremely detailed contrast. At the same time, this technology protects the screen from bumps and dust.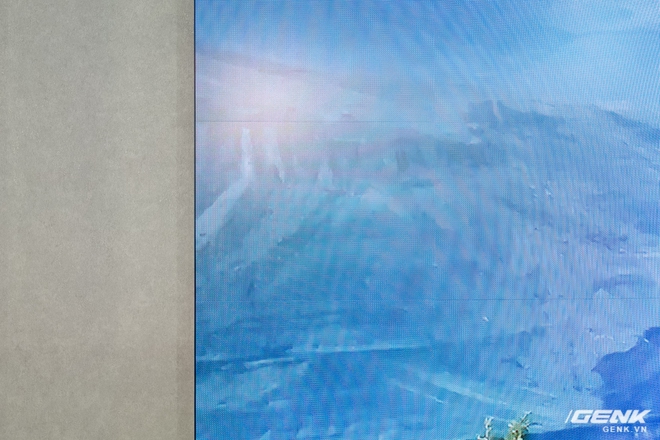 The screen border is very thin, when you are very close to you can see a tiny black border like this.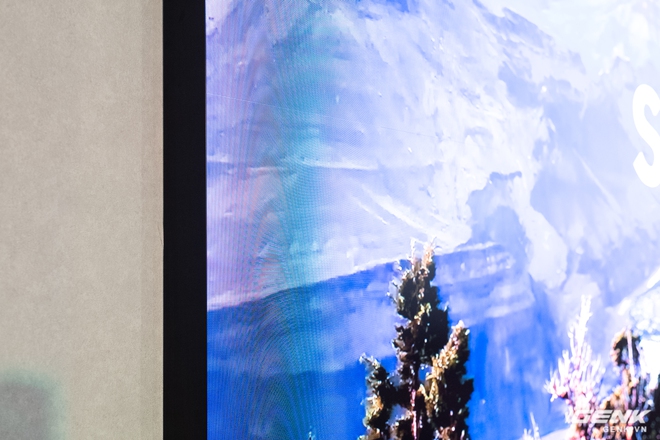 TV thickness of about 3 cm.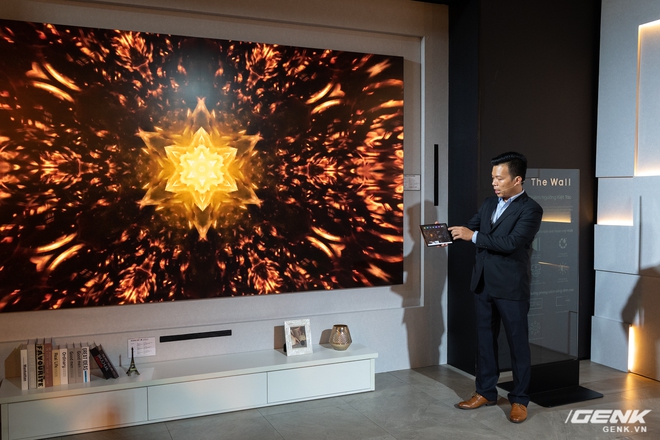 The device can be controlled via remote or smartphone / tablet easily.
In terms of image quality, Samsung says it has AI Upscaling from Quantum Processor Flex, which automatically enhances screen quality to the optimal resolution based on screen size and aspect ratio. improve content at low resolution up to 8K while keeping 98% of the original details.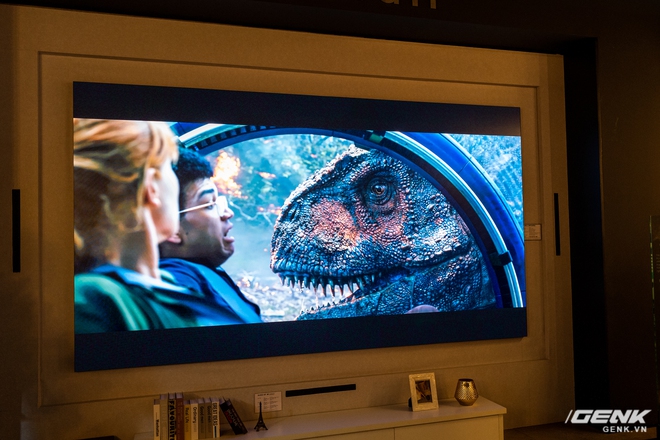 The Wall has a brightness of up to 2000 nits and a 120Hz refresh rate, accompanied by Ultra Chroma and Quantum HDR technologies, providing the best visibility for users.
This TV also features the familiar Ambient Mode, which allows the display of artwork or personal / family photos to turn it into a large picture instead of a dark area that engulfs the room. .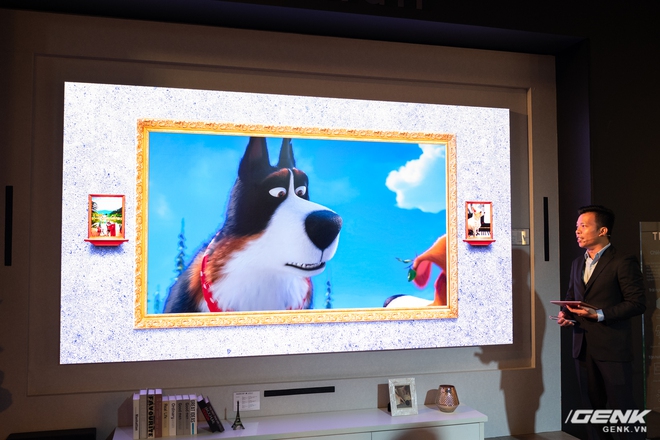 No matter how close you look, it's hard to see the connection between the modules, and indeed, Samsung handled this problem very well.
With The Wall for Business, Samsung offers a wide selection of sizes and resolutions, from 73 inches 2K resolution up to 583 inches 8K resolution, the largest screen size ever. this.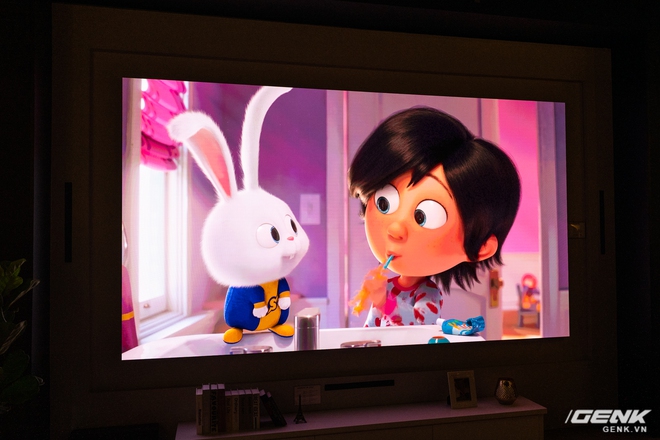 The Wall TV on display at this Samsung 68 measures 146 inches, priced at 9,129,000,000 VND. Samsung website does not have the price for the 583 inch version, but according to the ratio, it is 4 times larger than 146 inches so the price is likely to be about 36 billion VND.
Samsung representative said that the above model TV consists of 4 cabinets horizontally and 4 cabinets vertical (each cabinet has a diameter of 36 inches, and includes 12 modules assembled). With the use of multiple modules, customers can easily replace it whenever there is a "technical problem" or dead point, which costs less than replacing the cabinet assembly.
It is known that these modules are connected by magnets and made by specialized equipment, installation costs are not included in the price of the modules. When asked about the installation time, the representative said that the installation took about 16-24 hours, but then adjusting the color will increase the time to match the "taste" of each customer.
Source : Genk