China is ready to respond to U.S. companies like Apple and Qualcomm to protect Huawei once again
Recently, the US government extended trade sanctions on Huawei and its subsidiaries for another year after President Trump re-signed the executive order. In response, it was reported that China was ready to retaliate against Apple, Qualcomm and other US technology companies.
According to Chinese media reports, the government is ready to take serious measures against US companies, including Apple and Qualcomm.
The reason is that the US government is pressing to prevent Huawei and its subsidiaries from accessing chip sources from American companies. Earlier, the United States unilaterally ordered U.S. companies to sell hardware and software to Huawei, and even banned American telecommunications companies from using equipment manufactured by Huawei.
In the event that the U.S. forces Taiwan's TSMC, a semiconductor company, to stop providing U.S. technology-grade chips to Huawei, the Chinese tech company may have to stop selling smartphones and other devices around the world.
As such, China is likely seeking to put US companies on a list of "untrusted entities", like the US Department of Commerce's blacklist. In addition, the Chinese government may also exert pressure by opening investigations or restricting their business in the Chinese market.
According to the Global Times, Cisco and Boeing may also be on this list of China.
It is widely believed that China is discussing ways to deal with the United States and protect its legitimate interests if the United States continues its plans to ban companies such as TSMC from cooperating with Huawei or Chinese firms. Other countries.
Even the country is considering opening investigations against Apple, Boeing, Cisco and Qualcomm through antitrust laws and cybersecurity. Further, China could ban its airlines from purchasing aircraft from Boeing. It is known that many of the above US companies are largely dependent on the market, their business partners in China.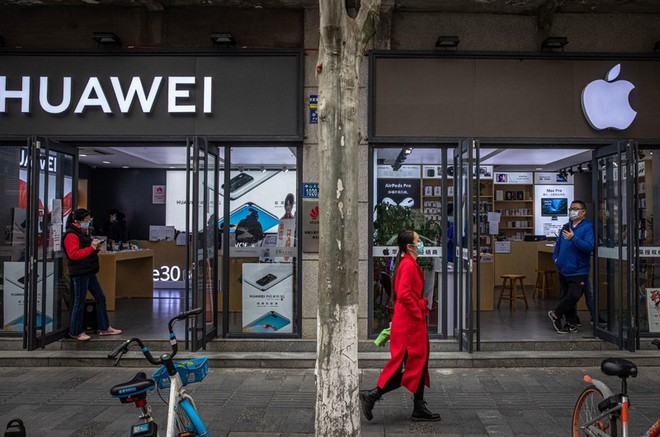 It's hard to imagine that one day, Apple's iPhone or iPad products could be banned or restricted from sale in China. That will be a big blow to Apple sales because the billion-dollar market is always the biggest profit of American technology.
Not to mention many Apple products that are currently being manufactured and assembled primarily at factories in China. If China restricts local companies from cooperating with Apple, the ability of iPhone, iPad or Mac production will plummet, even the supply chain that Apple has built for decades. break completely.
But of course the Chinese government understands the harms if unilaterally issuing decisions banning American companies. Therefore, China will certainly have to ponder a lot if it decides to "retaliate" with the US in such an extreme way.
In a latest move, the extension of Mr. Trump's ban has greatly affected the market capitalization of many US companies such as Boeing or Apple.
Refer to AppleInsider
Source : Genk