Changing just one small detail, Tesla's new battery cell increases capacity by five times, halving costs
This morning Tesla kicked off its "Battery Day" event with the introduction of a new electric vehicle battery, which will be self-made. The new battery not only improves the range and power of electric vehicles, but CEO Elon Musk also predicts that the new battery will significantly reduce the cost of electric vehicle batteries and could bring the price of electric vehicles down. gasoline car.
According to the company statement, this type of cell has a 5 times higher energy density and 6 times the amperage. These improvements will increase the mileage of Tesla electric cars by 16% compared to before. If these parameters are true, it will be a battery revolution in Tesla electric cars.
More notably, these improvements come not entirely from new battery materials, but from the company's new battery design.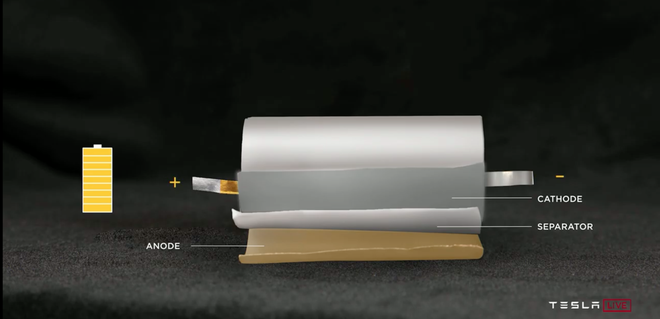 Traditional batteries with two ends – tab – stick out to bring electricity from the electrode out
Traditional batteries are made up of three components: the negative electrode layer, the anode layer and the insulating layer. In fact, each electrode layer comes with a different layer of active material to store charged particles.
When rolled up, the edge of the electrode plate will be welded, to gather the electrode layers in the cell into a junction and connect to a term called "tab" – this thin end will bring charged particles in the electrode for external consumption.
Although this design has been in existence for decades, it has many disadvantages such as: charged particles will have to travel a long distance on the electrode plate to reach this thin, thin tab fiber, making it becomes the bottleneck for charging and discharging speeds. The long travel of charged particles easily heats the battery, as well as limits the rate at which it charges and discharges electricity.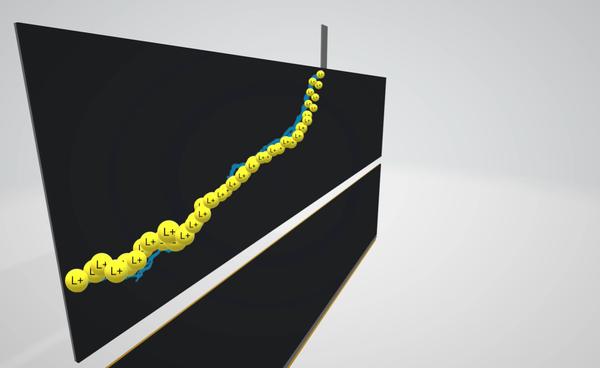 Only a single end to send electricity out causes charged particles to travel longer distances, producing more heat during operation.
Furthermore, concentrating current on these terminals increases the chance of battery failure when these tabs break or fail. That is not to mention the increase in production costs by making the production process more complicated and interrupted into more stages.
That's why Tesla filed a patent for "tabless" batteries earlier this year – a non-conductive terminal battery, in order to eliminate the above disadvantages as well as improve the battery's performance.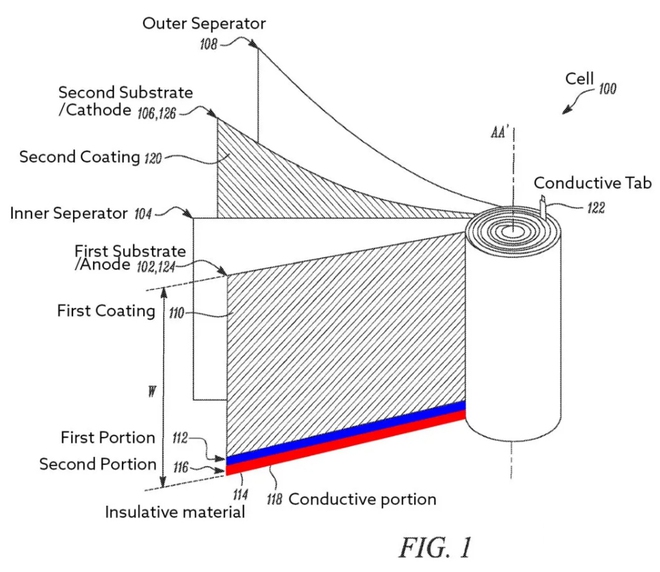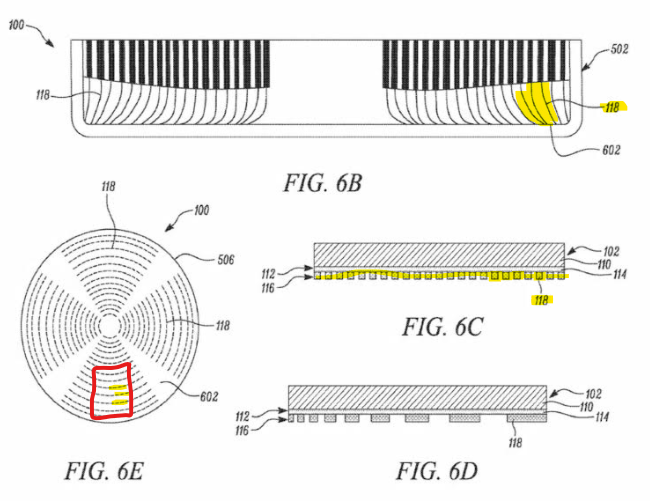 The image depicted in the Tesla patent on tabless batteries shows that the edge of the electrode plate will be cut according to a certain pattern so that when rolled up, they will lie side by side.
During the Battery Day event, Mr. Drew Baglino, Tesla's vice president of energy, gave a more detailed look at his new tabless battery cell. According to Mr. Baglino, on Tesla's new battery, these single ends will be removed, instead, the edge edge of the active material sheets will be laser cut according to a certain pattern, so that when rolled Again, they will lie next to each other and may overlap when folded.
According to Tesla, this battery design allows charged particles to shorten the travel of the electrode from 250mm to 50mm, while reducing the amount of heat generated during discharge or charging.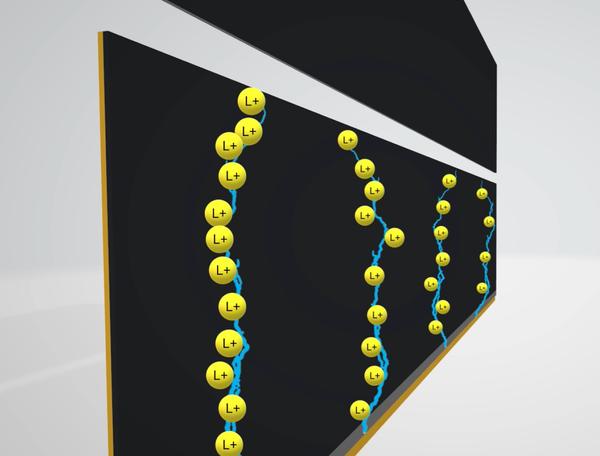 With this tabless design, the charged particles journey on the electrode will be significantly shortened.
At the same time this also allows to significantly increase the size of each battery cell, increase the energy-to-battery ratio, and reduce the overall cost of battery packs on electric vehicles. Currently, Tesla electric vehicles are equipped with a 2170 battery cell (21mm x 70mm) that is larger and has twice the capacity of a normal 18650 cell. But the new tabless design will allow Tesla to create a new type of 4680 battery cell (46mm x 80mm) with five times the capacity per cell than before.

The new design allows the creation of a battery cell with a larger capacity, greater amperage, an increase in the energy-to-volume ratio, and lower production costs.
The design also simplifies the manufacturing process, with fewer parts per cell, and this further reduces the cost of the battery, by up to 50% per kWh. Ultimately this will help Tesla achieve its multi-year goal, lowering the price of its electric cars equipped with self-driving mode to $ 25,000, or less than regular gasoline cars.
Unfortunately, this dream will hardly come true in the near future when Tesla says the new battery cell production system is not yet fully operational. Currently it is only "close to operation" at the pilot factory level. In a tweet ahead of Battery Day, Musk said mass production of new batteries will not begin before 2022.
Refer to TechCrunch
Source : Genk