Buying online is convenient and sometimes has a good price but still afraid, the reason is like this, right?
Schedule delivery and installation until 10pm

Walking around the e-commerce floors, especially in the times near the end of the year like now, you will encounter a lot of genuine products with extremely attractive preferential prices. Buying goods with good prices and quality is also guaranteed, but you are still wondering when you do not know when the goods will be delivered and installed, especially for bulky products of the electronics – refrigeration group.
Understanding this obstacle when shopping online of customers, Tiki has officially launched the delivery and installation service called TikiPRO, applicable to all items including televisions, refrigerators, air conditioning, washing machine, water heater, dishwasher, clothes dryer, freezer – refrigerator, wine freezer.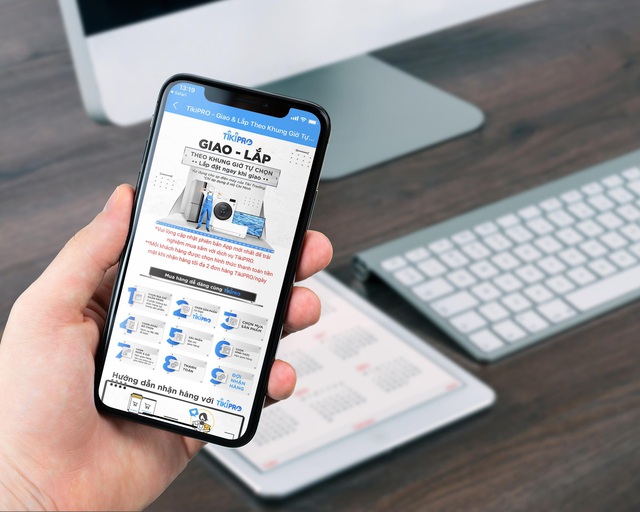 Delivery and installation timed services are available on Tiki
Customers can choose the delivery and installation time upon delivery in a certain time frame throughout 7 days a week. Particularly from Monday to Saturday, the service will be carried out until 10pm, creating the most favorable conditions for customers when purchasing bulky electronic products – refrigeration and need installation services.
In addition to scheduling delivery and immediate installation, TikiPRO also enables customers to open the product check box and easily return the goods immediately if the product has defects in appearance or lack of accessories. In the first time of implementation, TikiPRO will be carried out in many districts in the city. HCM City, is expected to expand in Hanoi and other provinces nationwide in the near future.
"In addition to providing a wide range of products at good prices for consumers, the delivery service is one of the most important 'touch points' between Tiki and the Customer, deciding whether the Customer's shopping journey is really We are proud to be one of the first multidisciplinary e-commerce units in Vietnam pioneering the deployment of customer delivery and scheduled installation for large volumes. products on the floor.With TikiPRO, combined with other delivery services such as TikiNOW 2h, Day Delivery TikiNOW, we firmly believe that customers will save maximum time when shopping, thereby having more time. to enjoy life, "said Mr. Ngo Hoang Gia Khanh, Deputy General Director of Enterprise Development at Tiki.
The cost of the TikiPRO service will be calculated based on the weight, packing size of all products in the order, and the distance between Tiki's or supplier's receiving address and warehouse.
With TikiPRO, Customers will be proactive and save maximum time when shopping
Enjoy TikiPRO with overwhelming deals
From now until 9/9/2020, Customers will enjoy completely free offers for TikiPRO installation fee and delivery fee for most of products when purchasing the above mentioned electronics – refrigeration products. .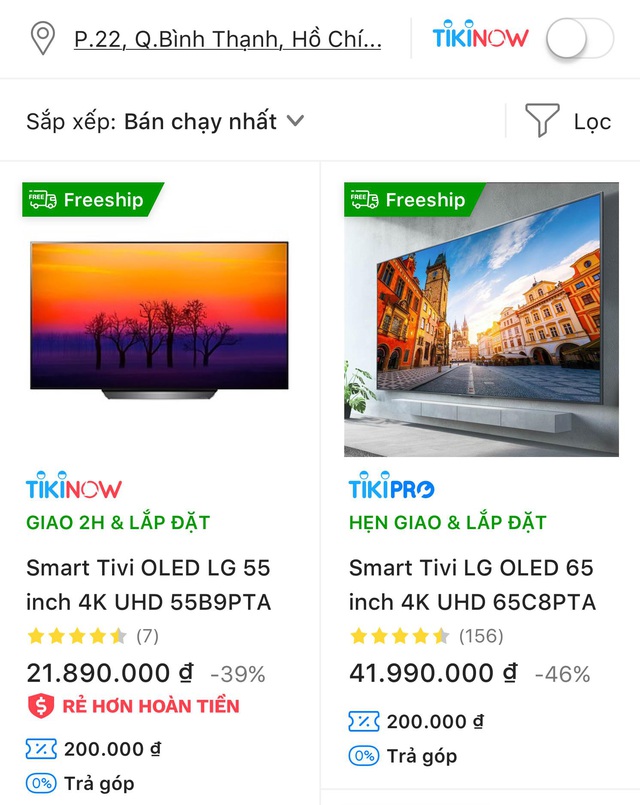 Customers are completely free for the installation fee of TikiPRO by the end of 9/9.2020
At the same time, thousands of hot deals, coupons and direct discounts up to 70% will appear from now until the end of August 31.
Specifically, Tiki, combined with major and reputable brands, will bring to customers an extremely special price incentive program for best-selling products.
– Smart TV QLED 43 inch SAMSUNG 4K QA43Q65RA priced at only 9,990,000 VND;
– Smart TV SAMSUNG HD 32 inch UA32N4300A price only 3,990,000 VND;
– Smart TV SAMSUNG 4K 65 inch UA65NU7100 and UA65NU7400 price only 16,990,000 VND;
– Smart 65C9PTA LG 4K OLED TV with Al ThinQ intelligent artificial intelligence priced at only VND 39,990,000;
– LG Inverter refrigerator 187L GN-L205WB, priced at only 4,999,000 VND;
– Refrigerator SAMSUNG INVERTER 256L RT25M4032DX / SV, the price is only 5,999,000 VND;
– Front door washing machine Samsung Inverter 8 kg WW80J52G0KW / SV, price only 6,999,000 VND;
– Front door washing machine Electrolux Inverter 10kg EWF1024BDWA, price only 10,999,000 VND.
Update the latest version of Tiki App and experience shopping with TikiPRO service HERE .
Source : Genk