BKAV opens to sell Bphone B86 12-animal version: Price 9.49 million VND, gifted 10 calendar books
Not long after being revealed by CEO Nguyen Tu Quang, BKAV recently officially launched the special edition Bphone B86 model inspired by 12 zodiac animals.
This special Bphone B86 does not have any differences from the regular Bphone B86 in terms of configuration and features. The device is still equipped with Snapdragon 675 chip, 4GB RAM, 64GB internal memory, 6.1 inch IPS LCD screen "overflow", 3000mAh battery. Some strengths of Bphone B86 such as water resistance or eSIM support are also preserved.
So where does the difference come from? As the name suggests, the back of Bphone B86 12 zodiac version is printed with images of animals corresponding to 12 zodiac animals, including: Rat (Mouse), Ox (Buffalo), Tiger (Tiger), Rabbit (Cat ), Thin (Dragon), Snake (Snake), Horse (Horse), Smell (Goat), Body (Monkey), Rooster (Chicken), Tuat (Dog), Pig (Pig). Corresponding to that, each version will have two color options are black and white.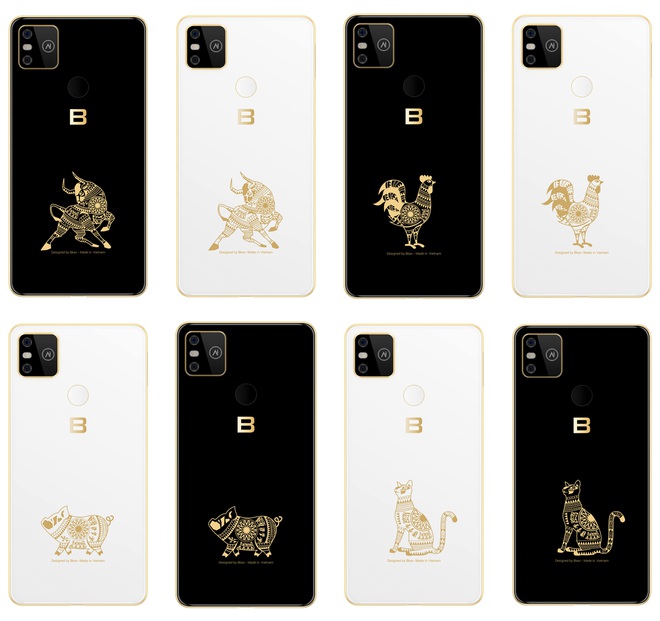 Bphone B86 version of 12 zodiacs
Because it is a special version, so Bphone B86 12 zodiac version is priced at 9.49 million VND, 500,000 VND higher than the traditional version. In return, users will be given up to … 10 BKAV New Year calendars when buying this device. In addition, BKAV said it will deduct 500,000 VND per device sold to contribute to the charity fund of Bphone Fans Club.
As a special device, so how to buy Bphone B86 with 12-piece armor version is also very special. Users will have to deposit 500,000 VND at the Bphone Store, or text an administrator of the BKAV group. More importantly, Bphone B86 with 12-piece zodiac version will be sold limited to 100 units. "We want to make a difference for Bfans, who have been with Bphone during the past time" , BKAV CEO Nguyen Tu Quang said earlier.
Source : Genk