BKAV CEO Nguyen Tu Quang: "Bphone technology helps people become more human"
Today (December 19), BKAV will officially launch a new generation of Bphones, which are A-series Bphone models in the low-cost and mid-range segments.
These are models manufactured under the ODM model, which means that BKAV will not design and manufacture by itself but assign it to another partner. BKAV will be responsible for software development and quality testing.
Because Bphone A series has nothing new about hardware, so in the past time, BKAV has focused on advertising about its software features. Yesterday, BKAV CEO Nguyen Tu Quang posted on social media about the anti-theft feature of Bphone A series, a feature integrated in BKAV Mobile Security (BMS) software.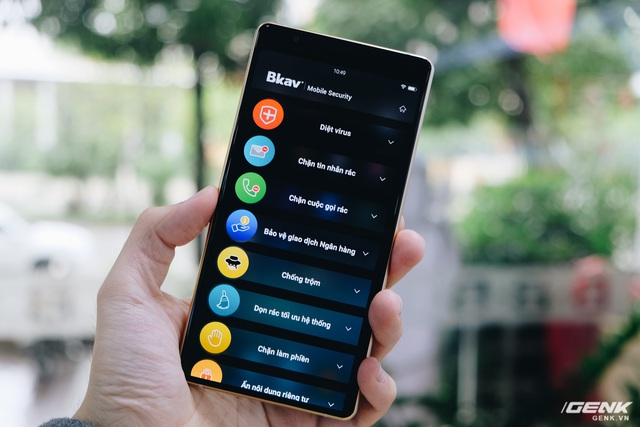 Mr. Quang affirmed that the A-series Bphone is "inviolable", when the bad guys can't use it or control it even after restoring the factory settings.
"By Integrating security technologies deeply into the hardware of the device, Bphones become invulnerable. The bad guy can't use the phone, can't control the phone even after restoring to factory settings ( factory reset).
Therefore, in case the machine is lost, and the owner issues a lock order, the machine will be considered as a "paperweight" and cannot be sold to shops selling stolen goods. At this time, the only way is to contact and return the device to the owner , " BKAV CEO wrote on social networks.
Not stopping there, Mr. Quang confidently said that this feature is "the world's leading high-end" , "no other company has" , "even when buying flagship devices costing up to thousands of dollars still can not have".
When a user talked about Apple and Samsung having similar features, Mr. Quang asserted: "In terms of security, Apple or Samsung cannot have a job equal to Bkav, you should be so confident with Vietnamese companies. South of us."
Even BKAV CEO said that this feature of Bphone also helps people become more humane. Specifically, one user raised his opinion that if the bad guy can't open the phone after stealing, he will throw it away, not return the phone to the owner.
Mr. Quang responded as follows:
"When it can't be used, there are two types of people. The first type has a kind heart to contact to return it. The second type contacts to make some ransom. Other brands' machines can't be locked completely, so people can keep the blood of greed and keep it. use it or sell it for money, so thanks to Bphone technology, people become more human, right? "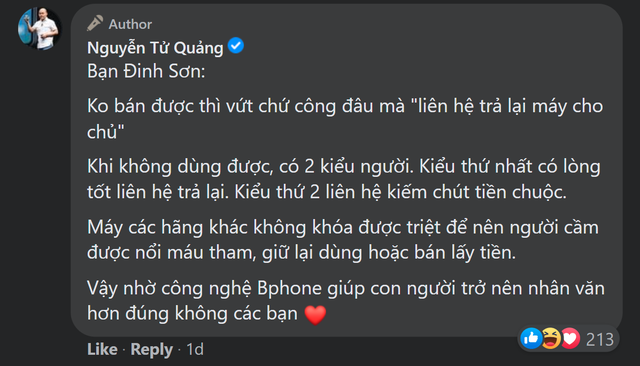 Before that, BKAV gave data showing that up to 89% of Bphone customers found their lost devices. However, BKAV did not specifically announce how it got this number.
The launch event of Bphone A series will take place at 6pm on December 19, and will be livestreamed by BKAV on many different platforms. In addition to CEO Nguyen Tu Quang, this event will have the participation of comedian Xuan Bac.
Source : Genk