BKAV CEO Nguyen Tu Quang: Bphone may have been one of the first smartphones in the world with an in-screen fingerprint sensor, but it was not used because of the bad experience
Recently on Facebook, BKAV CEO Nguyen Tu Quang shared a few views on the biometric identification technology on smartphones, as well as implicitly confirmed a design detail of Bphone 4.
Specifically, what Mr. Quang wants to talk about is the fingerprint sensor technology under the screen. According to the CEO, the fingerprint sensor under the screen "provides an experience that is not good enough, slow response, insensitive". Because BKAV wants to experience the best for users, so Bphone "does not follow the trend to introduce features that are not good enough".
In fact, Mr. Nguyen Tu Quang also said that BKAV has invested in R&D for under-screen fingerprint technology with Qualcomm since 2016. Even, he asserted that Bphone "could have been one of the first devices. first in the world to use under-screen fingerprint technology, " but then was dismissed for a poor experience like a traditional fingerprint sensor.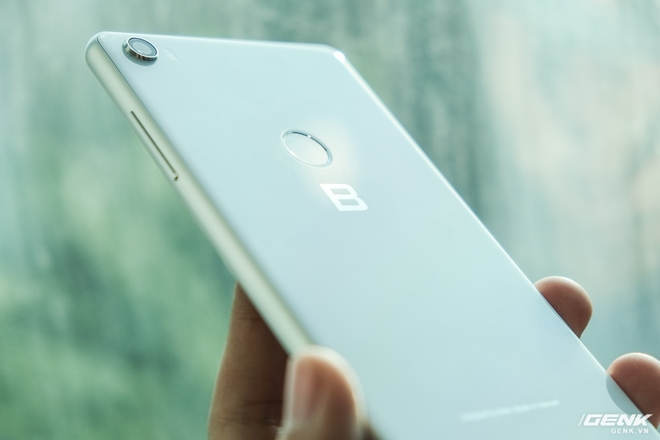 Bphone may have had an in-screen fingerprint sensor, but due to the bad experience, it was not integrated into the final product.
"Following the trend, bringing in expensive but not good enough products is a social waste. It can work immediately but not sustainably. As a result, customers have to pay for value. not really " – wrote Quang.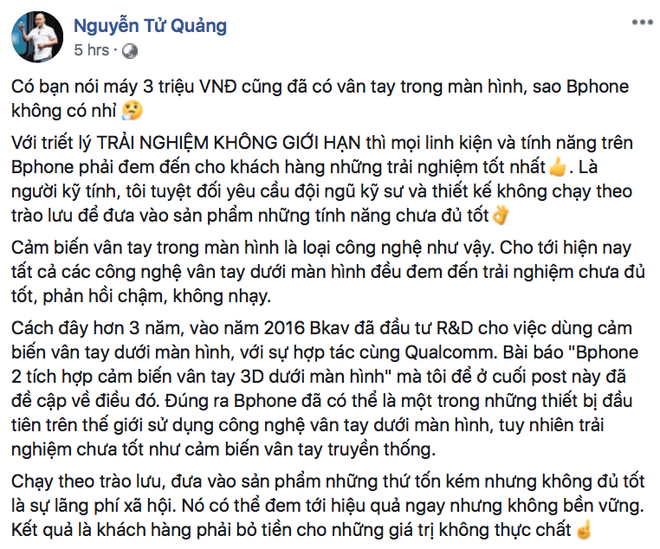 Share of Mr. Nguyen Tu Quang on Facebook
Thus, it can be confirmed that the upcoming Bphone 4 will not be equipped with an in-screen fingerprint sensor, instead will be a traditional physical fingerprint sensor. According to some leaked sources, Bphone 4 will have a fingerprint sensor on the back, similar to Bphone 3.
Bphone 4 will be officially launched on April 7. Due to the effects of the COVID-19 epidemic, this event will be held online and users can watch it via livestream, electronic newspaper and VTC2 TV channel.
Source : Genk