BKAV CEO Nguyen Tu Quang: Bphone 4 will be a smartphone with "unlimited experience"
BKAV has confirmed that it will unveil the next Bphone generation, Bphone 4, in March. The closer to the launch day, BKAV CEO Nguyen Tu Quang also revealed more information about his "child" about to be born.
According to Mr. Quang's latest sharing on Facebook, Bphone 4 will be a "Unlimited Experience" smartphone. This will be the official slogan of Bphone 4, the result of cooperation between BKAV and many multinational partners, after many working sessions.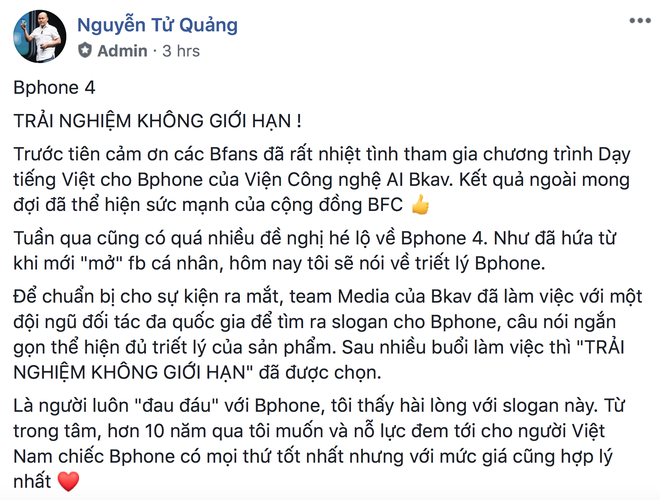 So what is "Unlimited experience"? BKAV CEO said that it is a combination of luxurious design, photographic technology "computer photography", water resistance, the ability to find lost devices and some other features such as screen overflow, navigation gestures, macro photography … Some of the above features are said by Mr. Quang as "no other manufacturer in the world can do the same" , "lead many trends", "the Other manufacturers have to learn "…
The following is the whole sharing of Mr. Nguyen Tu Quang about "unlimited experience" of Bphone 4:
Last week there were too many proposals to reveal about Bphone 4. As promised since opening "personal" fb, today I will talk about Bphone philosophy.
In preparation for the launch event, Bkav's Media team worked with a team of multinational partners to find the slogan for Bphone, a short sentence that shows all the philosophy of the product. After many working sessions, "UNLIMITED EXPERIENCE" was selected.
As someone who always "hurts" with Bphone, I feel satisfied with this slogan. From the heart, over the past 10 years, I have wanted and tried my best to give Vietnamese people the Bphone with the best but with the most reasonable price ❤
This is ambitious but not impossible. We have gradually achieved!
Bphone must have a luxurious, beautiful and good grip feeling. Pioneering in COMPUTER PHOTO PHOTOGRAPHY offers unlimited photography experiences.
Water and dust resistance is only available at the most advanced machines on the market. Not only does waterproofing protect the device against water, it also makes the machine more durable when the circuit board system is protected against absolute humidity, especially in hot and humid climates in our country.
Security with the ability to find a lost device that no other manufacturer in the world can do the same. It saves you and peace of mind when using. Quite a lot of Bfans have experienced this special feeling 👍
As a manufacturer entering the market late, however, the investment efforts in R&D, our Bphone is somewhat leading the trend when other manufacturers have to learn such as designing a bottomless screen, not rabbit ears, also known as "super forehead", macro photography, or the ability to control the full gesture of the Bfans Full Gesture has been experienced for a long time but recently appeared a part in other products 👍
All of this gives you UNLIMITED EXPERIENCES, including from the functional, functional and emotional aspects.
And this is even more special: The unlimited desire is what Bkav engineers and I receive every day from you 😀. The Bfans continue to want unlimited, that will contribute to creating unlimited EXPERIENCE Bphone and you will also see with the upcoming Bphone 4 👌
Previous Bphone models such as Bphone 3 or 2017 Bphone have been slogan by BKAV with the slogan "Smartphone quality" and "Quality to the dong". Meanwhile, the first generation Bphone in 2015 did not have an official slogan, but it was often referred to as the "Unbelievable" model because this was a saying that Mr. Quang constantly promoted during the event.
Source : Genk