Bitcoin plunges, the virtual currency market evaporates $200 billion because of Elon Musk
Responding to an analyst on the virtual currency market in the upcoming context, CEO Elon Musk continued to cause the Bitcoin price to drop 8% to $ 44,000.
Specifically, on Twitter, analyst @CryptoWhale wrote: "Bitcoin players will slap themselves in the face next quarter knowing that Tesla has dumped all of their coins. With the number of haters @elonmusk increasing I'm not going to use that as an excuse to blame him."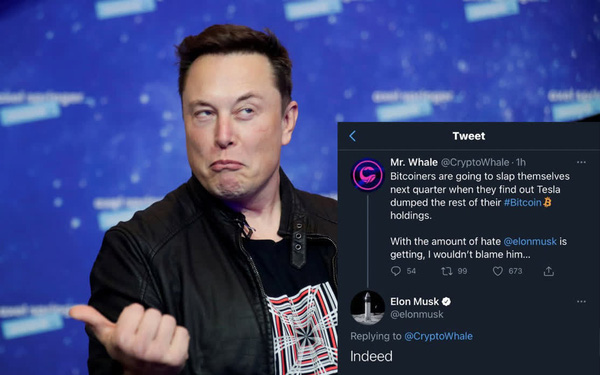 A while after being tagged, Elon Musk replied with this opinion, causing the Bitcoin price to continue to sink deep in the red. Earlier, Elon Musk announced that Tesla stopped accepting car payments in Bitcoin despite claiming to still keep this cryptocurrency.
Elon Musk is known to be a cryptocurrency advocate. In February, Tesla bought $1.5 billion worth of Bitcoin at that time and then sold 10%, bringing a profit of $ 101 million for the company in the first quarter of 2021 financial report.

The cryptocurrency market is in the red with only a few at resistance.
The South African-born billionaire then turned in favor of Dogecoin, claiming to put the satirical virtual currency on the moon literally next year. Despite Elon Musk's backing, Dogecoin is currently hovering around $0.50 from the $0.72 peak.
Currently, Dogecoin drops to 5th place in terms of market capitalization with only $64 billion. The entire cryptocurrency market has lost nearly $200 billion and is only about $2,089 billion in market capitalization after Elon Musk's reply line.
Source : Genk