Bitcoin fell to a 7-week low, proving that more than $ 10 billion of positions were sold off in just one day
Amid the sudden plunge of Bitcoin, the digital currency's trading activity has seen massive sell-off. Accordingly, Bitcoin's total capitalization has lost nearly $ 4 billion.
This morning, Bitcoin price fell by nearly $ 10,000 when it hit a low of $ 50,900 on the Binance exchange, the lowest level since early March. Although the cryptocurrency price has recovered somewhat after the profit-taking, but on April 18, Bitcoin still lost 9% of its value.
According to Bybt, Bitcoin sell-off volume has hit a new record, with more than 1 million positions being sold off. In total, $ 10 billion of positions were sold. The largest position on the Binance exchange lost $ 68.73 million in value. Although the market has attempted to recover, the majority of long positions have been liquidated.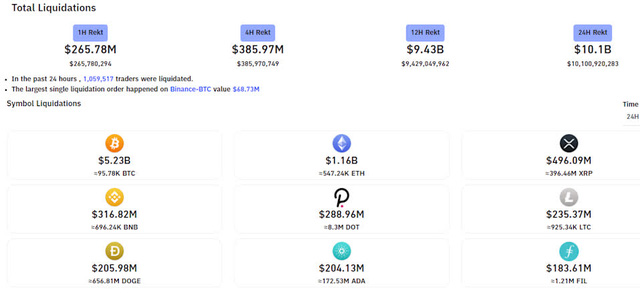 Binance is currently the Bitcoin exchange that saw the largest profit taking, with more than 49% of positions sold during this batch, equivalent to a value of $ 4.49 billion. Huobi is the 2nd largest exchange with 17% of positions being sold off, equivalent to $ 1.72 billion.
Sunday's "vertical fall" has become the biggest daily profit-taking event after March 15 – when $ 2.4 billion was sold off, causing Bitcoin to fall from $ 60,000 to $ 55,000. .
According to Yahoo Finance, in today's event, Bitcoin could be the digital currency that accounts for the majority of profit taking. However, it seems that other altcoins are in the same position. Ethereum lost $ 1.16 billion in value, in XPR lost $ 496 million. Doge, Ada and Fil also saw the same sell-off volume at $ 205 million and $ 183 million, respectively.

Trading volume on crypto exchanges.
According to some newspapers, the cause of this drop is because the US Treasury may introduce strict measures to combat money laundering through digital assets.
Last week, Bitcoin hit a new record high of $ 64,869.78 just before Coinbase's listing. Meanwhile, Dogecoin, also known as Dogecoin, rose more than 110% on Friday, sending demand so high that Robinhood's trading website collapsed.
"The crypto market welcomes today with a bit of 'headache'," said Antoni Trenchev, co-founder of crypto lender Nexo. , after Bitcoin hits a record and Coinbase goes public. Usually, there is a price to pay after the euphoria. "
In addition to unclear information about the US Treasury Department, Trenchev said factors leading to the decline may include "too high leverage, Coinbase internally selling shares after the listing and a series of a power outage in a location in Xinjiang (China) affects Bitcoin miners. "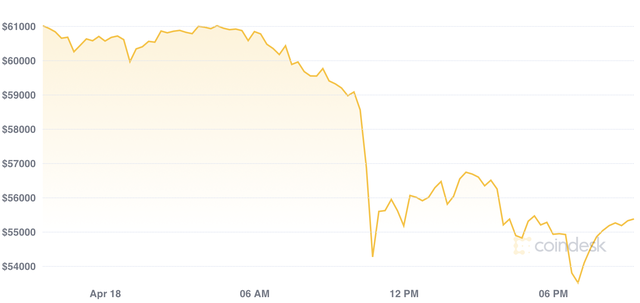 The increasing adoption of cryptocurrencies by financial institutions has fueled the rise of Bitcoin and other cryptocurrencies. Interest in the sector returned after companies from PayPal to Square started allowing customers to transact Bitcoin on the system, and Wall Street banks allowed some customers to invest in Bitcoin. These moves come in spite of lingering concerns about Bitcoin's volatility and efficiency as a payment method.
Meanwhile, governments are sending out warning signals with more and more investors approaching Bitcoinkhi. Recently, Fed Chairman Jerome Powell said Bitcoin is more like a means of speculation than payment. In January, President of the European Central Bank (ECB) Christine Lagarde also stated that Bitcoin facilitates criminal acts.
Additionally, the Turkish central bank has banned citizens from using cryptocurrencies in the form of payments since April 30, saying the anonymity behind digital currency transactions creates irreparable losses. . India also proposed laws banning the use of cryptocurrencies and penalizing anyone holding and trading this asset class.
Source : Genk