Billionaire Jeff Bezos prepares to sell space travel tickets
Blue Origin on April 29th announced this plan via a video and installed a countdown timer until 5/5 on the official website. To this date, the company will publish more details on the itinerary of the space tour.
So far, Blue Origin has not announced the exact price. However, British billionaire Richard Branson's rival Virgin Galactic has previously sold space tour tickets for about $ 250,000 per person to about 600 passengers. Billionaire Jeff Bezos has said that Blue Origin's tour will be "very competitive" with competitors.
In the newly released video shows Jeff Bezos visiting the New Shepard cabin after his latest test flight earlier this month. "It's great. It's time," said Bezos in the video. In the video, he also travels on a missile test-launch facility in Texas in an electric van with the Blue Origin logo on it.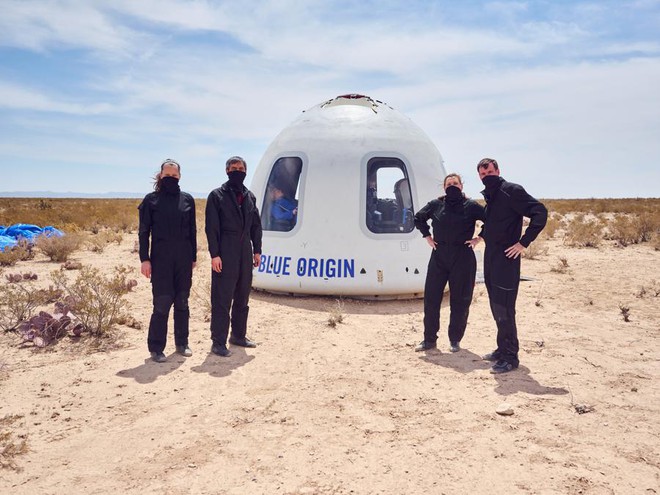 Blue Origin's New Shepard spacecraft – Photo: Blue Origin
Blue Origin's New Shepard cruise ship tour will last 11 minutes, starting from a desert in western Texas. Passengers have the opportunity to admire the universe at altitudes up to 103.6 km from the ground. The cabin of the train has windows for passengers to enjoy the panoramic view of space and experience the feeling of zero gravity for a few minutes before returning to Earth. New Shepard is designed for 6 people.
Founded in 2000, Blue Origin seeks to cheaply and reliably send humans to space using reusable rocket launchers.
The company has long competed with SpaceX – founded by billionaire Elon Musk. The two companies have a common goal of bringing humans to space as well as creating a future for humanity outside of Earth.
Earlier this month, SpaceX beat Blue Origin to win a $ 2.9 billion spaceship contract for NASA on its return to the Moon mission. However, on April 27, Blue Origin filed an objection, calling NASA's decision to hand over the contract to SpaceX "flawed" and "unfair".
Source : Genk