Benchmark of the iPhone 12: "kill the flesh" performance of any Android phone
Following the tradition of his father, the iPhone 12 once again has the overwhelming power, crushing the performance of any phone on the market, including Samsung Galaxy S20 Ultra, the most powerful Android device available today. .
The new Weibo benchmark of the iPhone 12 is similar to the performance of the iPad Pro, which is already capable of exceeding the scores of most laptops on the market. According to what has been recorded from Geekbench 5, iPhone 12 will use A14 Bionic chip running at 3.1GHz. It will also be the processor chip for the first handsets to surpass the 3 GHz mark.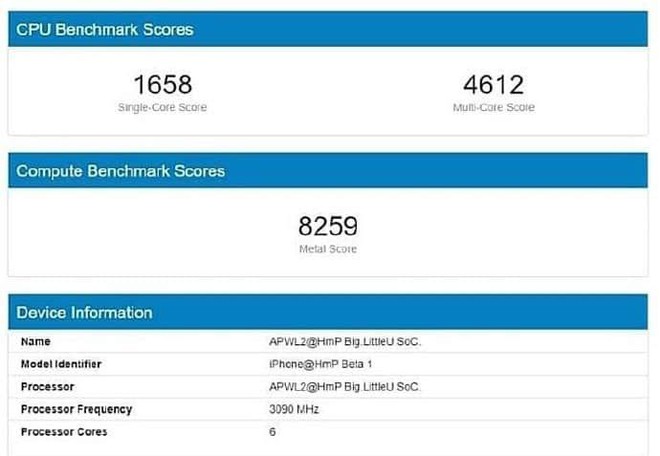 According to recent rumors, this massive CPU will be produced on TSMC's 5nm process. In theory, A14 will almost hit the physical limit of electronics in the current time.
With dimensions of about 6 inches, Apple's 2020 iPhone lineup will have terrible scores of up to 1658 single-core 4612 multi-core. Meanwhile, the Galaxy S20 Ultra, the most powerful Android phone on the market, can only score 805 and 3076.7, respectively. In fact, this score has lost to A13 Bionic on iPhone 11, let alone A14. The Snapdragon 865 will surely continue to smell again.
Although the multi-core score is not much different, only about one and a half times, the single-core score of A14 is more than 2 times of the Snapdragon 865. Perhaps Qualcomm or Samsung, Huawei will still take many years, even forever, to can chase Apple for CPU performance on mobile devices.
Of course, the above score is for reference only because it only reflects pure processing power, not the full performance of a device. We still need to consider RAM, the speed of internal memory or the operating system. The impressive figures at the present time will show that the next generation of iPhone will have tremendous power, equivalent to an iPad Pro to "weigh" all kinds of applications "close to the hardware" that dreams. New Android phones can be stretched.
Source : Genk