Being criticized by Facebook's AI director for being ignorant of artificial intelligence, Elon Musk responded bluntly: "Facebook is bad".
Although it can be considered a "social network addict," Elon Musk has never shown interest in Facebook. Previously, this multi-talented billionaire even bluntly declared Facebook to be a bullshit, tasteless and urged people to stop using this app. The two big companies he owns, SpaceX and Tesla, have not established official fan pages on Facebook. Then, on Friday (May 15), Musk continued to tweet on Facebook, patting the face of Mark Zuckerberg's product with a brief status: " Facebook is ugly ".
It is no coincidence that Elon Musk was so excited about publicly "sneaking" on Facebook. Recently, the AI ​​director of this social network, Jerome Pesenti, has criticized Elon Musk for not understanding anything about artificial intelligence, but he likes to brag about this technology. In particular, the idea " AI will become a lot smarter than humans, pushing humanity into a situation of distress, extreme " of Jerome was strongly opposed by Jerome. That may have pushed Musk's aversion to Facebook to a climax, and we all know that Tesla's CEO doesn't get bored with anyone on Twitter.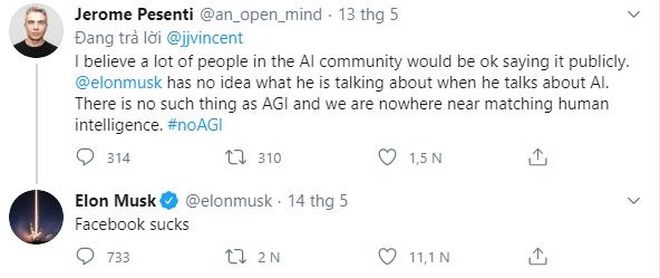 When criticized by Facebook's AI director, Elon Musk responded briefly: "Facebook is terrible".
In August 2019, at the International AI Conference in Shanghai, China, Elon Musk had the opportunity to discuss this technology with billionaire Jack Ma. " I think most of us are underestimating AI capabilities," he said. They simply thought it was a smart product similar to humans. But no, its potential is even greater. As I see it, AI will soon have intellectual property surpassing even the smartest people in the world . "
Earlier in 2017, Musk repeatedly emphasized the risks that AI may pose to humanity in the near future. Tesla's CEO said: " AI is a threat to the survival of mankind. I had the opportunity to be exposed to the most advanced AI model available today, and believe me, we have reason to be afraid . "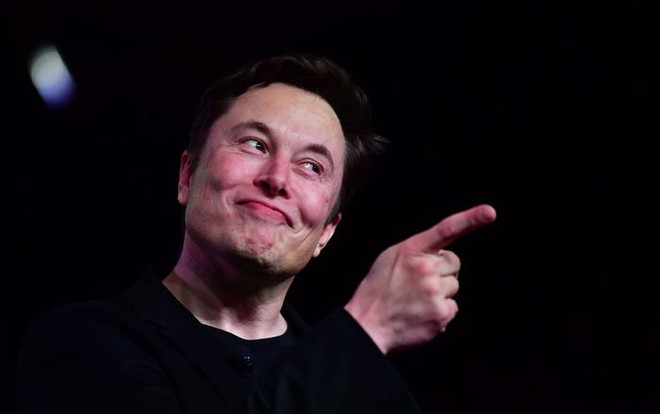 Elon Musk's view that AI will soon become smarter than humans and threaten humanity has faced a lot of criticism from technology experts around the world.
Musk's views may be accurate, or may not be. But it is clear that he is not just talking for fun. In July 2016, he founded Neuralink, a company that aims to improve knowledge gaps and close the gap between humans and advanced AI technologies, so that it can never surpass humanity. OK. In addition, Musk is also actively investing in potential AI startups around the world.
However, Musk's views on artificial intelligence have faced the opposition of many prominent figures in the technology industry. Billionaire Bill Gates has recognized that the development of AI will open up new opportunities for humans, and need not be too worried about the prospect of robots becoming smarter than us. Or Facebook CEO Mark Zuckerberg also criticized Musk's thinking about AI as being too baseless and bullshit and irresponsible.
Elon Musk has also expressed a special concern for AGI – a form of AI in theory with the ability to learn and adapt like humans. However, Jerome Pesenti quickly denied this: " There is no technology called AGI. It will take a long time before artificial intelligence can reach the human level ." And perhaps unable to retort one of the leading experts in the field of AI, Musk could only go berserk and criticize Facebook.
According to BusinessInsider
Source : Genk