Before F88, Mobile World also shook hands with FE Credit to lend cash, what was the interest rate?
At the end of September 2021, The Gioi Di Dong announced that from September 28, the Mobile World system and Dien May Xanh will officially launch the FE Credit cash loan service. Applicable provinces include: Ben Tre, Binh Dinh, Da Nang, Dak Lak, Gia Lai, Hai Phong, Lam Dong, Long An, Nam Dinh, Nghe An, Quang Nam, Quang Ngai, Quang Ninh, Thanh Hoa, Tien Giang, Tra Vinh and City. Ho Chi Minh.
Target customers are those who are, have borrowed or purchased FE Credit's installment products and made good payments. Customers only need to provide their identity card/citizen identification, a portrait photo to make loan application documents.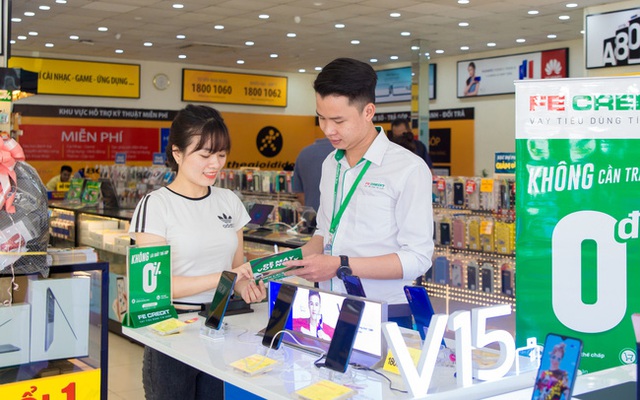 The loan value is from 10 million to 70 million dong. Loan term from 6 to 36 months, approve documents and receive money in 30 minutes. Interest rates are from 2.33-4.58%/month, equivalent to 28-55%/year.
After cooperating with FE Credit, recently, Mobile World continued to shake hands with the F88 pawn system to lend cash with a loan cost of 7.5%/month, equivalent to 90%/year. Loan limit is 10 million VND/transaction.
In the market, Mobile World is currently the largest retailer of phones, electronics and department stores in the country with 4,871 stores in Vietnam and 50 stores in Cambodia. In which, this company currently manages and operates retail chains including Thegioididong.com; Dien May Xanh; Bach Hoa Xanh; TopZone; An Khang and Bluetronics pharmacy (in Cambodia).
In recent years, financial companies have been looking for ways to expand their networks to reach more customers. Thus, instead of having to open kiosks and transaction points, through cooperation with a large retail system, financial companies such as FE Credit or the F88 pawn system can reach more customers and Cost savings.
Source : Genk