Become a multitasking master with Asus Zenbook Duo 14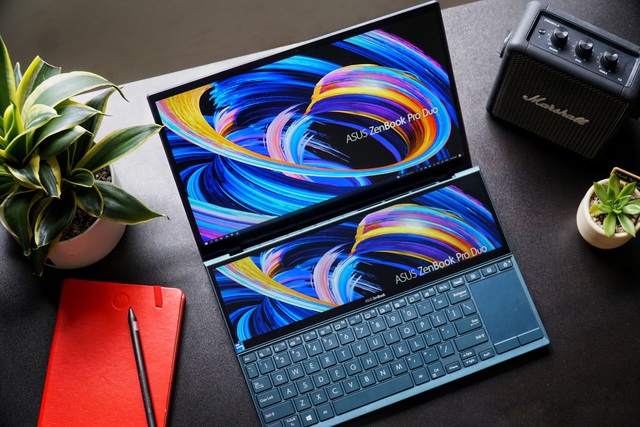 A cafe or an outdoor space is probably the place that gives us the most inspiration to work. However, the experience of working with a laptop is often quite cramped and cannot give you the ability to multitask like a desktop computer with two screens. Until Asus launched the Zenbook Duo 14 with a 2-screen design, with experiences only available in professional studios.
A screen strip up to 12.6 inches in size is placed right below the main screen, with the ability to automatically raise to an eye-level angle, perfectly explaining the slogan of Zenbook Duo 14: The laptop of the future. .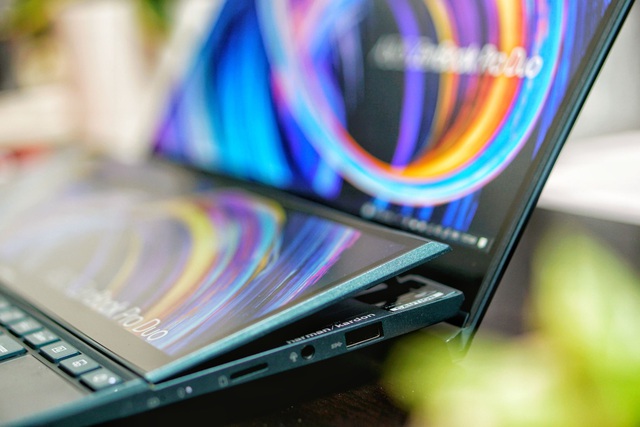 Raised secondary screen to optimize viewing angle
The obvious effect of this 2-screen combo is to increase multitasking when you can open more applications at the same time. This will be extremely useful for jobs that need to compare or gather information from multiple sources. A typical example is making a report or writing content, the main screen will be "your brainchild", while the secondary screen you can comfortably open 2-3 websites, software to collect information, compare. What's even better is that you get a spacious two-screen workspace whether you're at a cafe or on an airplane.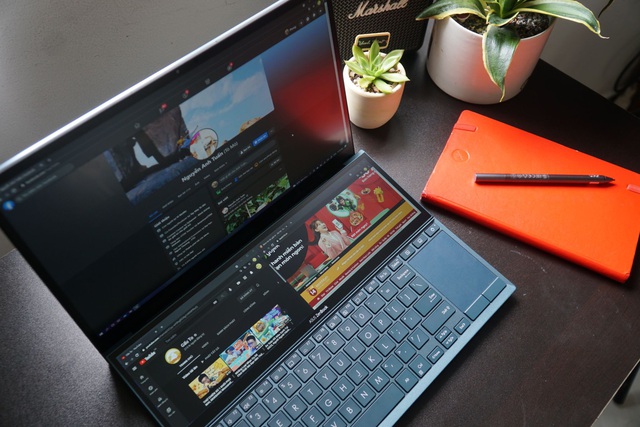 Dual screens make multitasking easier than ever
If you do digital creative work like photo or video editing, the Zenbook Duo 14's 12.6-inch secondary display is the perfect place to place a video timeline or windows. design tools. So your "artwork" will be displayed on the entire 14-inch Full HD screen with 100% sRGB standard. Combined with a stylus, you will have a professional artistic creation space wherever you are.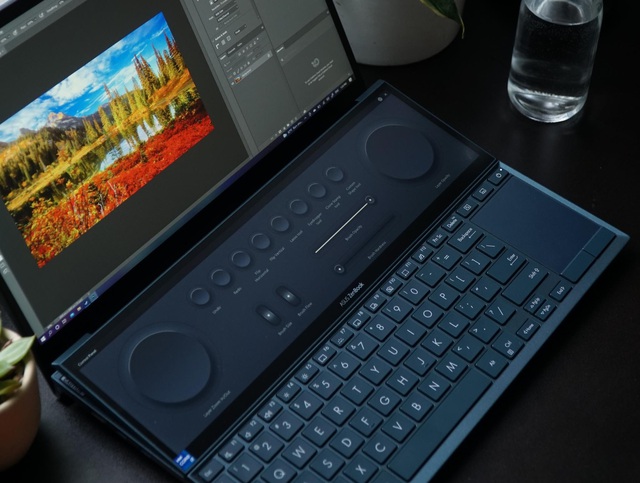 Control Panel feature helps to adjust design parameters precisely
Not stopping there, inspired by mixer consoles only found in professional studios, Asus has partnered with software giant Adobe to turn the Zenbook Duo 14's secondary display into a separate control panel for Photoshop, Premiere or Lightroom… The result is a series of tool keys, turntables, sliders… that can be customized according to each software and your usage habits. Combined with the Ergolift hinge that lifts both the body and the secondary display, you'll be able to precisely adjust the design parameters, in a comfortable and professional manner.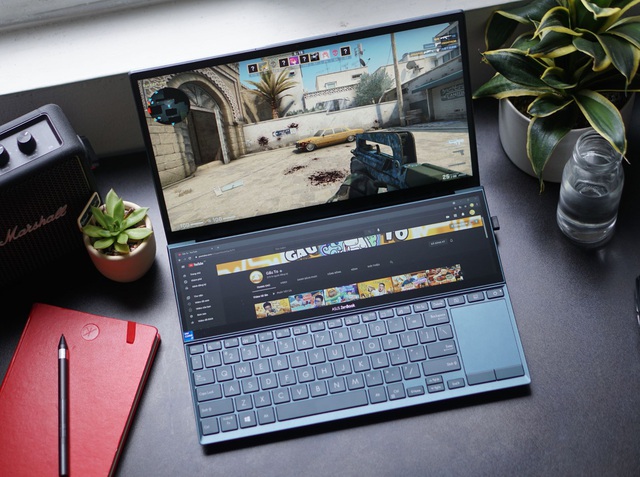 The ability to play games and open anything at the same time is very useful for streamers
If you are a Game Streamer, Zenbook Duo 14 can be your "savior" in cases where you can't be at the "stream room" or simply when you want to change the wind, stream games at a cafe. The secondary screen of the device will help you both play the game and monitor and interact with the comments of the fans. Oriented to content creators, Asus equips Zenbook Duo 14 with a pretty powerful configuration, enough to both play games and livestream, anywhere with an internet connection.
With normal office tasks such as video calls, Zenbook Duo 14 presentations will also help you feel more confident when information and documents are always ready on the second screen. No more interruptions, exiting moments. from the meeting window to open the document again. The second screen of the device also supports a stylus. You can use the pen to quickly take notes during the meeting.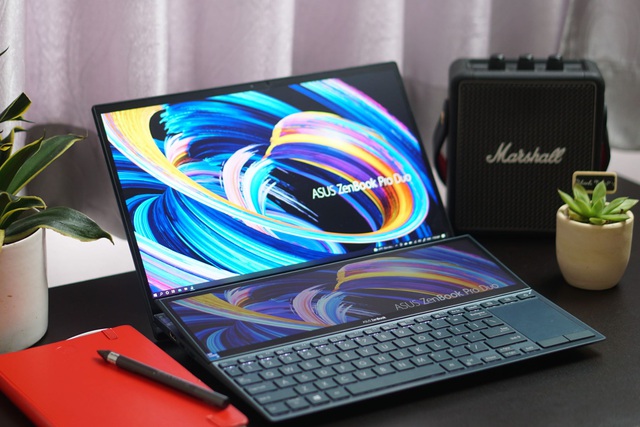 Zenbook Duo 14 – Laptop of the future
Not only possessing a breakthrough design and appearance, Asus Zenbook Duo 14 really gives us a very futuristic experience. The best thing is the compact, can follow you anywhere, but when you open the machine, it is a professional workspace, ready to work with you to create. The starting price of the machine is 32.9. million with Intel Core i5, 8GB ram, 512 SSD, and NVIDIA MX450 graphics card. When upgrading to Core i7 version, 16GB ram, 1TB SSD, the machine will cost 39.9 million.
Source : Genk