Axie Infinity generated 488 million USD in revenue within 90 days, AXS coin price skyrocketed, helping the founding team of Sky Mavis Nguyen Thanh Trung own nearly 1 billion USD
Cumulative revenue exceeds 1 billion USD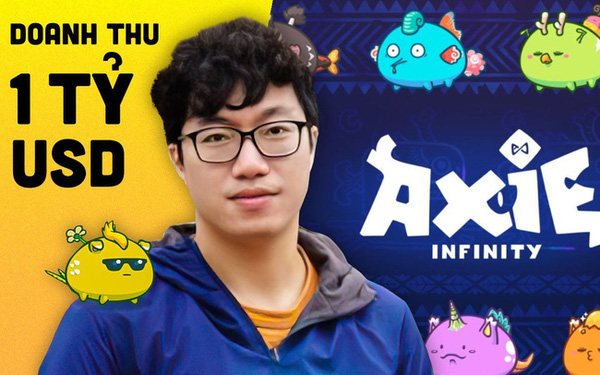 Axie Infinity a blockchain-based monetization game developed by Sky Mavis (a Vietnamese company) has been the leader in cumulative revenue on the NFT space for the past 90 days.
According to Token Terminal, the revenue generated from the Axie Infinity platform reached 488 million USD, much higher than that from Ethereum, Filecoin, PancakeSwap or OpenSea…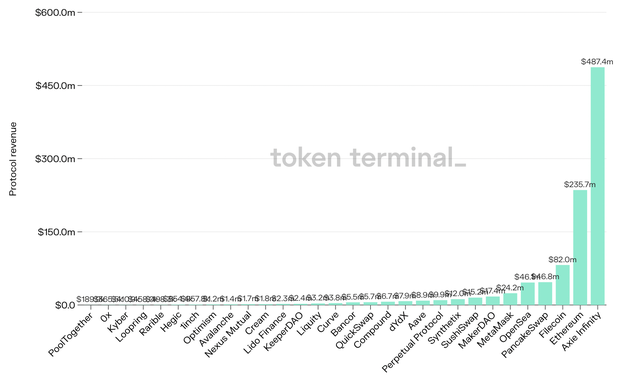 Revenue generated by Axie Infinity platform in 90 days
Even in the last 30 days, Axie Infity generated nearly $350 million in revenue. Observers call this the phenomenon of exponential revenue growth, coming from an increase in the number of players.
In fact, data confirms Axie Infinity's cumulative revenue has surpassed $1 billion. Previously, only OpenSea could do this, other popular NFT projects such as NBS Top Shot or Cryptopunks were only reaching $ 700 million.
In addition, Axie Infinity also announced an impressive number of 1 million daily players.
Although quiet in Vietnam, the game Axie Infinity is booming in many countries, including the Philippines and Venezuela (two countries that account for nearly 50% of the players). Forecasts say that Axie Infinity can achieve cumulative revenue of $ 1 billion this year and $ 2 billion next year.
Axie Infinity is so attractive that there's even a derivative service
The attraction of Axie Infinity is a game to earn money (play to earn). The project allows players to breed pets, trade, perform quests and have them fight (inspired by Pokemon Go).
By doing so, players win SLP coins and also AXS, one of two Ethereum-based cryptocurrencies. However, the game also has barriers for new players with the cost to start buying three Axies up to 1,500 USD.
The Axie Infinity (treasury) side generates revenue from two main sources: petting (collecting AXS coins) and 4.25% fees for market transactions. The game is also gradually transforming into a decentralized finance (DeFi) platform, so the economic decisions will no longer belong to Sky Mavis. From the beginning of August, livestock fees (AXS) are transferred directly to the community coffers.
Axie Infinity has grown so much that there are units that do derivative services in the game. Yield Guild Games (YGG) based in the Philippines has purchased Axie series, lending it to players to perform missions. Players can keep 70% of the rewards they win, instead they don't have to spend money to buy their own plaything. YGG currently has a total of nearly 5,000 players who rent animals.
Delphi Digital, a venture capital fund in both YGG and developer Sky Mavis, said that the investment in YGG is a guarantee of a stable player participation and a roadmap for full expansion. Monetized gaming ecosystem.
AXS coin capitalization skyrocketed, Sky Mavis development team has nearly 1 billion dollars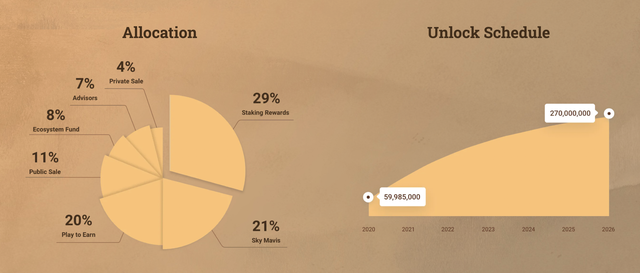 AXS will be gradually unlocked to 270 million VND until 2026
AXS is the base currency that forms the Axie Infinity platform. There are 270 million such coins created of which 21% belong to the Sky Mavis issuer, the largest part 29% in the form of staking rewards, 20% play to earn, 11% public sale, 8% to funds, 7 % to consultants, 4% to sell private equity. However, the majority of AXS coins are currently locked and will gradually open until 2026.
The AXS coin on the market is currently priced at nearly $75, with a total market capitalization of $4.56 billion. The value of the founding team of Sky Mavis is about 957 million USD respectively.
AXS coin only started to skyrocket from the end of June this year along with the explosion of the Axie Infinity gaming community.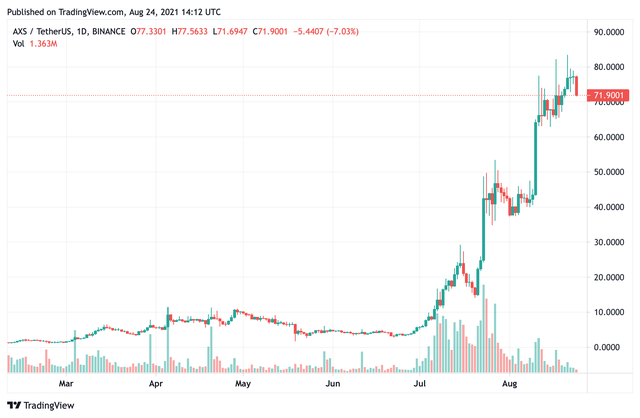 Movement of AXS coin on the market
Source : Genk