Asus ROG Flow X13, a 13-inch laptop with extreme performance "buffalo" with AMD Ryzen 7
Design

The game village "warrior" has an extremely interesting design, which can be rotated and folded 360 degrees at angles. When opened, it becomes a tablet with a touch screen. The product has both gaming quality and luxury, class with shiny metal material. Dotted on the case are vertical ridges that both create a non-slip feel and create a unique highlight for the appearance.
One very impressive information is that this gaming laptop weighs only 1.3 kg. Its edge dimensions are specifically 29.9 x 22.2 x 1.58 and only less than 16mm thick. You can put the device in your backpack, bag and take it everywhere.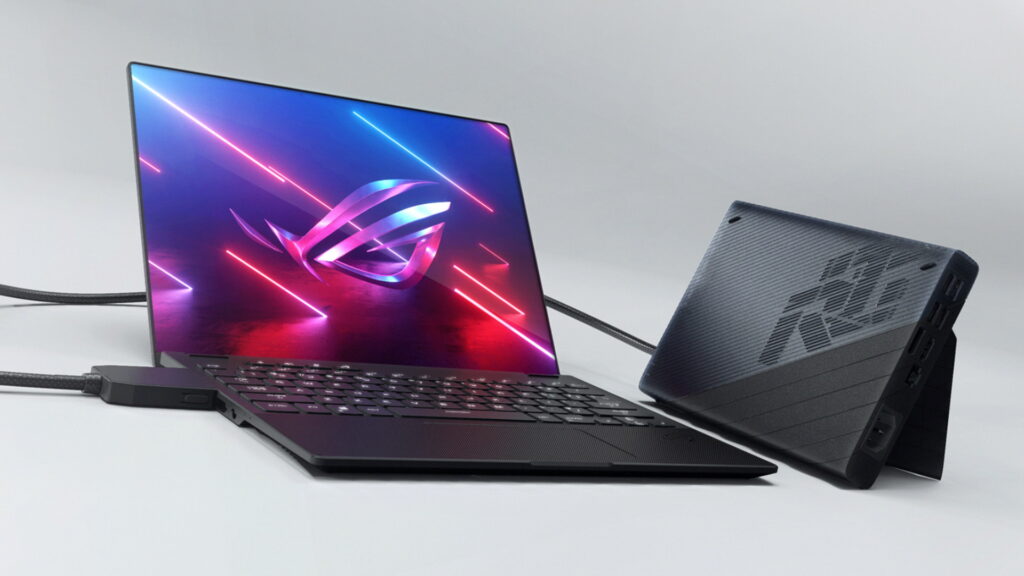 The product has a design that is both gaming and luxurious.
Screen
As a 2-in-1 and lightweight gaming laptop, Asus Gaming ROG Flow X13 features a 13.4-inch Full HD display on a familiar IPS panel. The refresh rate – a very important parameter when playing games reaches 120Hz. Machine screen for wide viewing angle, wide color range. In tablet mode, touch sensitivity is also quite high. Users are provided with a stylus pen when buying the device to draw and make graphics or take notes.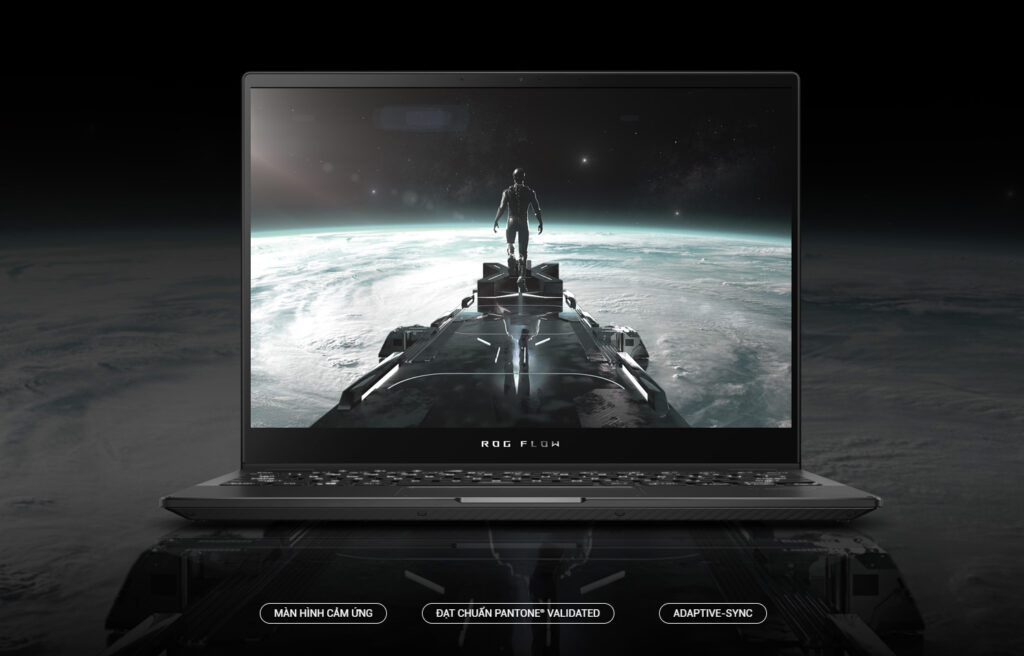 Full HD screen but sharp enough because of its small size.
Configuration
As a high-end machine with a price that is not cheap, it is clear that the Asus Gaming ROG Flow X13 laptop is expected to have the most powerful configuration. Instead of the familiar Intel chip, it is equipped with an AMD Ryzen 7 – 6800HS processor with 8 cores and 16 threads, clocked at 3.2 GHz – 4.7 GHz. AMD Ryzen 7 chip using Zen 3+ architecture and advanced 6nm process not only delivers powerful performance on each task, but also extremely cool ensures stable performance in the long run. Got a Single-Thread score of 3,428 MOps/s and a CPU Score of 25,460 (benchmark suite with multiple tests) of +12.03% and +23.09% respectively over the Ryzen 7 5800HS while also delivering clocks. higher maximum is 4.7 GHz (compared to 4.4 GHz). These are the outstanding performance improvements of the new generation Ryzen 6000 Series compared to its predecessor that AMD brought to fans.
The RTX 3050 discrete graphics card is equally powerful to run the most graphics-intensive games. The RAM specification is 16GB and the M.2 2230 NVMe SSD hard drive has 512 GB of memory.
Another configuration detail that is also very interesting is the sound system. With Dolby Atmos 5.1.2 channel surround sound technology, you can immerse yourself in the world of music and game sound in an extremely "already" way.
Connector, heat sink
The cooling system is a factor you also pay a lot of attention to when buying a gaming laptop. With the new warrior of the ROG family, in general, we do not need to worry too much. The laptop has a premium vapor chamber with a new design that increases the heat dissipation contact area by up to 54%, accelerating the process of thermal regulation.
Despite being a small machine with a small screen, Asus is still equipped with enough connection ports for users on the side, including HDMI, USB 3.2, ROG XG Mobile Interface, USB 3.2 Gen 2 Type-C support DisplayPort and standard 3.5mm headphone jack… ROG XG Mobile Interface connector is an exclusive detail whose main purpose is to get the most out of the GeForce RTX 3050 graphics card.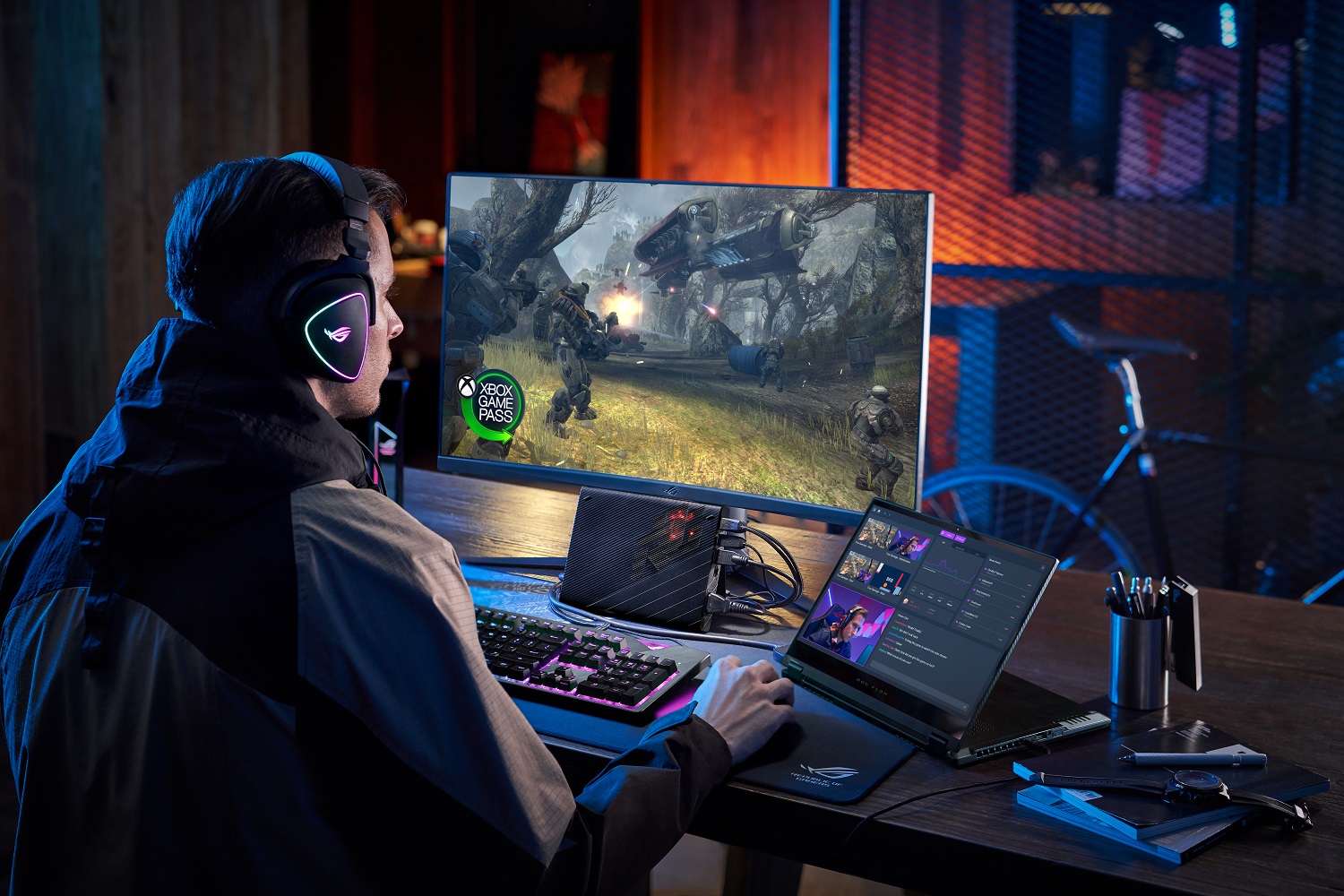 When folded, the device becomes a tablet
Asus ROG Flow X13 . Battery
The battery specifications of the device are to use a 4-cell 62 Wh battery. Overall, this is not the highest battery capacity on the market at the moment, but it is quite reasonable compared to the size of the device. 62 Wh is still enough for you to play the game for hours.
Price
At Phong Vu laptop electrical system, this product is being sold with a reference price of 40,990,000 VND. This is of course not a cheap price, but in the world of gaming laptops, it is not a "terrible" price. With powerful parameters, touch screen and super luxurious design, the price of ROG Flow X13 is not surprising.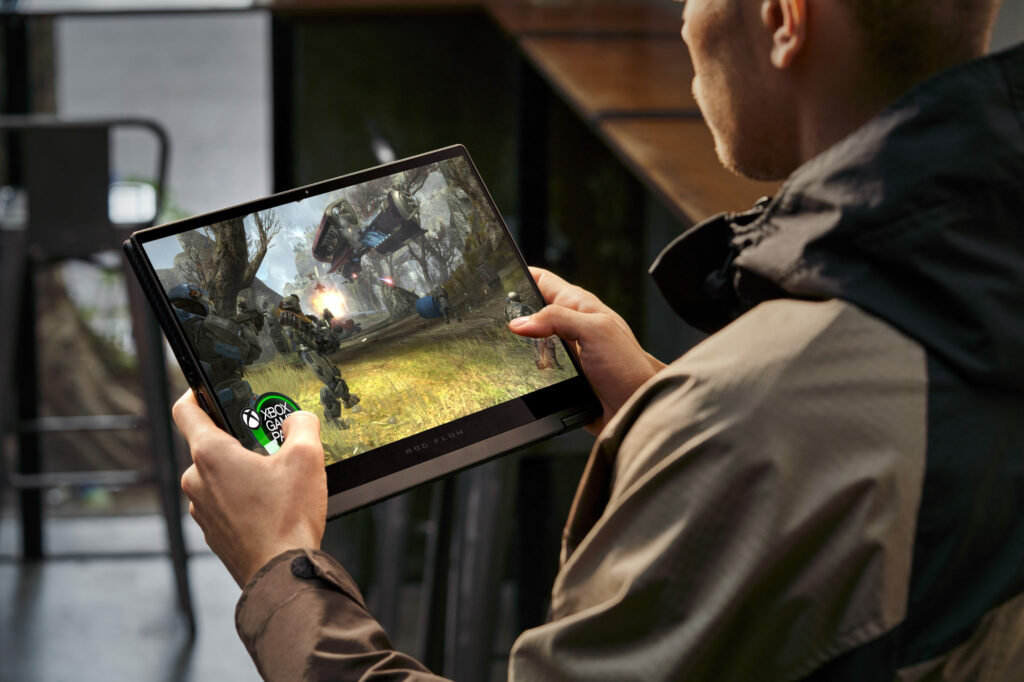 With 40 million, you can own a 2-in-1 machine that plows the game smoothly
In your opinion, is the Asus ROG Flow X13 worthy of the "small but martial" warrior of the Asus family? Quickly grab the Asus ROG Flow X13 gaming laptop to fight the game this summer. https://genk.vn/asus-rog-flow-x13-laptop-13-inch-hieu-nang-cuc-trau-voi-amd-ryzen-7-20220701095438785.chn
Source : Genk