Apple Watch Series 7 will have a bigger, more beautiful screen
According to a new report from Bloomberg, Apple Watch Series 7 will have a major upgrade in display. Specifically, this year's generation will include two size options, 41mm and 45mm instead of 40mm and 44mm as before. In which with the 45mm option, Apple Watch Series 7 will have a larger screen, specifically 1.9 inches, slightly larger than the 1.78 inch size on its predecessors.
In addition, a report from Bloomberg also reveals that the screen of the Apple Watch Series 7 will have a higher resolution, increasing from 368×448 on the Series 6 to 396×484 on the Series 7, which is a 16% increase in pixels. Increasing the screen's resolution could mean that Apple will also improve the battery capacity of this year's Apple Watch.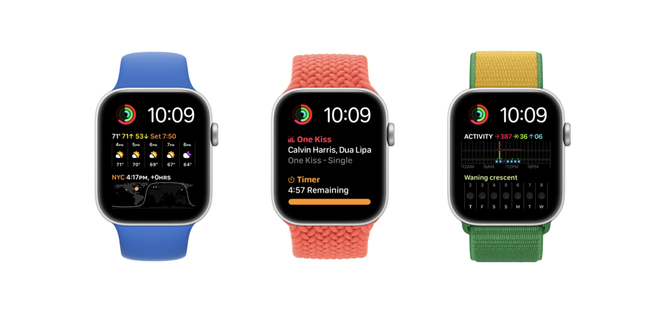 In addition, Apple Watch Series 7 will launch with a variety of new watch face options, including Modular Max, Continuum, and world watch faces. Special editions like Nike or Hermes will also have new watch faces respectively.
In the next year, Bloomberg said Apple will plan to launch an upgraded version of the Apple Watch SE, Apple Watch Series 8 and an ultra-durable Watch. In an earlier report, Apple is also developing a sensor for measuring body temperature and will be available soon next year.
Source : Genk