Apple introduces the M1 chip: ARM CPUs bring the longest battery life ever for the Mac
In the event "One More Thing" took place last night, Apple finally officially introduced its new M1 chip, for Mac computers using ARM chips. Just like the A14 Bionic processor on the latest iPhones, it's a 5nm processor, but specifically designed for Macs. The new chip will be used for the new MacBook Pro, MacBook Air and Mac Mini devices with the highlight " bringing the longest battery life ever for a Mac ".
The new processor will focus on combining energy efficiency with processing performance, Apple said. As an octa-core CPU, the M1 is claimed by Apple to be the world's best CPU for performance per Watt, with its peak performance equivalent to a regular laptop CPU but consuming only ¼ of the energy. In addition to the 4 high-speed CPU cores, the M1 also has 4 energy-efficient CPU cores, which already have the same performance as the current dual-core MacBook Air.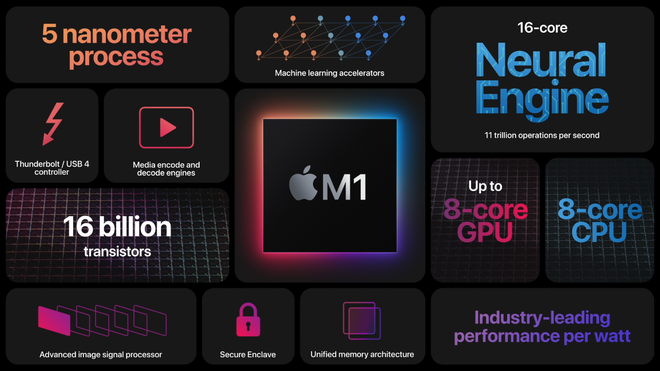 This CPU is also paired with another octa-core GPU, which Apple claims is the fastest integrated graphics chip in the world. In addition, the M1 also has 16 Neural Engine cores, universal memory architecture, " an Apple-designed Thunderbolt controller that supports both USB 4 ", an image processor, decompression and encoding engines. media and many other security equipment. The chip's security layers including runtime protection, encryption, and secure boot are hardware-verified.
As for the power efficiency of the new chip, Apple says the new M1 Air can watch videos for 18 hours on a single charge – while the MacBook Air uses Intel's chip of the year. now only viewable for 12 consecutive hours. Web surfing time by wifi is up to 15 hours – while the Intel-based version is 11 hours. It also doesn't need a fan, meaning it will operate in almost complete silence.
Meanwhile, the new 13-inch MacBook Pro has up to 17 hours of wifi web surfing and up to 20 hours of movie viewing – while this year's Intel-powered version only gets 10 hours of web surfing and 10 hours. see the corresponding movie. Unlike the MacBook Air, the M1 Pro line still needs a fan for its cooling system.
Apple says the new chip will also wake up Macs from sleep mode almost instantly from sleep mode – like an iPhone or iPad – and deliver high performance when running 3D programs or editing videos. 4K.
According to Apple, the new operating system MacOS Big Sur and the company's applications have been optimized for new processors, making Final Cut Pro 6 times faster, Logic Pro can handle 3 times louder volume. times. Third-party software like Adobe will also be available in the near future: while Lightroom will be available later this year, Photoshop will be available next year.
While iOS and iPadOS apps can be run natively on computers using new processors, Apple also provides Rosetta 2 compiler software for applications that are not yet optimized for new processors.
Repeating its statement during its mid-year developer conference, Apple said it expected the transition of Macs to new processors to be complete within the next two years.
While this is a clear indication that Apple is ready to completely remove Intel chips from its Mac computers, the representative of the chip giant said that the company "is focusing on delivering The most progressive PC experience and a wide range of technology options that redefine the computing industry. "
Refer to The Verge
Source : Genk