Another 2 billion USD virtual currency fraudster confessed to the crime
The trial of the US Securities and Exchange Commission (SEC) lawsuit against the founder of virtual currency exchange BitConnect ended on Wednesday. The SEC accused BitConnect of defrauding thousands of investors with amounts of up to $2 billion.
Expanding on the case since May, the SEC sued founder Satish Kumbhani, an Indian citizen, for misleading investors about BitConnect's profitability as well as violating other provisions of the law.
In a lawsuit in Manhattan federal court, the SEC sued broker Glenn Arcaro and his firm for allegedly receiving more than $24 million in fraudulent funds from investors in so-called 'agent commissions'.
Glenn Arcaro agreed to plead guilty at his trial on September 1 before Judge Mitchell Dembin in San Diego. The defendant will be sentenced on November 15.
The SEC is also seeking to recover illicit funds, additional fines, and others.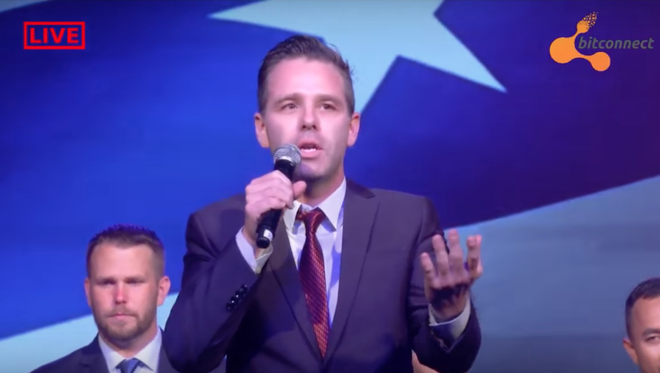 Super trick Glenn Arcaro at BitConnect's multi-level event 2018.
Founded in 2016, BitConnect was considered a scam that shook the virtual currency world at that time. With the trick of calling for investment to receive 40% per month, up to 3,700% per year, BitConnect has attracted thousands of people to invest in BitConnect Coin.
BitConnect Coin then dropped in value to the bottom and revealed its essence as a scam to take from the last to pay for the first comer. A typical Ponzi scam scenario in the virtual currency world.
Case files show that Satish Kumbhani, 35, used to live in Surat, India but ran away. Glenn Arcaro, 44, lives in Los Angeles and runs a Hong Kong-registered company.
In May, the SEC filed a lawsuit against five BitConnect brokers. In it, two super-scammers Michael Noble and Joshua Jeppesen agreed to plead guilty to a fine of $ 3.5 million and 190 Bitcoin. The remaining three super donkeys have not reached an agreement to plead guilty.
Source : Genk