AMD changed its mind, continuing to support Ryzen 4000 CPUs on B450 and X470 motherboards
In an unexpected move, AMD announced two days ago that the upcoming Ryzen 4000 CPU series based on the Zen 3 architecture will be able to run on 400 series motherboards such as the B450 and X470. This is rated by experts as a "promised first and next" but still a good news for AMD users.
Two weeks ago, when AMD launched the Ryzen 3 3300X and 3100 CPUs, the red team also revealed information about the B550 chipset, which was expected to be released simultaneously with the X570 a year ago. The chart below gives the clearest view of AMD's decision.
Immediately after that, AMD was met with a backlash from users because they had previously promised that their AM4 socket will be supported from 2016 until 2020. But now they are going to flip the deal with the release. Ryzen 4000 eyes only support motherboards of 500 series and above. The fact that a socket / chipset supports only 3 generations of CPU makes users feel AMD is getting into the footsteps of Intel, on the way of "milking". According to AMD's explanation, the problem lies in the size of the BIOS. Each generation of CPU will need a portion of the BIOS capacity to accommodate the code lines to ensure compatibility. Modern BIOS has now moved to UEFI with a more user-friendly interface but will also take up quite a bit of BIOS space.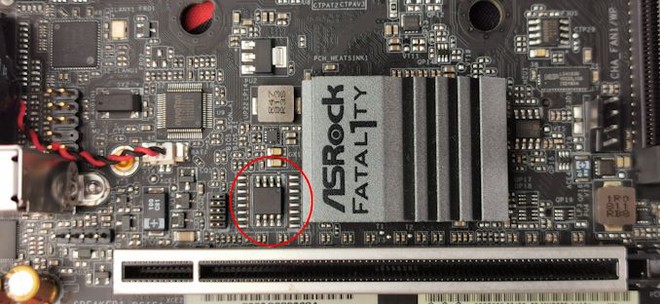 Most AMD motherboards are only equipped with a BIOS chip of 16MB capacity. AMD and motherboard manufacturers can easily place much higher-capacity BIOS chips, but due to design issues, early Ryzen CPUs could only read data at the first 16 MB. first on the BIOS chip. Because of this capacity limitation, supporting all socket AM4 CPUs on a chipset family is almost impossible.
At the moment, there are about 84 CPUs using socket AM4, including Ryzen Pro series. Comes with a series of micro architectures like Zen, Zen +, Zen2, … with each CPU series has its own AGESA platform. And of course these AGESA instructions will be crammed into a BIOS chip only 16MB in size. Therefore, AMD initially assigned B450 and X470 motherboards to support Ryzen 1000, Ryzen 2000 and Ryzen 3000. The B550 and X570 series will be considered launchers for later Ryzen CPUs.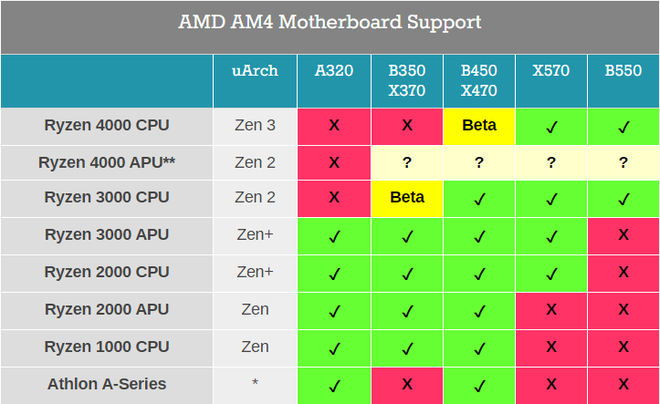 However, due to the negative reaction from the community, AMD had to change its decision by 180 degrees. In order for Ryzen 4000 CPUs, also known as Zen 3s, to run on older motherboards, AMD and its motherboard partners will have a lot of work to do, especially when it's time to launch. New CPU systems are getting closer. According to the information we recorded, the solution is that the 400 series motherboards will have 2 BIOS lines developed in parallel. One version is considered to be the default, only supports Ryzen 3000 CPUs and can be easily installed with the motherboard BIOS update. The other one, called Beta BIOS, will support CPUs from Ryzen 2000 to Ryzen 4000 and will require users to install it themselves. Moreover, once Beta Beta is installed, users will not be able to return to the default BIOS stream. In fact, this will not be a problem because the majority of users will have less need to return to the original Ryzen when they upgraded to Ryzen 3000 or 4000.
The only problem is that AMD will empower its partners such as ASUS, Gigabtye, MSI, ASRock, … so they can choose to develop 2 BIOS systems or not. Therefore, if you own a 400-seris motherboard and intend to upgrade to Ryzen 4000, hopefully the motherboard you are using will pamper users at AMD's discretion.
Source : Genk