Adidas celebrated the first super brand day in Southeast Asia in the series "Shopee 10.10 Brand Sale Day"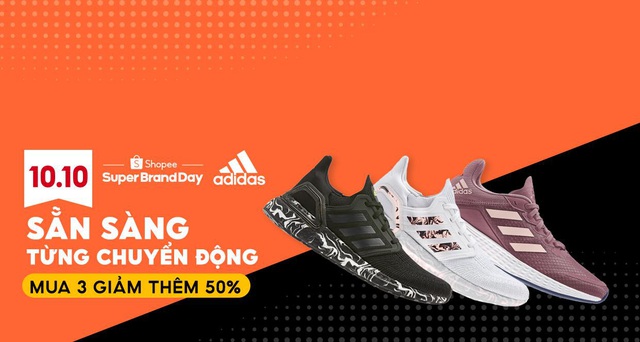 Shopee, the leading e-commerce platform in Southeast Asia and Taiwan, cooperated with adidas brand to launch the campaign "Ready to Move" for the first time as part of the program "Shopee 10.10 Brand Sale Days" in 6 markets in the region. As part of the e-commerce channel's development strategy, through this partnership, adidas aims to refresh the online sportswear shopping experience to reach and attract more mobile shoppers. through the Shopee app.
With sports events currently paused and retail traffic slowing down during the new normal phase, many users gradually turn to sports training and home shopping to preserve their health. , leading to an explosion in demand for sports products and equipment. Super Brand Day is designed with the aim of attracting consumers through a fun and interactive experience when shopping for adidas products on Shopee. Specifically, users can join challenges with many artists and celebrities to receive prizes, as well as update more useful information about sports practice. Realizing that livestream shopping is getting more and more attention from consumers in Southeast Asia, adidas will hold a free workout on Shopee Live, where users have the opportunity. Get exclusive deals and shop for adidas featured products.
Mr. Tran Tuan Anh, Managing Director, Shopee Vietnam, said: "The category of sports and fitness products is growing because more and more users are turning to online channels for convenient shopping. More and enjoy the best deals on Shopee We are proud and excited to partner with adidas to host the first "Super Brand Day" event on Shopee, giving our users the chance to enjoy the experience. Better interactive experience when shopping for adidas products We will work to help adidas reach more consumers and are confident that the success of our "Super Brand Day" on Shopee will help increase their online visibility, increasing the number of users visiting and increasing their sales We are committed to helping brands achieve their e-commerce channel development goals with our solutions Our optimal brand. "
Starting from October 7 to October 11, Shopee users are allowed to access exclusive content on Shopee Live, participate in games and entertainment activities, and enjoy a wide range of purchase offers. Shop at a genuine adidas store. Users can refer to attractive offers such as:
Shopee's exclusive line of adidas originals: adidas Originals Flower Pack for women and Patch Work Pack for men will be available exclusively at the genuine adidas booth on Shopee.
Live broadcast "Ready to Move" on Shopee Live: During the live broadcast, users will have the opportunity to receive vouchers to shop for their favorite products introduced during the live stream. at the adidas genuine booth on Shopee.
See more details about the program here
Download the Shopee app for free at the App Store or Google Play
Source : Genk