Add a slide to Masayoshi Son's 'comedy' slide: 'Flying Unicorns' will save SoftBank from 'Corona Valley'
In the report on 18/5 business results, SoftBank Group of billionaire Masayoshi Son announced a net loss of 1,430 billion yen (equivalent to 13.3 billion USD) in the first quarter of 2020. Part of the reason is because SoftBank's large investments in real estate and ride-hailing were hit hard by the Covid-19 pandemic.
As usual, the Japanese investment tycoon surprised his presentation slides. Son is famous for quite odd slides. For example, in 2017, he presented a pie chart of sadness, death, loneliness and despair.
Or as he talked about SoftBank's third-quarter financial situation in 2019, he gave 'paranoid' slides, that the unicorn broken WeWork horn would be profitable and grow rapidly after a series of concussive scandals.
At its peak, WeWork was valued at $ 47 billion and was the most valuable startup in the United States. Last year, the company was valued at US $ 7.8 billion and now, its value has dropped to only US $ 2.9 billion, the level revealed by SoftBank on May 18.
This time, Son used a unicorn image for a presentation on the business situation of the group.
Using quite unique graphics, Son talked about how the corona virus created a valley where companies could fall in and be unable to stand up. However, according to him, some technological unicorns will be able to escape from that place and develop more than before.
Here are some highlights of SoftBank's latest business results, as summarized by Business Insider:
Son started by talking about the Great Depression.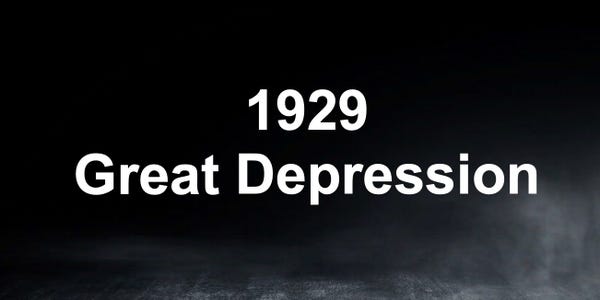 He summarized the impact of the pandemic in the slide entitled "Unprecedented Crisis".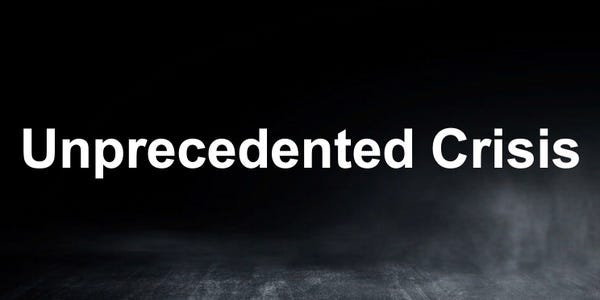 A slide shows unicorns climbing up a slope to depict companies in the pre-pandemic period.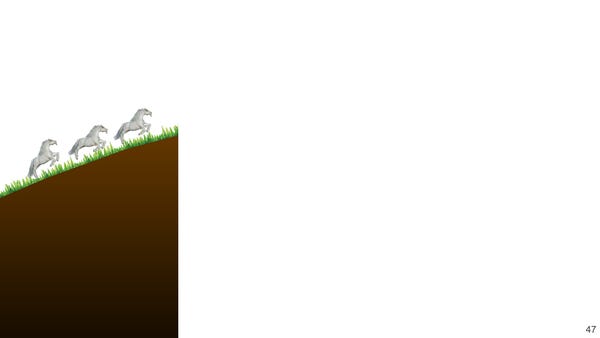 Afterwards, they fell into "Corona Valley" one after another, struggling to escape.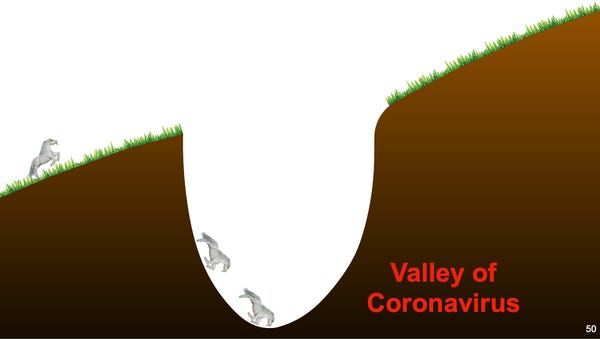 Son continued: "Some unicorn companies can fly up to escape the valley." But where do their wings come from?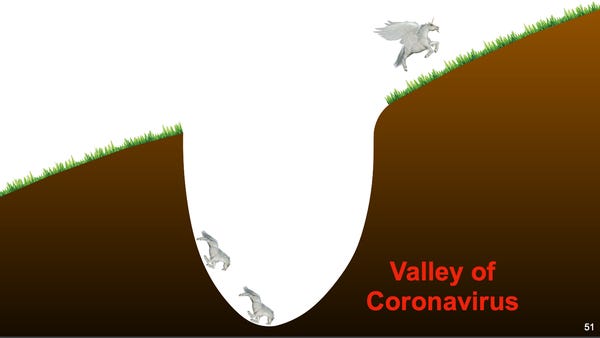 Billionaire "eat a lot" give examples of industries that have flourished and escaped the "valley" of the Great Depression.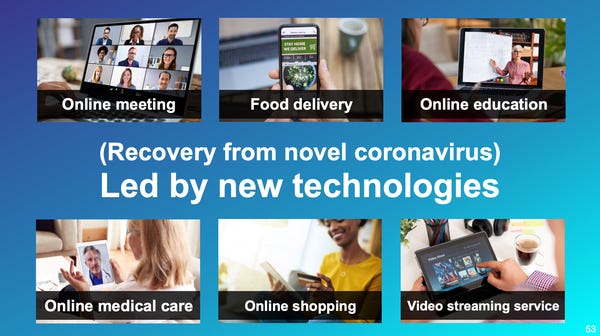 Next, he showed a number of industries that could succeed during and after the epidemic, such as food delivery, online education, online shopping, on-demand video data transfer and care. health online.
Finally, he ended with a bright slide, describing "happiness for everyone" – completely different from the gloomy slides at the beginning of the presentation.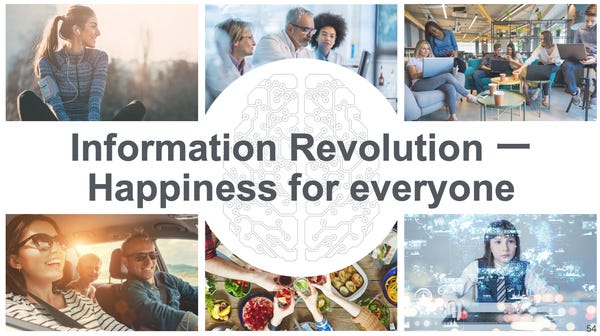 TechCrunch called SoftBank's first-quarter business results presentation a combination of "comedy" and drama.
In addition to offering unique slides, during a call with these investors on May 18, Masayoshi Son compared the Lord Jesus, according to the Financial Times. Specifically, three participants in the call said Son said that like Jesus, he was misunderstood.
This statement was made by the billionaire after criticism when his Vision Fund suffered losses of billions of dollars. The most notable of these is the US $ 18.5 billion investment in WeWork. Son called this "stupid thing".
Son used the comparison with Jesus to argue that if the investment efficiency improved, his reputation would improve.
According to BI
Source : Genk