Acer launches a series of laptops equipped with Nvidia GeForce RTX™ 30 Series graphics cards
Predator Helios 300 – Ultimate Weapon khí
The Predator Helios 300 high-end gaming laptop is the laptop that every gamer wishes to own. Featuring an eye-catching design, the monolithic metal Helios 300 stands out from the crowd with its bold Predator design. The Predator logo with Electric Blue LED lights is the highlight on the overall black background of the machine as it is challenging all opponents in front of it. The weight of the machine is only 2.2kg, making it light for a gaming laptop but still keeping the bunker.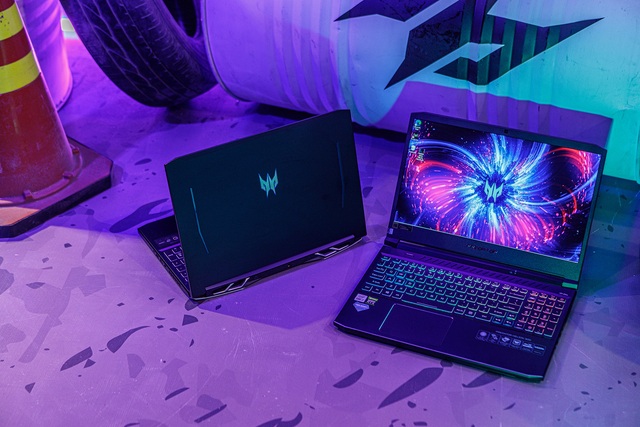 Advanced heatsink design helps Predator Helios 300 stay cool during gaming as well as heavy tasks. This machine is equipped with two cooling fans, including the latest 5th generation AeroBlade™ 3D cooling fan with 55% higher heat dissipation efficiency than conventional fans. This fan is made up of 89 steel blade blades, only 0.08mm thin, with serrated grooves on each steel leaf to help reduce noise when operating at high intensity.
Predator Helios 300 owns the highest configuration up to Nvidia GeForce RTX 3060 graphics card, Intel Core i7 10750H processor, 16GB RAM, and 512GB NVME SSD. The device will also be equipped with a 15.6-inch screen with Full-HD IPS resolution, super-fast scanning frequency up to 300Hz. With this configuration, gamers can smoothly fight all current AAA games without fear of stuttering, lag, or frame tearing.
Acer Nitro 5 – Holds the throne in the popular segment
The latest Acer Nitro 5 gaming laptop in 2021 will certainly continue to be a perfect choice in the popular gaming laptop segment. Still maintaining the inherent aggressive gaming lines, Acer Nitro 5 has upgraded the gentle texture on the A side to make the machine more elegant than the previous version.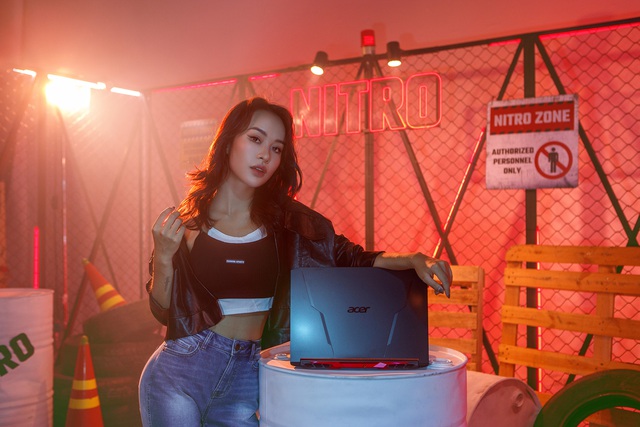 It owns a 15.6-inch Full HD IPS screen, 144Hz refresh rate and 3ms response speed for a smooth gaming experience. The laptop is equipped with a superior cooling system consisting of two fans and well-arranged copper pipes that improve heat dissipation by up to 25% compared to the previous generation. This is greatly optimized with CoolBoost™ technology that increases fan speed and cools the CPU/GPU by 9%. All can be fine-tuned through the NitroSense software that comes with the device.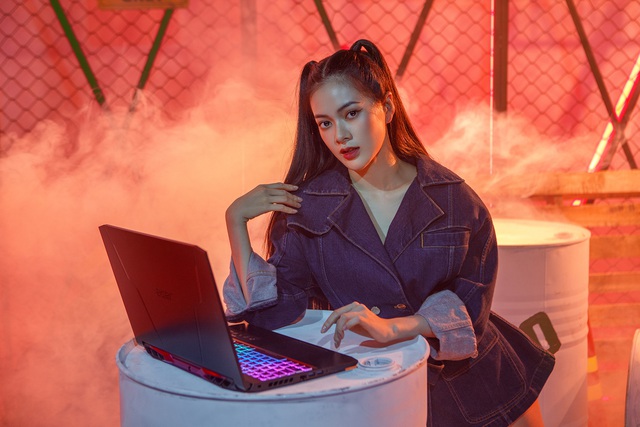 The new Acer Nitro 5 comes with the highest GPU up to Nvidia GeForce RTX™ 3070, 11th Gen Intel® Core™ or AMD Ryzen 5000 series processors. The machine is equipped with up to 512 GB SSD M.2 PCle (upgradable up to 2TB SSD with 2 M.2 SSD slots and 2 TB HDD) and 8 GB RAM (upgradable up to 32 GB DDR4 3200MHz RAM) ).
Acer Swift X – Slim and delicate, with great performance
Acer Swift X laptop is known as a thin and light laptop with hidden power inside. Acer Swift X is equipped with the latest Nvidia GeForce RTX™ 30 Series GPU, allowing the thin and light laptop to have extremely powerful rendering and graphics processing performance.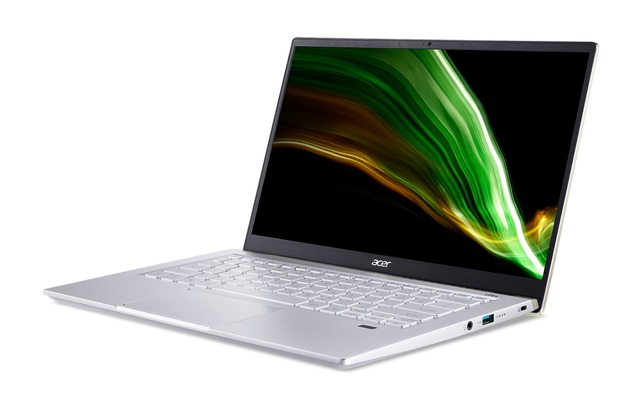 Acer Swift X has a case design made from high-grade monolithic alloy, combined with a youthful and equally luxurious Safari Gold color. The device has an ultra-light weight of only 1.4kg, and is 17.9mm thin. Swift X owns an ultra-thin bezel-less screen of only 6.3mm, giving an extremely spacious working space and experience. The device has a terrible battery life of up to 11 hours continuously, supports FastCharging fast charging technology that allows fast charging within 30 minutes for continuous use for 4 hours.
All Acer gaming laptops and Swift Series are entitled to 3S1 fast warranty: fast warranty, within 3 days including Saturday and Sunday, more than 3 days 1 to 1 exchange for products. For details on 3S1 Warranty please visit here .
Predator Helios 300 using a new processor and graphics card will be officially on shelves in Vietnam with prices from VND 41,990,000
The new Acer Nitro 5 will be available in Vietnam with prices ranging from VND 28,990,000 to VND 39.990,000
Acer Swift X will be available in Vietnam with a retail price of VND 29.990,000
Source : Genk