A newly launched phone model in Vietnam received up to 27,000 pre-orders
Many dealers in Vietnam have officially opened for sale and returned pre-orders for customers to buy Reno8 T Series, a new mid-range model introduced by OPPO to users not long ago.
It is known that OPPO's new mobile model has received a lot of attention from users and attracted a lot of participants to pre-order the product from January 26 to February 10, 2023.
"This is a positive sign of users' love and trust in OPPO as well as the Reno series in particular. Despite being launched in a quiet time of the smartphone market, Reno8 T Series (included) 3 versions of Reno8 T 4G, Reno8 T 5G 128GB and Reno8 T 5G 256GB) still received a positive number of pre-orders with 27,000 pre-orders by the end of February 10.
This is a great encouragement for OPPO and its retail partners to receive such love and firm companionship from customers," shared Mr. Van Ba ​​Lut, Product Manager of OPPO Vietnam.
According to the mobile phone division director of FPT Shop system, Reno8 T Series – OPPO's opening product in 2023, although positioned at a mid-range price, from only VND 8,490,000, has many outstanding points from design, screen, camera to performance.
Reno8 T 5G owns the first 120Hz 3D curved screen in OPPO's price range. Improving the common touch mistake on curved screens, the screen on Reno8 T 5G has a curvature of 56 degrees and an arc height of 1.9mm, giving it a really comfortable hand feeling. The 6.7-inch AMOLED screen of this phone takes up 93% of the front area thanks to an ultra-thin 2.32 mm bottom bezel. The model is expected to have good sales thanks to its design and performance in the price range.
"The proof of the strong attraction of this launch is that although it is in the low period of the shopping season (after Tet), FPT Shop has received a lot of attention and trust from customers with nearly 3,000 registrations of information during the opening of the Reno8 T 5G version reservation portal. This is a very positive signal."
In addition to the design and performance factors, the fact that Vietnamese dealers offer great incentive programs is considered a good condition for the phone model to have such a large pre-order volume. For example, FPT Shop offers customers a deposit OPPO Reno8 T 5G to participate in the opening event of a voucher worth 1,000,000 VND with many valuable gifts including: 01 OPPO Reno8 T 5G phone, 01 tablet computer OPPO Pad Air, 03 OPPO Band 2 smart bracelets and 03 Enco Air 2 headphones through lucky dialing.
Previously, from January 26 to February 10, this system also implemented the OPPO Reno8 T 5G pre-order program with a gift of Olike S2 ​​bluetooth speaker worth VND 1,590,000, and an additional discount of VND 250,000 when customers choose to pay via Moca wallet on Grab app. According to statistics, by the afternoon of February 9, that is, after only 2 weeks of implementation, the system had received 2,500 orders for the Reno8 T 5G version, of which 70% of customers chose the Bronze Gold version.
Not stopping there, from now until February 28, when buying a device, customers can buy preferential memory cards and many valuable gifts.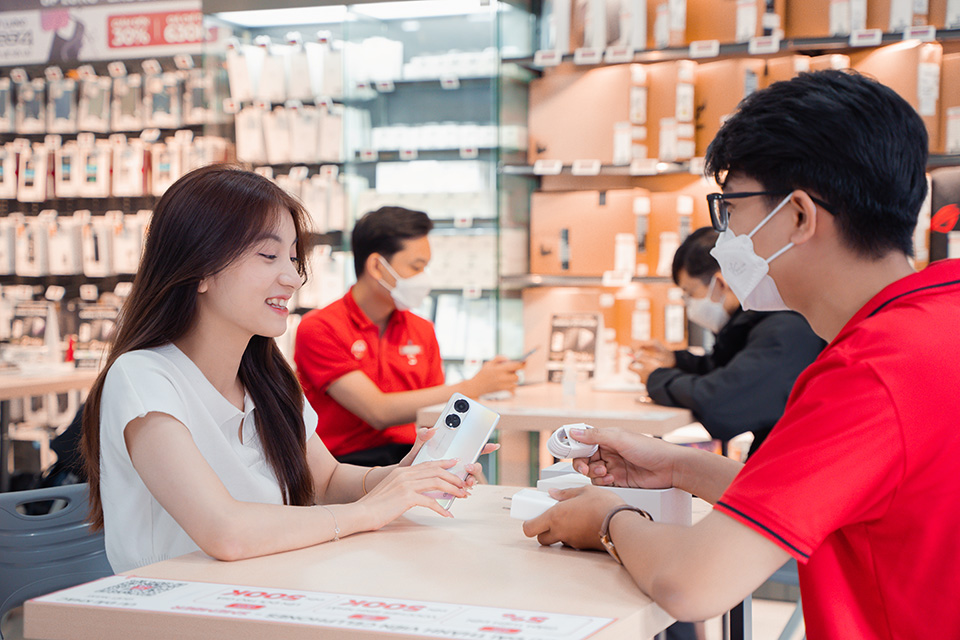 At the CellphoneS system, today, the dealer officially returns and sells Reno8 T 5G. The new model is priced at VND 9.99 million when pre-ordered from February 2 to 10, and also gets a gift set of Olike S2 ​​bluetooth speakers with built-in night light, 0% interest installment installment.
With the Reno8 T 4G version priced from 8.49 million, customers will receive OPPO Enco Buds W12 headphones. Both products have the same VIP 1-for-1 warranty within 12 months.
Source : Genk