A list of things you need to do to make your Windows computer run "quieter"
Over time, your computer gets slower and slower. Of course, aging hardware plays a role, but for most people the more common cause is poor operating system maintenance coming from you. So, it is time to do a "cleaning" of your computer.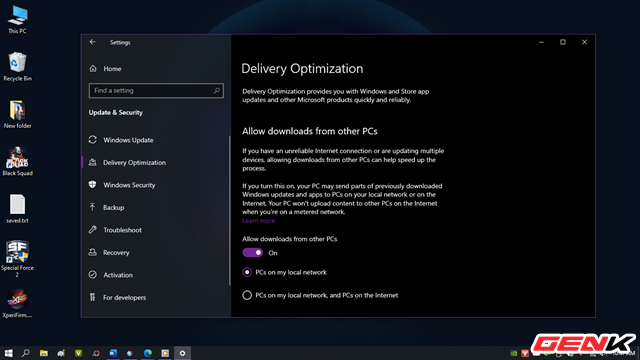 Reinstalling Windows will be the option that many people often think of first. However, you don't have to take such drastic "step". Take a moment to clean up Windows. Sure, your 5-year-old computer may never be able to play the latest AAA game, but you'll still see huge performance improvements with it. Here is a list of things you should do right now.
1. Delete unused applications and software
Let's start with the first basics, which is to delete unused applications and software. If you are not a regular person who knows what your computer is installed, you will be surprised by the number of unnecessary applications and software that you have installed on your computer.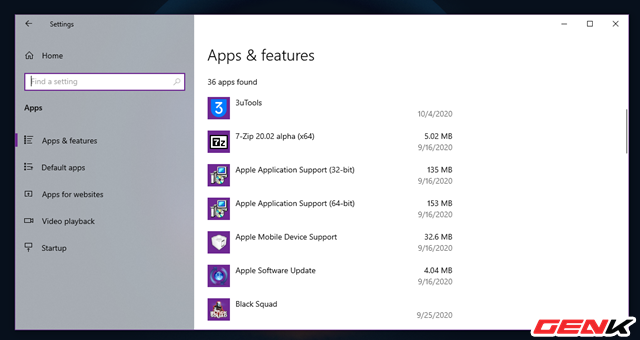 To see all the apps on your computer, go to Start> Settings> Apps> Apps and features.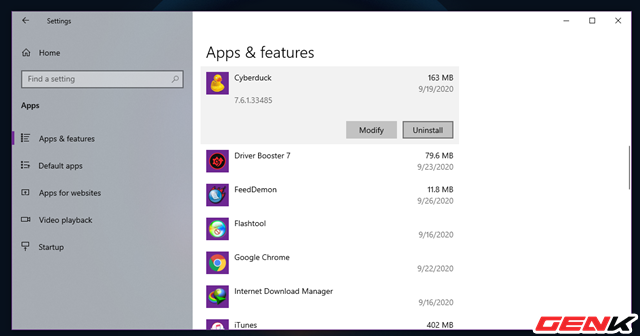 Scroll and click the application, software to uninstall, click Uninstall.
Of course, you need to be careful when doing this. Don't just delete the things you don't recognize, first try searching on Google to make sure you delete the correct application, software safely.
2. Launch antivirus
Next, you should launch the antivirus software already installed on your computer. One of the most common causes of a slow computer is a virus, so here's the next thing you should do.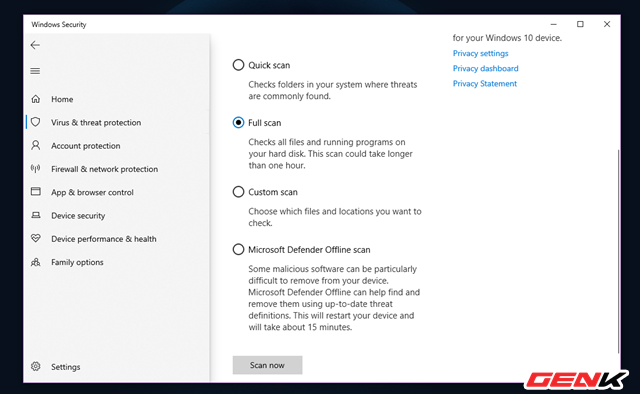 Antivirus software will essentially offer the same scan options. And here the Full Scan or Deep Scan option is the one you should use.
3. Launch the Disk Clean-Up tool
Disk Cleanup is one of the "maintenance" tools that have been integrated into Windows for a long time. This tool allows users to free up more space on the computer by "cleaning" temporary files and system files that are almost useless but take up a large amount of space, such as previous Windows installation and update files.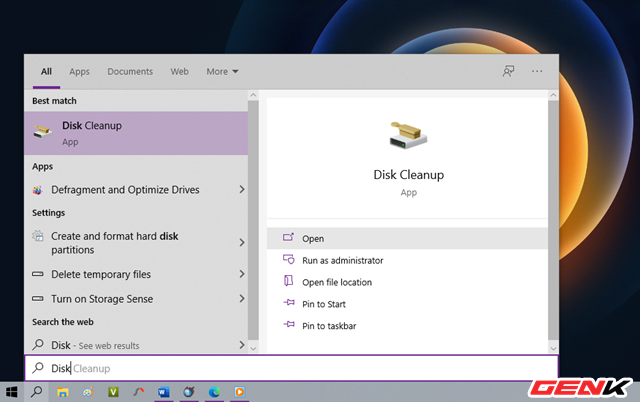 To start Disk Clean-Up, enter the keyword "Disk Cleanup" into Search and click the result as shown.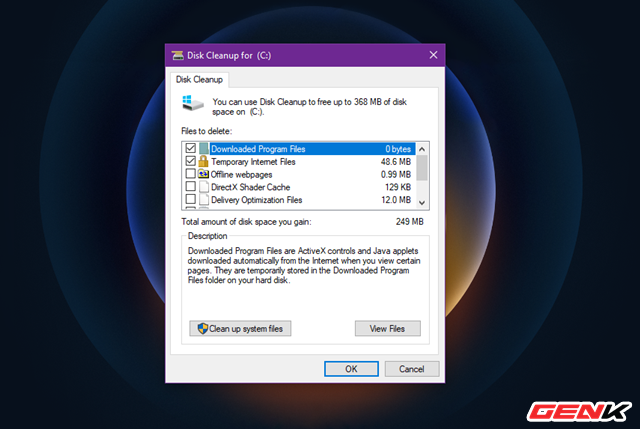 After selecting the scan partition, Disk Cleanup will display the cleaning options for you to choose from. The cleaning process is quite fast and safe so you can use it with peace of mind.
4. Defragment hard drive partition
By default, Defragment and Optimize Drives are set to work automatically every Wednesday morning at 1:00 am. Of course, you also do not need to keep your computer running all night because in case the computer is not working, the utility will automatically convert the defragmentation to the time the computer is idle the next time.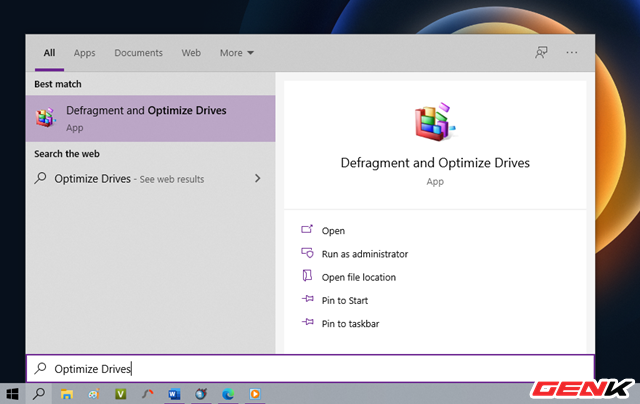 To launch Defragment and Optimize Drives, enter the keyword "Optimize Drives" into Search and click on the result as shown.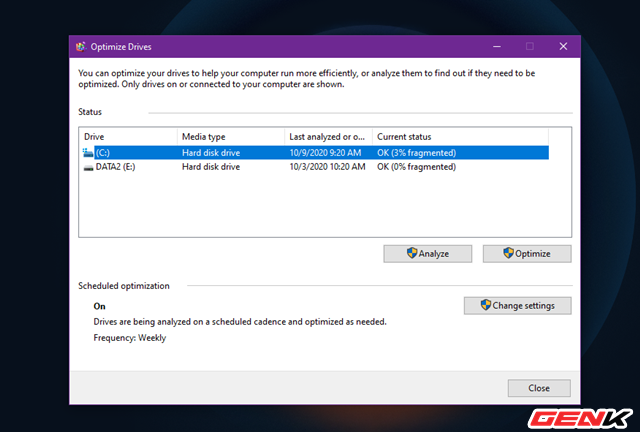 Click on the system partition (usually "C") and click Optimize.
5. Delete old drivers
By default, Windows retains old driver versions. The rationale behind this save is that you will never be "stuck" if a new driver version does not work as expected. The difference, however, is that your computer may be filled with driver packages from devices you stopped using years ago. And they will take up a lot of storage space.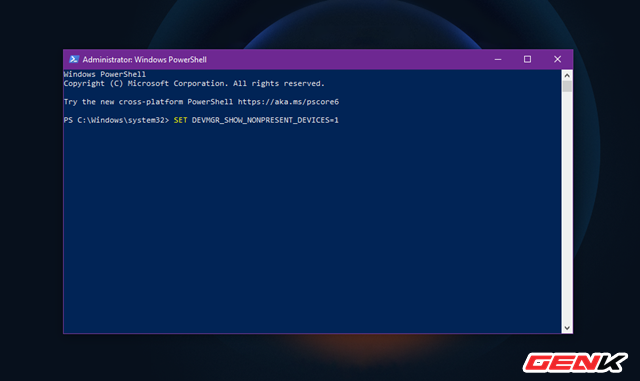 To remove the old drivers, enter the command "SET DEVMGR_SHOW_NONPRESENT_DEVICES = 1" into PowerShell or Command Prompt and press ENTER.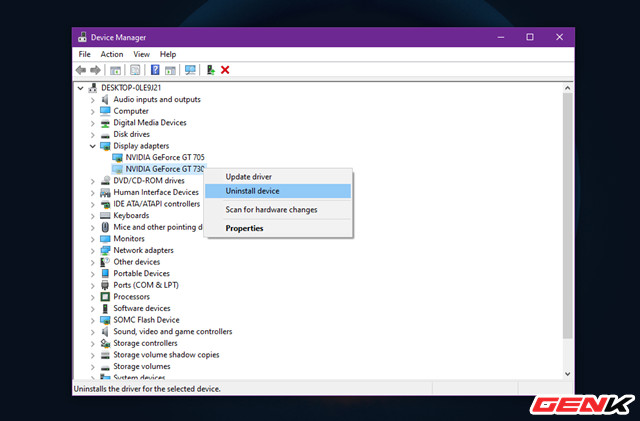 Then open Device Manager and click View> Show hidden devices. A list of old device drivers will appear, now just right-click on them and select Uninstall device.
6. Strange adjustments to Windows startup tasks
Any seasoned Windows user must agree that the operating system lags far behind macOS, Chrome OS, and Linux when it comes to boot times.
Usually, this issue is caused by the number of tasks that start when Wndows starts. And most of them are not necessary. To delete tasks that start at the same time with Windows, launch the Task Manager window and click the Startup tab.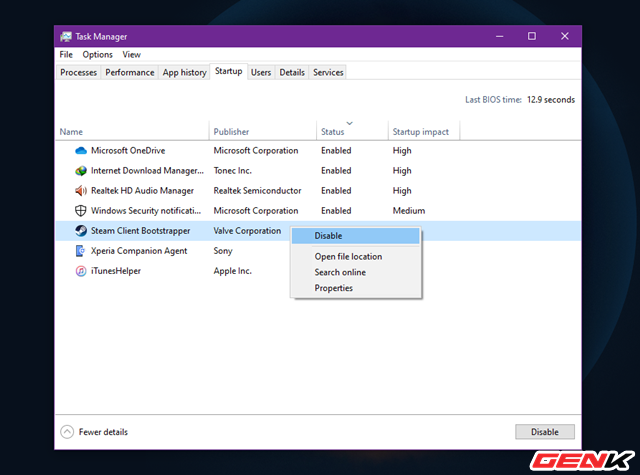 Right-click on unnecessary tasks and select Disable.
7. Delete the data in the AppData folder
Windows applications typically store data and settings in a folder called AppData (Application Data). Each Windows user account has its own AppData. However, this is a hidden folder and can only be seen when the hidden file display feature is enabled in File Explorer.
You can find the AppData folder based on the path of the form "C: Users Tien AppData". And users just need to copy and paste or enter this path directly into File Explorer to be able to access AppData. Or you can type the path "% appdata%" into the search box to directly access the AppData Roaming folder, which contains all the data of applications on Windows.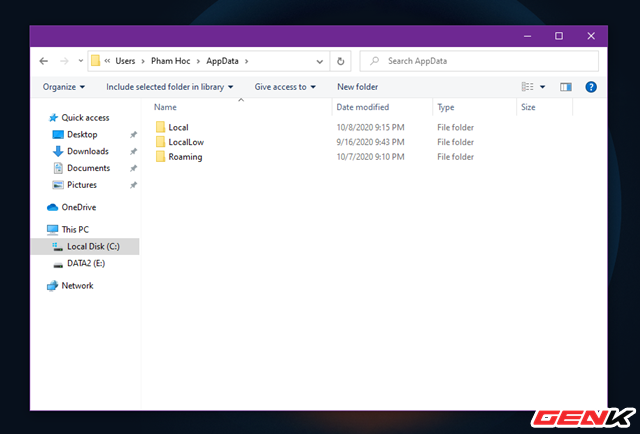 Within the AppData main directory, there are three subfolders: Local, LocalLow, and Roaming. Make sure you go through all three folders for any traces of old software no longer in use and remove it. Again, don't delete anything unless you're sure it's safe.
Or if you want more peace of mind, give Geek Uninstaller a try .
8. Delete the Registry
Registry is a database used to store Windows specifications. It records all information and settings for the software you install on your computer, hardware devices, user profiles, operating system configuration, and more.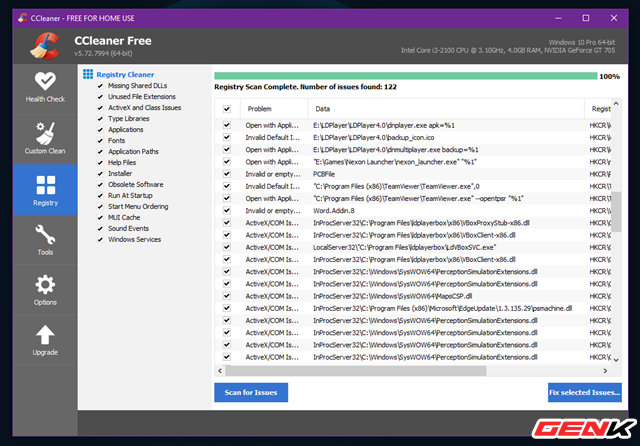 Registry is always updated when users have changes in the components of Control Panel, File Associations and some changes in Menu Options of some applications, …
However, over time, the number of Registry more and more, hindering the access of Windows. Therefore, deleting the Registry is essential you should do.
9. Clear cache
Caching, also known as "specialized" is the cache, this is a place to temporarily store data in the previous session of applications and programs saved by the operating system to help download data. in the following sessions get faster. Therefore, its main function is to increase the processing speed, make the device process faster and reduce the amount of data to be processed.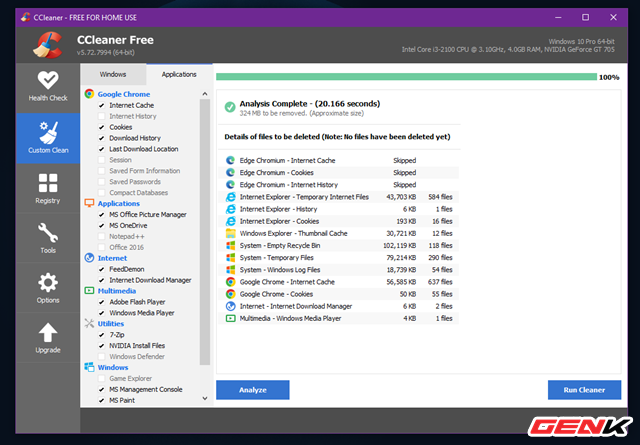 However, if you leave it alone and do not have any effects for too long, the cache will make your hard drive fill up quickly. Therefore, if necessary, you should regularly clean the cache to reclaim storage space for Windows.
Conclusion
So we have gone through 09 basic jobs in Windows cleaning, make sure after doing all of the above, you will see a marked increase in computer performance.
Of course, there are other ways to improve your computer's speed. You can upgrade the hardware, for example, but doing so is often expensive and complicated for a beginner. The tradeoffs are not always worth it.
Source : Genk