A great assistant for young people: New generation smart screen
Study and work effectively, compactly, without a computer
The era of studying or working without computers is opening a new horizon for young people. Pioneering technologies integrated in smart screens allow young people to experience a compact yet efficient study and work space, unleashing breakthroughs. No need for a CPU processor like regular computer monitors, smart screens give you all the tools to study and work.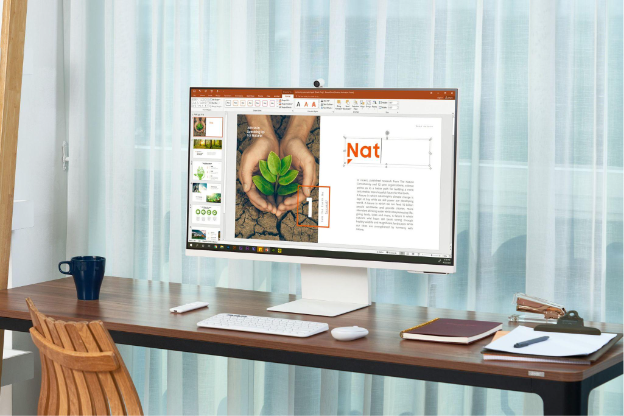 Support learning and working effectively with many tasks from the Workspace toolkit
For example, with smart screens from Samsung M5, M7, M8, users can completely perform all operations such as browsing the web, sending emails, editing documents, discussing ideas without connecting to a computer. . The Workspace toolkit allows users to connect to other computers, use Microsoft 365, and even connect to mobile devices via Samsung DeX and Airplay. Models M8 and M7 with 4K resolution, equipped with USB-C to 65W to transfer images, data and charge the whole laptop with just 1 cable, keeping the desk space neat and streamlined.
"With the optimal workspace from the smart screen, I can easily complete exercises or run multiple "deadlines" at the same time without worrying about distractions and distractions like when studying or working on the computer." , Tung Anh – the "owner" of an M8 shared.
In addition to anti-flicker and blue light reduction, advanced eye-protection technology such as Adaptive Picture, conventional screens can also automatically optimize screen brightness thanks to a light level sensor. from the surrounding environment. As a result, owners can comfortably "plow the deadline" in all lighting conditions without having to squint or strain their eyes to see clearly.
Online learning, online meeting, video calling with perfect frame
One of the concerns of users when learning online, meeting online or video calling is their appearance in front of the camera. This is neatly handled by the Samsung M8 with its magnetic SlimFit camera and integrated video calling software, making conversations whether studying, working or chatting easy and cohesive.
Freely chat and discuss with friends via SlimFit camera
Offering the perfect camera angle when connected directly to the screen, SlimFit camera lets you comfortably "face to face" through the screen, discuss with friends, colleagues and share stories with loved ones as if talking. direct story. Not to mention, the SlimFit camera is optimally equipped to capture a good angle for users' video calls. As you move around the frame, Face Tracking automatically centers you on the screen while Auto Zoom focuses, ensuring chat participants can see you clearly and perfect .
Have fun with many available apps
Samsung smart display offers a smart TV-like experience with OTT services, up to 4K resolution and built-in speakerphone Users can easily access Netflix, Youtube or other online viewing platforms just with WiFi connection on M8. This feature is also present on the M5, M7 versions, helping young people enjoy all their favorite content without the need for other cumbersome connections.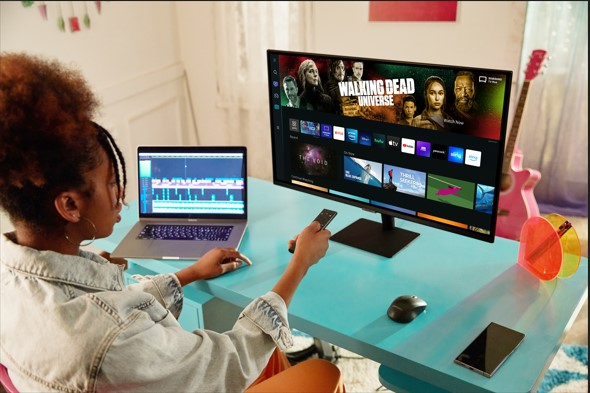 Smart screen brings many interesting entertainment applicationsb
Possessing a series of completely new breakthrough technologies, Samsung smart display deserves to be the perfect choice for anyone who loves "all in one" devices, wants to experience the trend of working without a computer, while minimizing the living space for the family.
As one of the world's first smart displays that flexibly combine OTT services, mobile connectivity and remote PC use, Samsung smart displays help solve all your business needs. , learning and entertaining at home, bringing a lot of value not only to young people who love technology, but also to meet the different needs of each family member. Currently, Samsung smart screen owns 3 versions M8, M7 and M5 with 43 inch and 24 inch sizes, with a variety of color options and advanced features depending on the version, providing a variety of choices. for consumers. See details at https://www.samsung.com/vn/monitors/smart-monitor/
Source : Genk