$76 billion in 1 day: The journey of Binance to become the largest cryptocurrency exchange in the world
The world's fastest growing financial exchange has no head office or official address, lacks a license to operate in many countries. Although launched only 4 years ago, until now Binance has become a giant in the world of digital currency, a version equivalent to the London, New York and Hong Kong stock exchanges combined. According to data from CryptoCompare, the total value of transactions of cryptocurrencies like Bitcoin and Ether that Binance processes every day is up to $76 billion, higher than the four biggest competitors combined.
However, perhaps the years of free growth for Binance in particular and the cryptocurrency industry in general are coming to an end, according to the Wall Street Journal.
Regulators around the world are increasingly concerned that digital assets are growing so quickly that they are becoming important to the entire financial system. In one speech in October, Jon Cunliffe, one official of the Bank of England has wallet of those subprime loans have fueled the financial crisis of 2008. "When the system appears something growth very rapidly and unchecked, the agencies tasked with maintaining stability need to pay special attention ."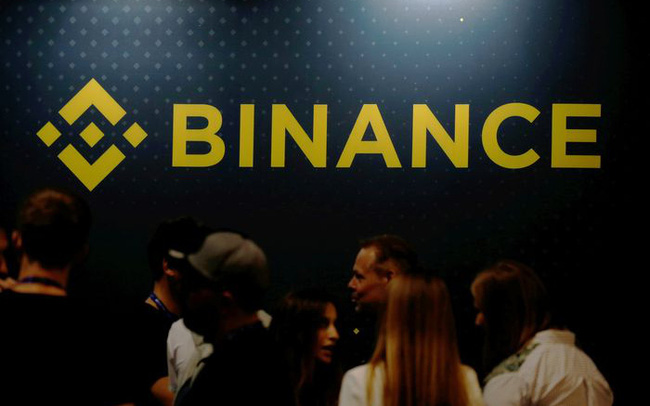 Currently, Binance is attracting the most attention. In recent months, authorities in more than a dozen countries have warned users that Binance is completely unregistered or unlicensed to provide many services.
The US Securities and Exchange Commission (SEC) is investigating the conduct of Binance in the US, where Binance is licensed by many states. Bloomberg reports that the US Department of Justice is investigating whether Binance is complying with anti-money laundering laws. It can be said that the US market is a big test for Binance. The company plans to IPO business in the US in the next few years.
Some are concerned that Binance may face the same problem as TikTok. The Trump administration has tried to ban TikTok and pressured parent company Bytedance to sell its US business, citing concerns that the Chinese government could get hold of data on US users through TikTok. In an interview, the founder of Binance – Changpeng Zhao – once said that Binance will comply with all requirements of the regulator.
" Our business is completely legitimate, we grew so fast because of the trust of our users," Zhao said. However, "perhaps less than 2% of the global population now adopts cryptocurrencies, to attract the remaining 98% we need to be regulated ".
Zhao said that Binance is setting up headquarters and representative offices in several localities – a step that the founder of Binance previously considered outdated but that is still what the regulator wants. In August, the Binance website said that checking the identity of users has become mandatory, in order to prevent the world's largest cryptocurrency exchange from being used for illegal purposes.
The fact that Binance does not have a headquarters confuses the regulators because they do not know who is responsible. Parent company Binance Holdings is registered in the Cayman Islands, but is not registered or licensed to operate a cryptocurrency exchange.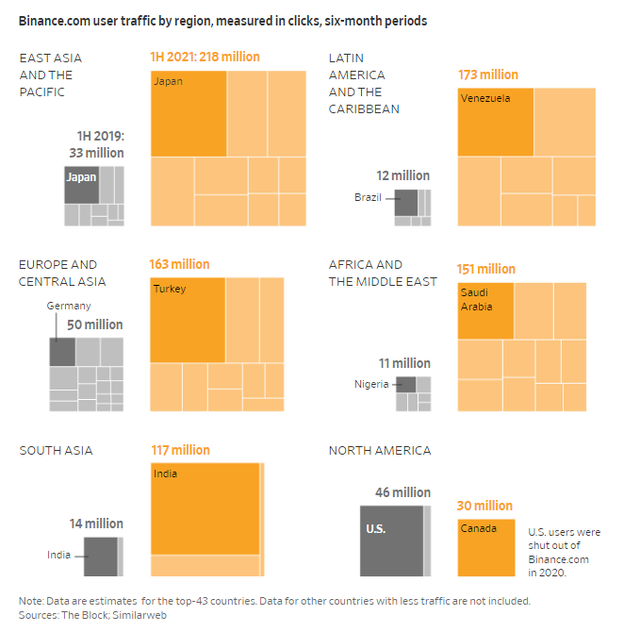 Traffic to Binance.com distributed by geographical area (million clicks)
Binance has about 3,000 employees globally. Based on trading volume and transaction fees, company insiders estimate that if it goes public, Binance could be worth as much as $300 billion. As the largest shareholder, Zhao will become very rich.
As a "star" in the cryptocurrency world, Zhao currently has 3.9 million followers on Twitter – where he is known by the nickname CZ. According to a Binance spokesperson, Zhao would previously refuse to answer questions about where he lives and also asked senior Binance executives to do the same. Recently, however, he has been more open about the issue. Zhao has lived in Singapore for the past 2 years. A source close to him said he rides an electric scooter to meetings.
Zhao, 44 ​​years old, was born in China and moved with his family to Canada at the age of 12. After graduating with a computer science degree, he worked for financial companies in Tokyo and New York, having worked as a software engineer at Bloomberg for a time.
Zhao first heard about bitcoin in 2013, during a poker game in Shanghai. At that time, digital currencies had been around for a few years, although they lacked the legitimacy of fiat currencies issued by central banks, but were admired by many in the tech industry, including many. who felt frustrated with the financial system after the 2008 crisis.
But at that time it was very difficult to trade cryptocurrencies. There are not many trading platforms and the price fluctuates a lot. Cryptocurrency exchange hacks occurred in a row, typically the Mt. Gox erodes trust in cryptocurrencies.
Zhao is passionate about the idea of ​​a decentralized coin that can be used anywhere without the need for a banking system. " We can use technology to increase money freedom for people around the world ," Zhao said.
Zhao sells apartments in Shanghai (transactions are done in bitcoin) and works for several crypto startups. He and a group of programmers founded Binance in 2017.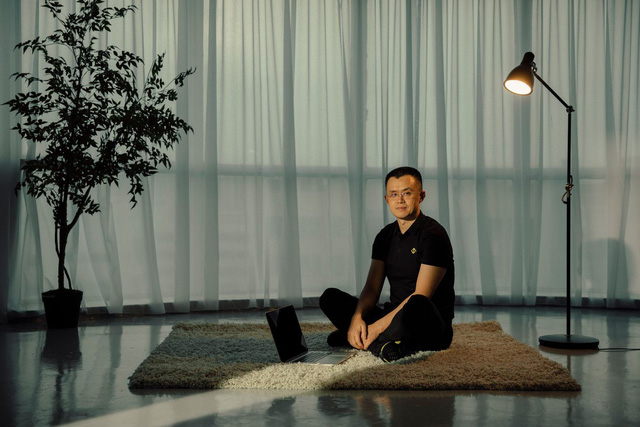 Founder of CZ of Binance. Photo: Wall Street Journal.
Initially, Binance focused on trading bitcoin and many other cryptocurrencies but did not allow users to exchange digital currencies for mainstream currencies. In the beginning, Binance didn't need a bank account and didn't need an office or headquarters, Zhao said. On the website is added 9 other languages ​​​​to compete with competitors who only use English. The platform that Binance developed is said by traders to be easy to use.
In July 2017, Binance raised $15 million after the release of its digital currency BNB. Most of the investors are individual investors in China.
Binance quickly gained a lot of users around the world, from countries like South Africa, Russia, and India. In just 6 months, Binance became the largest cryptocurrency exchange in the world and quickly ran into trouble with regulators. Two months after Binance started operating outside of Shanghai, in the summer of 2017, the Chinese government banned crypto exchanges due to concerns that they would become an illegal channel to transfer money abroad. .
The whole company of more than 30 people has moved to Japan. In 2018, Binance was "whispered" by Japanese authorities because it had not been licensed to conduct transactions for Japanese citizens. From that point on Binance stopped publishing the location. Zhao said that Binance employees work remotely and are located all over the world.
Binance offers a wider selection than other exchanges, including something very refreshing like fan tokens for European football clubs (cryptocurrency that allows owners – who are fans – to have money). certain privileges) or memes coins like dogecoin. Unlike stock exchanges that require complex licenses to operate, Binance expands from just one trading platform, Binance.com.
BInance also offers derivative products related to cryptocurrencies. With just 80 cents of deposit, customers can make cryptocurrency transactions up to 100 USD.
In 2019, Binance started connecting with the banking system, allowing customers to exchange digital currencies into fiat currencies like USD. The company pays YouTube KOLs to promote its image, contact day traders who run small groups on Facebook and other social networks in markets as far away as the Middle East and Africa.
Consult the Wall Street Journal
Source : Genk