7 super projects from the future are about to be launched by the Arab oil giants: "Vertical city" on the water, the island of VND 32,000 billion is still nothing with the "last boss" having 1-0-2
While Saudi Arabia is attracting attention with a series of huge projects such as the 170km glass city The Line, another Gulf country, the United Arab Emirates (UAE), is also embarking on ambitious megaprojects. Impressive structures such as the world's tallest residential building Burj Binghatti in Dubai, the National Zayed Museum in Abu Dhabi and the floating theater of Sharjah are all making the world marvel at what the Arabs are doing.
1. SeaWorld Abu Dhabi Aquarium Opens in 2023
After San Diego, Orlando and San Antonio, SeaWorld's first aquarium outside the US in Abu Dhabi will open this year. This amusement park is 90% complete, 183.00m2 wide and includes habitats for marine life, interactive exhibits and immersive experiences for guests.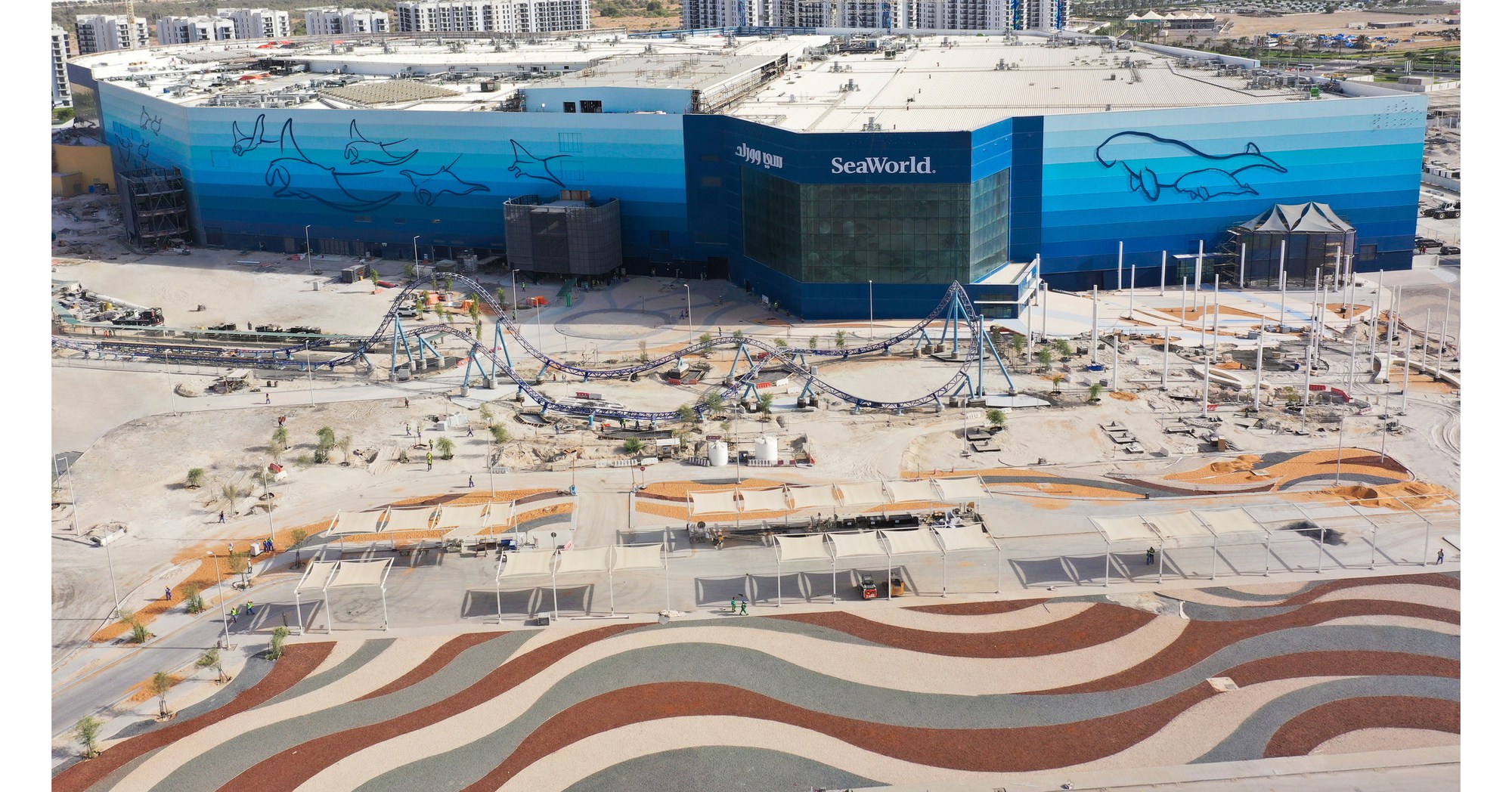 The world's largest multi-species aquarium will be built on 5 floors with a huge capacity of 58 liters of water, home to 150 species including sharks, rays, sea turtles, reptiles, amphibians and animals spineless. SeaWorld Abu Dhabi will also be home to a number of bird species, from penguins to albatross.
2. Dubai Wasl Tower to open in 2024
Wasl Tower is the tallest ceramic facade tower in the world (302m), made by Dutch architecture firm UNStudio. The building is designed with asymmetrical twisting to bring comfort and energy efficiency, directing light inward, while helping to cool and reduce the need for air conditioning.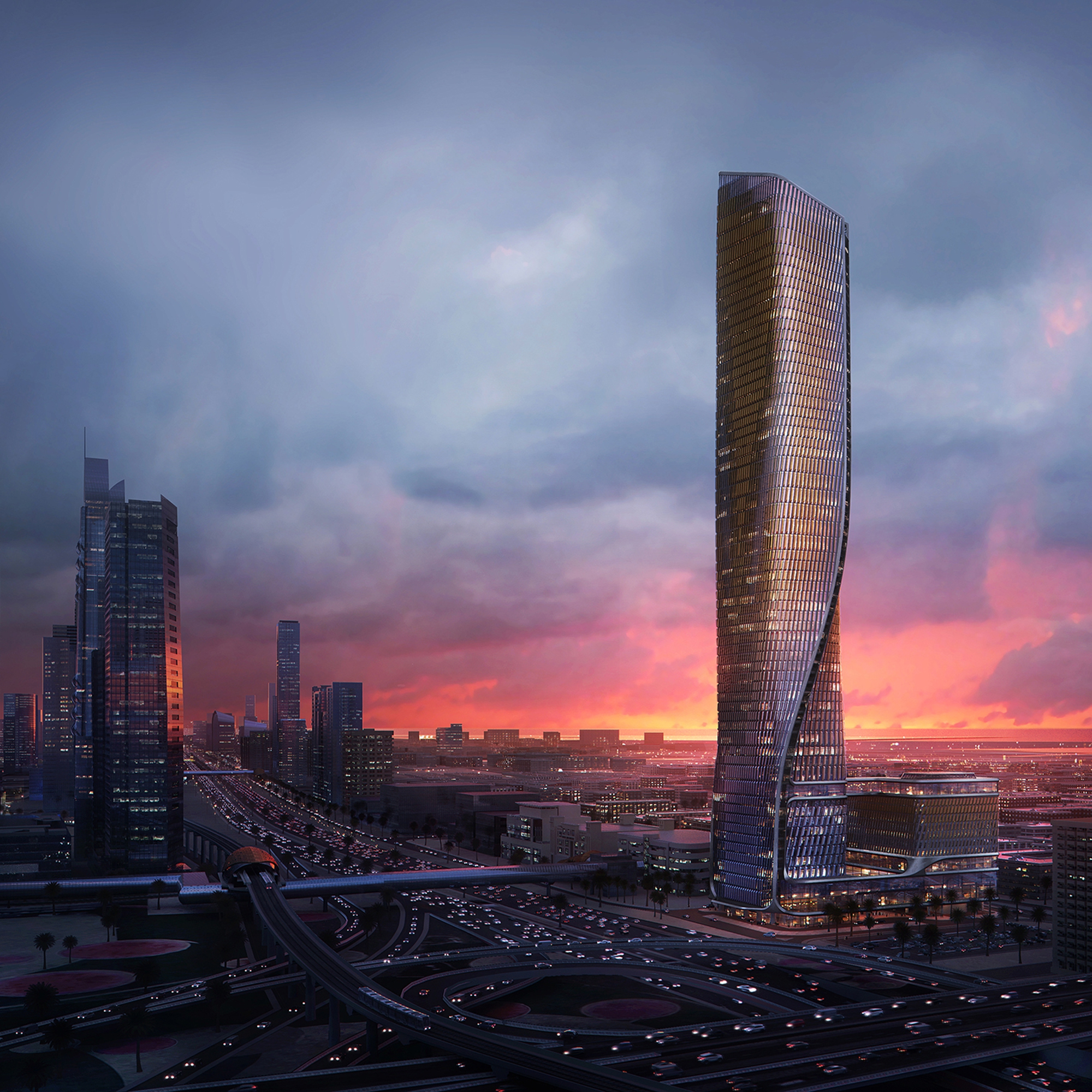 Wasl will be operated by the Mandarin Oriental hotel group, which is expected to contain more than 250 5-star rooms. In addition, this building also leases offices, private apartments and public spaces with some outstanding utilities such as 17 elevators, spa, terrace, observatory. A secondary building next door will house parking, a ballroom and an outdoor swimming pool.
3. Zayed National Museum, Abu Dhabi scheduled to open in 2025
The Zayed National Museum is designed as a memorial to Zayed bin Sultan Al Nahyan, the founder and first President of the UAE. UK-based architecture firm Foster + Partners are the people behind this impressive work.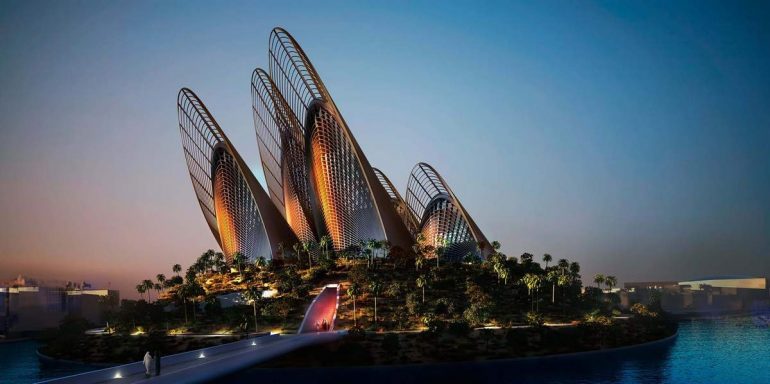 The five lightweight steel towers will act as chimneys to draw cool air into the gallery spaces below. There is also a room dedicated to the display of falcons to commemorate the late President's love for this bird.
The Zayed National Museum will also provide a comprehensive overview of the natural and human history of the United Arab Emirates, encouraging a greater understanding of the country's culture and geography. as well as the relationship with the world.
4. Vertical City Dubai is expected to open in 2030
Vertical City – the energy-free building project presented at the Knowledge Summit in Dubai in 2019, will be built by Luca Curci Architects. Vertical City is designed to be a sustainable tower on water for 25,000 people, with a zero-waste policy and the use of renewable resources such as solar panels, wind turbines and water.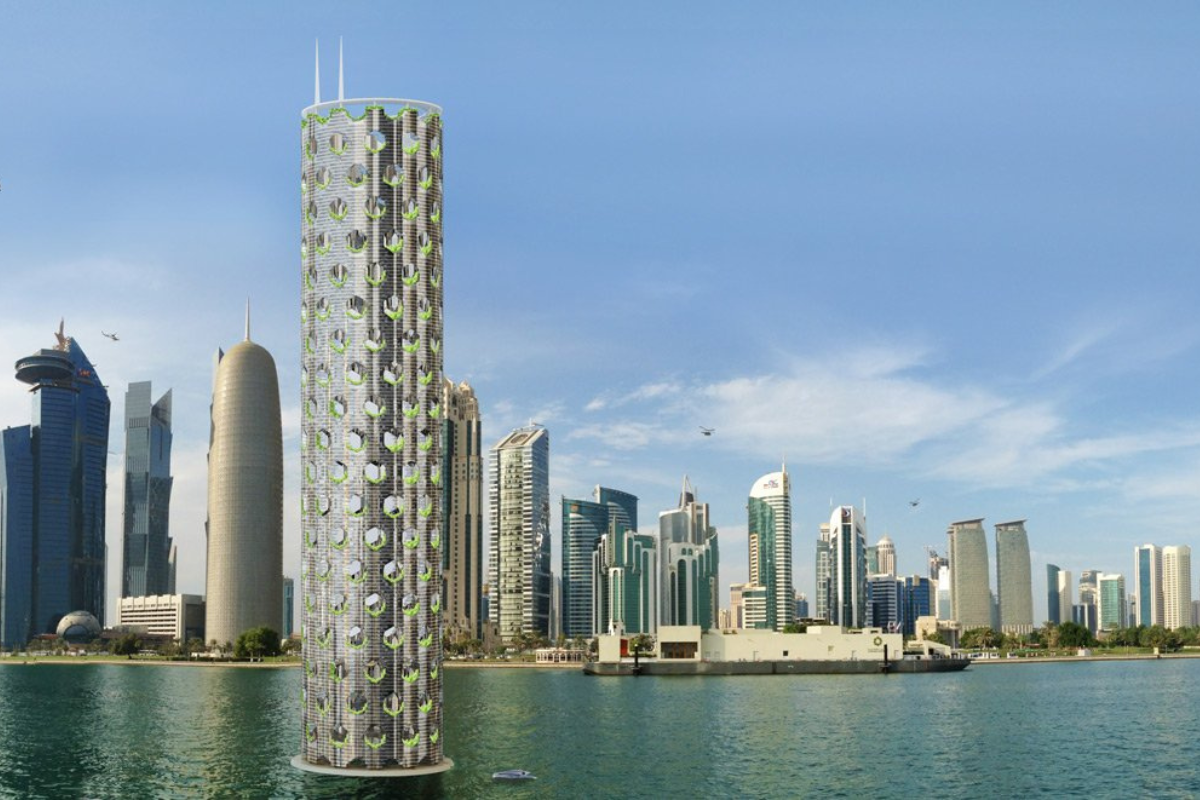 This super project will include 180 floors, with a height of 750m interspersed with many gardens and green areas. In addition to houses such as apartments and villas, Vertical City will have offices, shops and public activities. Not only that, underwater parking, spa, meditation center, gym and hotel rooms with sea view are also unique features of the project. This "vertical city" is slated to launch in 2030.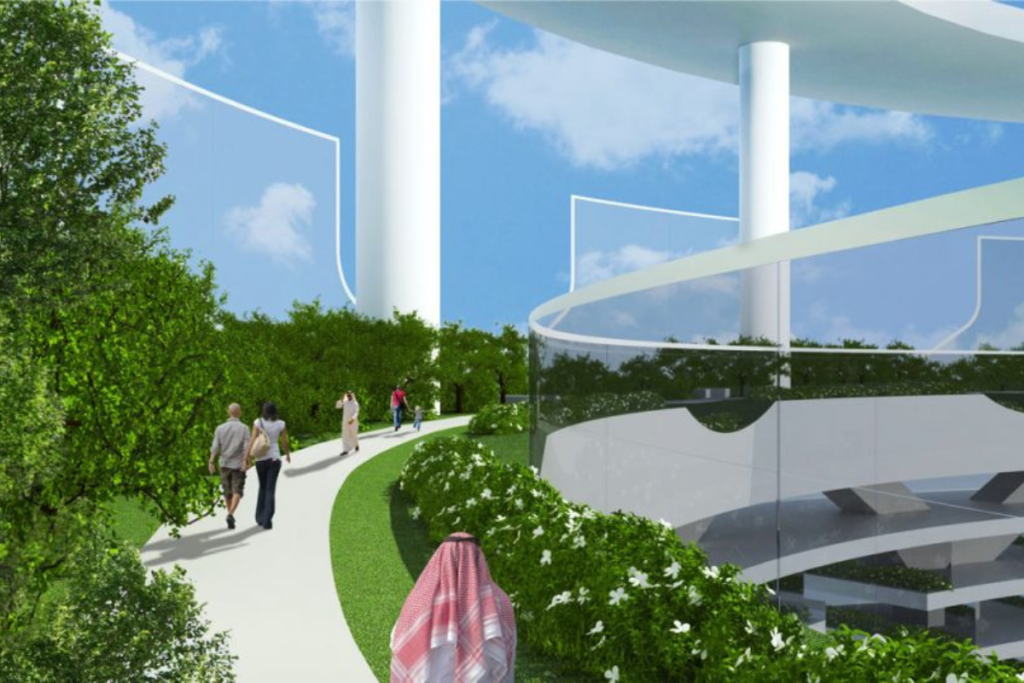 5. Sharjah Floating Theater has not revealed opening date yet
The image of Sharjah's new floating theater project is reminiscent of a giant seashell revealing a beautiful pearl. Renamed 'Al Mahara Theatre', this cultural destination will accommodate 1,000 people, offer unique views of the city's landmarks, and host world-class plays and performances world. The design of the theater is based on the idea of ​​His Highness Sheikh Dr. Sultan bin Muhammad Al Qasimi. The completion date of the project has not been disclosed.
6. Jubail Island Abu Dhabi is expected to open in 2025
Abu Dhabi's $1.36 billion (~$32 trillion) Jubail Island, located between Yas Island and Saadiyat Island, will be developed to be a livable "home" for between 5,000 and 6,000 residents. The residential community on the island will have a low density, including 800 villas with an area of ​​300-1,200 square meters.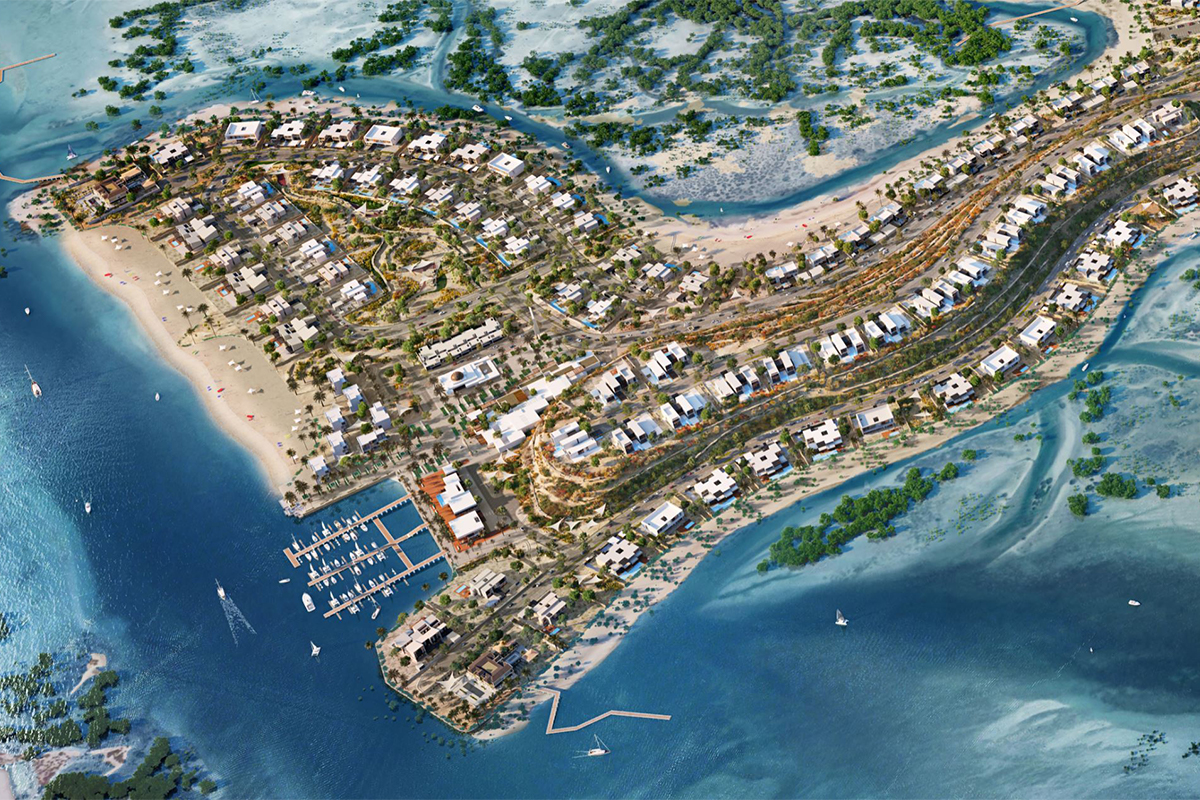 "Jubail Island will cater to families, health enthusiasts, wildlife and nature, with a wide range of water sports activities, offering a unique quality of life for homeowners and visitors alike. . In addition to its wide range of residential, retail, hospitality, entertainment and educational services, the project is poised to become an important contributor to the Abu Dhabi real estate market, in line with the objectives of the project. Abu Dhabi Economic Vision 2030," said Mounir Haidar, managing director of Jubail Island Investments.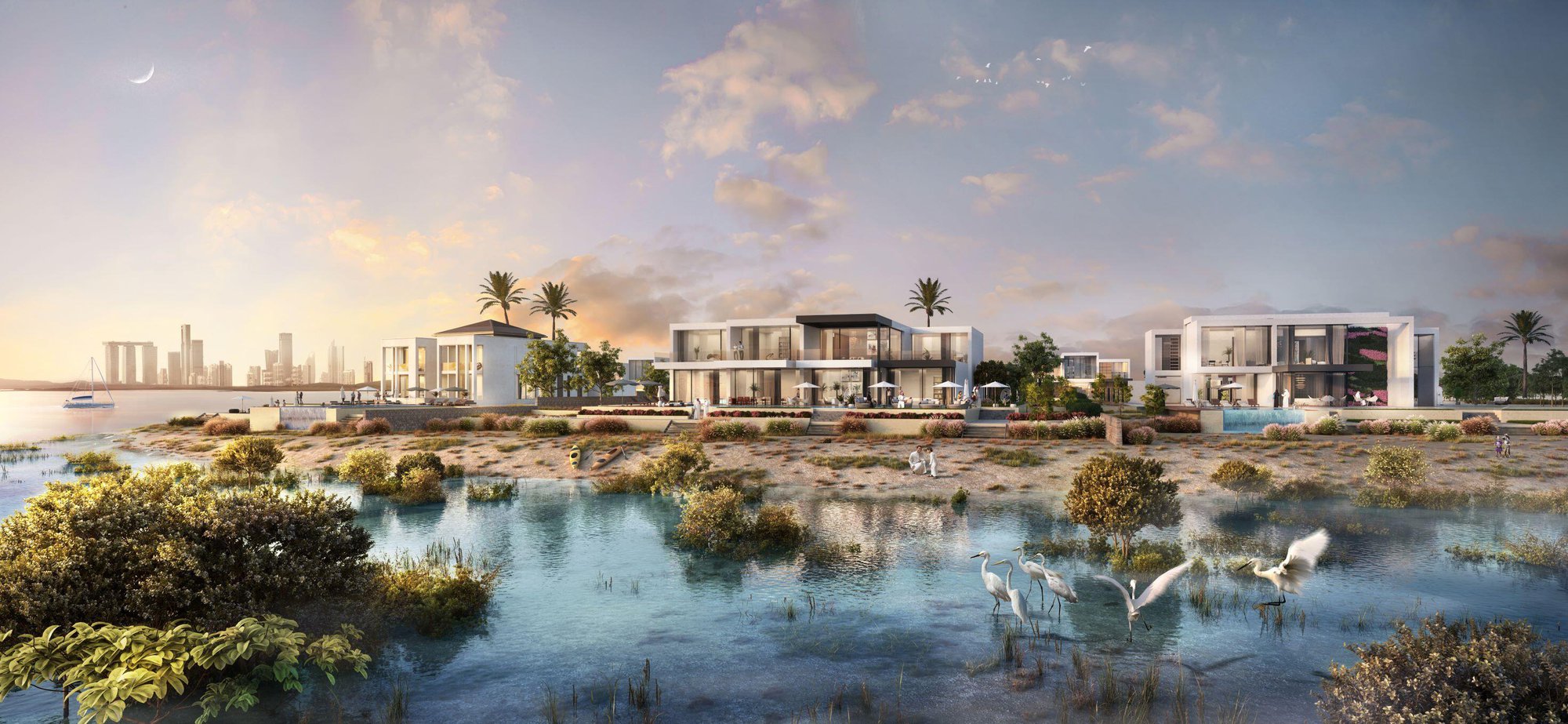 Some notable attractions here include Jubail Mangrove Park, a kayaking spot, and Pura Eco Retreat, a favorite among nature enthusiasts. The land lots were handed over in June 2022 and the villas are announced to begin handing over in October 2023.
7. Dubai's Kempinski Floating Palace Hotel is scheduled to open in late 2023.
Dubai is set to open the Kempinski Floating Palace hotel this year. Located on the Arabian Gulf, the world's first floating 5-star resort will be operated by Europe's oldest luxury hotel group Kempinski. With 156 rooms and suites, along with 12 luxurious floating villas, 4 high-class restaurants, a large spa will bring tourists a new and unprecedented experience at sea.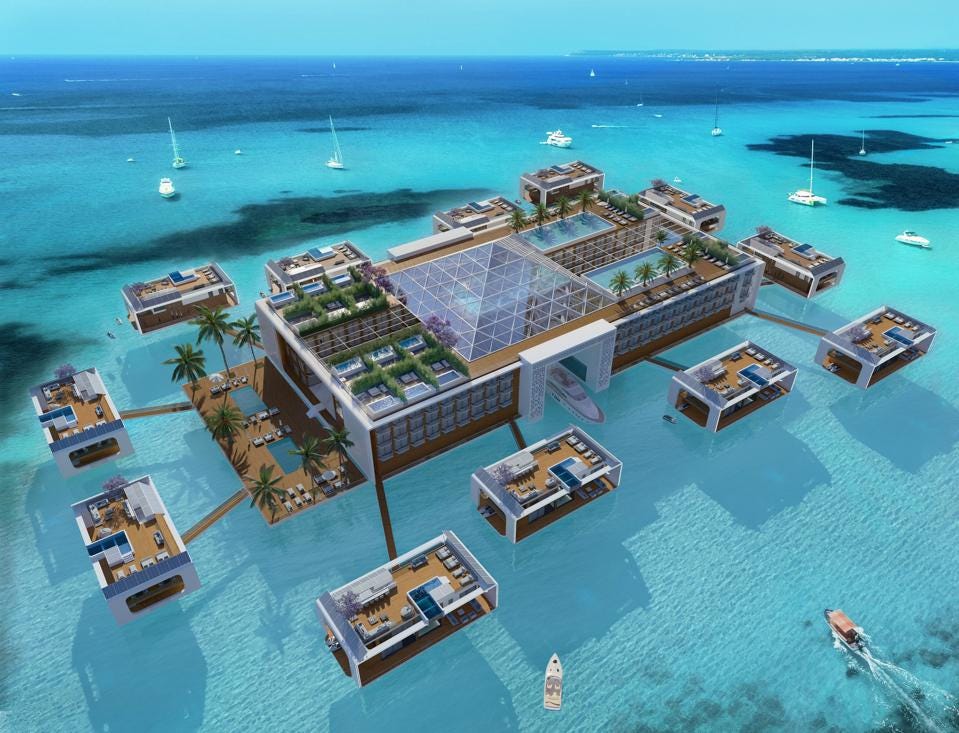 The central part of the hotel is divided into 4 parts, with a connecting glass pyramid in the middle. 12 villas will be connected by pontoon bridge, in addition, there are options for traveling by private yacht or helicopter.
Interiors for floating villas are being designed by luxury car company Aston Martin, equipped with infinity pools, many options from 2-4 bedrooms. The impressive point is that these villas use solar energy, smart technology to treat wastewater and purify the air, and can move on their own at a maximum speed of 6 knots. These floating villas will be for rent or for sale.
According to Luxurylaunches, ArabianBusiness
Source : Genk