5G has not been seen yet, but Samsung has just announced its 6G network vision: commercialization since 2028, maximum speed of 1,000Gbps, 16K VR stream, open hologram
However, Samsung has no intention of waiting. Last year, we heard that the company was expanding its research into 6G, and today, they have just published a white paper that speaks out about their vision for the 6G connection.
In the white paper, the South Korean company predicts that we will see the new standard at super-fast speeds debut before the decade is over. This period is generally equivalent to the gap between 4G and 5G before.
" For 6G, we believe ITU-R will begin research to give a vision of 6G in 2021, " Samsung said. " Taking into account the trend of speeding up the development of technical standards for each new generation, we believe that the completion of this 6G standard and the commercialization of this new standard may take place as early as 2028, and the large scale commercialization phase can take place around 2030 ".
What to expect at 6G
Samsung says that speed, latency, and stability will all improve during the transition from 5G to 6G.
" 5G is designed to reach a maximum transfer speed of 20Gbps, while with 6G we aim to reach a maximum transfer rate of 1,000Gbps and a data transfer rate for users of 1Gbps " – the company explain.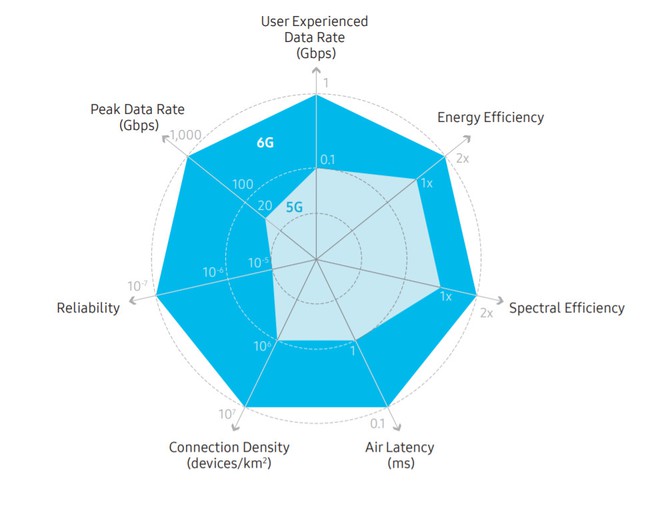 Samsung claims that we can still have latency for users at less than 10ms, and air delay of less than 100 microseconds (compared to 1ms for 5G). Moreover, the company expects the stability of low-latency services (such as remote surgery, emergencies, etc.) to be improved up to 10 times that of 5G.
What can 6G be used for?
The Korean company also launched many 6G application cases in the technology industry, the first is the really smooth XR (AR / VR / MR) experience. Samsung says that streaming AR to an 8K display currently requires 55.3Mbps and emphasizes that the "really smooth" AR experience requires speeds of up to 0.44Gbps. The company also said that streaming 16K VR requires download speeds of 0.9Gbps, and existing 5G connections cannot deliver such speeds.
The two other 6G application cases offered by Samsung include hologram technology and high-fidelity Digital Replica / Digital Twin (Hi-Fi) technology to copy / recreate people, devices, locations and more. other. A high-fidelity hologram with a human size requires a lot of Tbps, according to Samsung.
Samsung also says that 6G can be developed towards AI capabilities, that AI can help reduce power consumption, forecast and fix network problems, and improve handover operations. .
Obviously 6G still has a long way to go, but Samsung is just the tip of the iceberg when it comes to companies working on this technology. Ericsson, Huawei and Xiaomi are just a few other names that are also researching 6G.
Samsung's white paper also mentions a lot of other details, including relevant technical information. You can see more details here .
Reference: AndroidAuthority
Source : Genk