3 reasons to own Chrono character in Free Fire always and now !!!
1. Chrono is developed and modeled after CR7 – the idol of every house!
In early December, Free Fire (Survival Game) made the gaming community fidgety when announcing that Cristiano Ronaldo – the owner of the five golden balls in the world, would be their Global Ambassador; and there will be a character inspired by CR7 in Free Fire.
Sharing about this partnership, CR7 said: "For me this was a really surprising and impressive opportunity. And when Garena contacted me, I immediately agreed and knew they were a partner. great!". Ronaldo excitedly added: "The Free Fire game represents my ideal of life, I always want to be at the top of every field I participate in!"
When Free Fire revealed the in-game image of Chrono, many people had to admire the similarity between Chrono and CR7 on the face and body. Chrono is even "styled" with a very hot garlic bun of CR7 at Real Madrid.
2. Chrono not only possesses the same appearance as CR7, but also has the same super skills as a Portuguese star.
As a superhero in the Free Fire world, Chrono possesses the skill Aura of the Guardian to help him overcome fierce battles. Upon reaching level 8, this ability allows Chrono to create a drag field of 500 damage from enemies and can attack enemies from within with an increased movement speed of 30%. When the skill is activated, Aura of Guardian, allies in the force field will gain 15% more movement speed. Not only that, all effects within the aura can last for 6.5 seconds and a cooldown of 40 seconds.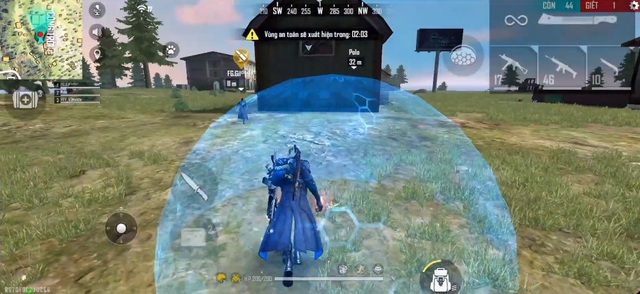 Skill Aura Guardian "makes rain and winds"
Some popular streamer such as Viruss, Cris, AS Mobile … are allowed to try Chrono before the character's debut, said Chrono's Aura skill level 8 or higher can help block 500 damage equivalent to 2 rounds of M79, the ammunition of the most powerful gun in Free Fire.
3. Chrono – Character "storm" in the community of Esports and gamers
A series of popular Free Fire streamers tried to play the brand new character Chrono before the official release date on December 19 and was really surprised by the greatness of this new character.
The Free Fire streamer rated Chrono's Aura of Guard as "extremely powerful, especially in the final circles". In addition, the Streamer also tests the speed of Chrono when using the skill to compare Alok – the hottest character of the current Free Fire. The results were surprising, Chrono gave Alok "smoke" with his tremendous speed
Cris Devil Gamer after playing 2 games and won "Booyah!" along with Chrono, this new character is considered to play a super strong 1v1 solo with excellent skills. In addition, Cris also joked that this Chrono is as powerful as CR7 in real life, just entering the field is to change the game.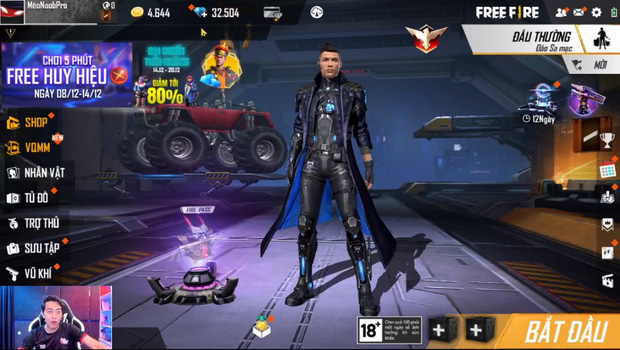 Cris Devil Gamer excitedly commented while playing Chrono
The Chrono mission was officially released on December 19 with more improvements and skill updates. Immediately experience this transcendent character on the beautiful MAX update, the Free Fire MAX, and let us know how you feel!
Source : Genk