2020, the year when Samsung almost lost the throne to Huawei
That manufacturer, Huawei, in fact surpassed Samsung in April thanks to a number of factors, one of which, interestingly, is the US government's trade ban.
However, it was a quick success. Huawei is still one of the biggest smartphone brands in the world, but that's largely thanks to its success in the Chinese market. Outside of his homeland, the story is completely different.
Samsung was unexpectedly lucky
Over the past half decade, Huawei has become one of the most popular smartphone brands in the world. The company offers users a wide range of products, from low-cost phones and tablets, to high-end devices that threaten Samsung's sales in many key markets.
There was a time when Huawei became a real threat to Samsung in key western markets. It was closer to the Samsung throne than any other Android manufacturer, but ultimately lost its chance by US sanctions and other restrictions. For smartphone users, that means Huawei smartphones are no longer supported with Google services, which means no matter how superior their hardware is, the software experience is basically incomplete.
Huawei still maintains good global shipments in 2020, but that's largely thanks to its home market in China. In the US, Huawei's smartphone market share is extremely meager, while the number of orders shipped in Europe has declined during the first three quarters of the year.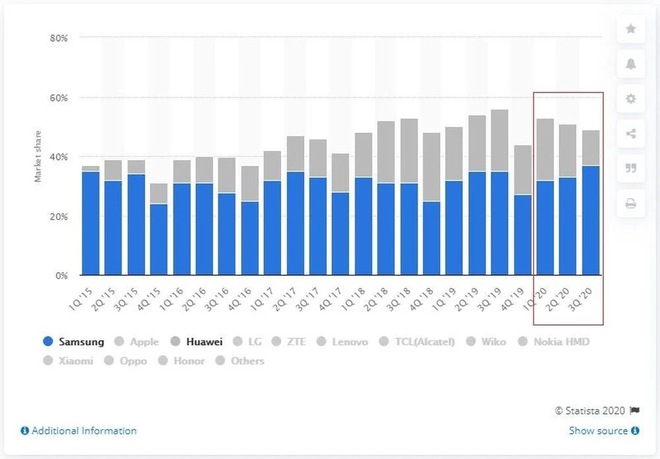 Number of shipments for the second quarter of 2020 and the third quarter of 2002 for Huawei and Samsung
Huawei's failure in Europe in the first three quarters of 2020 contributed to Samsung's success. The Russian market is similar, where Samsung retook the top spot from Huawei in the third quarter of 2020.
But while the marketing team of Samsung Mobile did everything to "rub salt in the wound" of Huawei, Samsung Display tried to "flatter" this customer. It is known that Samsung has been licensed by the US Department of Commerce to sell OLED panels to Huawei.
Samsung and Huawei both have an extremely diverse product portfolio
Samsung and Huawei both have an extremely diversified portfolio of mobile products in 2020. Samsung's mid-range Galaxy A and M series become crowded. The company is currently selling three Galaxy S20 models along with a fan special edition called the Galaxy S20 FE, as well as two versions of the flagship Galaxy Note 20.
Samsung is still the world's leading Android tablet maker, and this year it launched the Galaxy Tab S6 Lite, Galaxy Tab S7 and Tab S7 +, Galaxy Tab A 8.4, and Galaxy Tab Active 3. Launched a series of new tablet models, but none had a sturdy case or included an input device similar to the S-Pen. The same goes for Huawei's smartphone portfolio.
As for smartwatches, in the third quarter of 2020, both Huawei and Samsung grew year-on-year, in which Samsung held 10% of the market (compared to 8% of last year), and Huawei held 15% ( increase from 10%). But Samsung achieved a 10% market share despite having less wearable devices. These include the Galaxy Watch 3 and Galaxy Fit 2. Meanwhile, Huawei launched five new smartwatch models, including one that looks like an Apple Watch, and one for kids.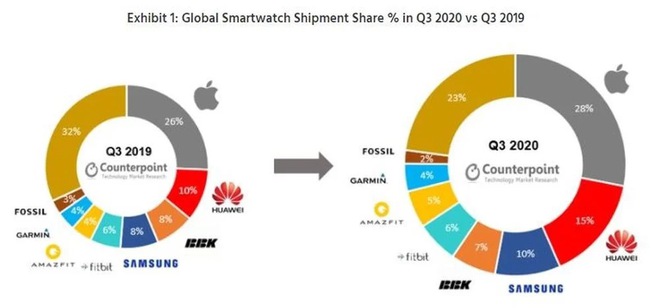 Global smartwatch market share in the third quarter of 2020 compared to the third quarter of 2019
On the whole, while Huawei's influence in Western markets has declined, the company appears to remain in the race, and that's thanks to one thing: the new Kirin chipsets. Huawei's chipset division continuously introduced. The Kirin 990 SoC in devices like the Huawei P40 Pro is rated better than the Exynos 990 on synthetic benchmarks (like Geekbench). It can be said that 2020 was a good year for Samsung, but in many ways, the Korean company was lucky.
Samsung wins the battle for folding screens
Samsung's victory in the foldable market is unquestionable. The Huawei Mate X didn't get a chance before the Galaxy Fold, and the new version called the Mate Xs – released in early March – wasn't much better either. The whole market is more focused on the Galaxy Z Flip, and perhaps that suggests that a foldable phone with a large screen on the outside is not really a good idea.
The Galaxy Z Fold 2 launched in September and became a flagship folding screen device that anyone who is serious about this emerging technology and wants to have the best experience must also desire. Right now, Samsung is the brand that goes with foldable phone technology, and it will take years for a real competitor to emerge and play against them. Huawei was once seen as a threat in 2019, but by 2020 it is clear who is the great inventor in this regard.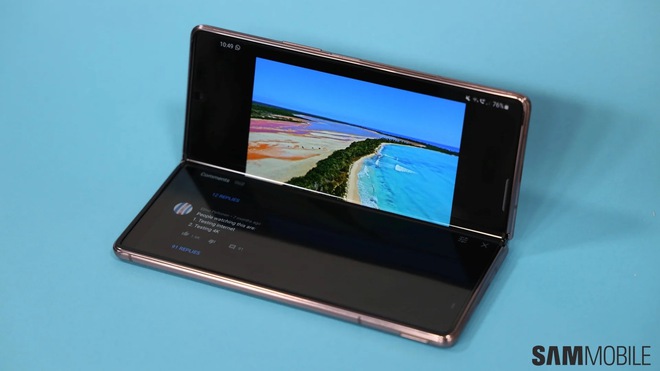 Decisive year for 5G
Regardless of how things go for Samsung and Huawei in the mobile or display / memory space, Samsung's biggest victory with long-term consequences is probably in the race to 5G. We are referring to 5G network equipment, not consumer products that support 5G.
Last year, the global 5G market appeared to be split evenly between Samsung and Huawei, with Samsung dominating the US and Canadian markets after the Huawei ban came into effect. Many people predict the Chinese technology giant will compensate for the damage thanks to its strong influence on the 5G field in Europe, but 2020 turns out to be not simple.
Operators in many European countries have decided to ban Huawei from selling 5G equipment; others decide to stop renewing existing contracts with Huawei once they expire in the next few years.
Huawei's misfortune has given Samsung the opportunity to enter this market and provide an alternative solution in many European countries. In other words, Huawei's 5G market share declined, while Samsung continued to win new 5G contracts in more and more markets. 2020 has shaped the 5G sector in such a way that its effects will continue across the industry in the coming years, and Samsung will be the biggest beneficiary.
2020 is a difficult year for many manufacturers, especially in terms of logistics, but Huawei has to struggle to deal with unforeseen market changes and restrictive policies imposed by the US and other another family poses. Surprisingly, the company did not collapse as some predicted; instead, they continue to enjoy success in China.
Samsung has benefited greatly from Huawei's failures in many areas, but the Korean company has also shown its ability to innovate and adapt to market changes. However, Samsung almost lost the top spot to Huawei in the 2020 smartphone race, and if it weren't for sanctions and restrictive policies, who knew what would look like right now?
Reference: SamMobile
Source : Genk